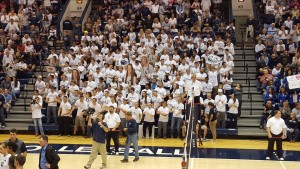 After Penn State (13-1) took the first two sets from Nebraska (12-1) on Friday night, things looked promising.  But Nebraska was not to be denied, and the Huskers took the next three sets and the match (25-12, 26-24, 14-25, 20-25, 11-15) despite the efforts of the Rec Hall crowd of 5105 fans (the second consecutive 5,000-plus crowd) led by a fabulous student section and the equally fabulous Volleyball Pep Band, to cheer Penn State on to victory.
It was a stunning turn of events.  As Megan Courtney said after the match "You're up 2-0 against the No. 4 team in the country, you've got to feel pretty confident."  But after  the break, the wheels came off.
Coach Rose described it this way:
Coming out of the break, we did a similar thing as happened last week.  The other team played really well and we weren't able to defend what they were doing. . . . Their hitters were taking good, aggressive swings.  They did a far better job of getting their kids ready to play than I did.
Courtney put the result squarely on the Penn State players:
They came out in the third game and just outplayed us, period. We got outplayed and out-hustled and outworked, and that's not what happens at Penn State. What happened can't happen again.
Aiyana Whitney added:
They're a pretty scrappy team . . . but we can't allow teams to outwork us.  If you win  [the long rallies] and you take care of the easier balls, then that's how you get success, and we didn't take care of the ball.
Which raises the question, was this just an off night for the Nittany Lions, or is Nebraska the better team?  The Huskers were ranked #4 before the match, and most certainly will move up if they win against Ohio State tonight — though that is not a given.
Responding to a similar question about his football team, which had suffered a couple of unexpected losses, former NFL head coach Bill Parcells famously said "You are what your record says you are."  After Friday night, one would have to say that at least for now, Nebraska is better (3-0 in the B1G) than Penn State (2-1 in the B1G).
And in fact, in his post-match comments, Coach Rose invoked that Parcells quote:
You can play well and lose and feel good about how you played. . . . I didn't think we were great in the first game.  I thought we competed pretty good.  They didn't come out of the gate real strong, but they got stronger as the match went on and we didn't get stronger as the match went on, and that's the results that you're going to see.

I don't think it's necessarily conditioning for us.  If some people don't play well, we don't really have the depth on the bench that other people maybe perceive we have. . . .  We didn't hold our home court like we should.  The results are a reflection of how we played and how we coached, and that's part of the equation.

I thought they did a better job in all aspects of the game, especially serving, passing and competing.  It was disappointing to sit there and go through it, but if we learn a lesson from it, then that's fine.  But if we continue to repeat it, then we are what our record says we are.
It was the second consecutive five-set match for the Nittany Lions, in which Penn State had jumped out to a two-set lead, but had been forced to a decisive fifth set.  Rose had tinkered with the lineup for this match,  moving 6-4 RS Sr. Aiyana Whitney from RS/Opp to middle blocker, and replacing 6-2 So. MB Heidi Thelen with 6-1 So. Simone Lee, who was slotted in at the RS position.
Asked about the move, Coach Rose said this:
I changed the lineup to maybe change some things. I thought that would be something that might work, and it didn't.  . . . I thought in practice Simone had great energy.  I thought she could do some things that could help us. She didn't have a great night tonight, but I'm not really sure it's on her. She had some tough matchups.  Foecke [Nebraska's 6-3 Fr. OH, the #2-ranked high school senior by PrepVolleyball.com] is a durable individual who takes big swings for 2 1/2 hours.

I'm responsible for what we put out there. I'm not responsible for how people played, but I'm responsible for who played.
The Nittany Lion Sr. OH Megan Courtney led the Nittany Lions with 16 kills.  Aiyana Whitney added 14 kills on .333 hitting, with 6-3 So. MB Haleigh Washington contributing 11 kills.
Freshman libero Keeton Holcomb led the team with 23 digs, with 6-1 So. OH Ali Frantti and 6-0 RS Fr. setter Bryanna Weiskircher each totaling 11 digs.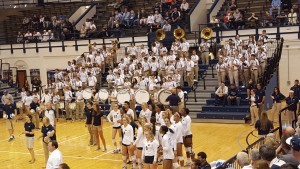 For Nebraska, it was their first ever "true road win" over a #1 team in school history.  Mikaela Foecke had a career-best 22 kills. Kadie Rolfzen had 11 kills, 15 digs and five blocks, and Amber Rolfzen had 10 kills and five blocks. Cecilia Hall had six kills and a season-best eight blocks. Kelly Hunter had 52 assists, and Justine Wong-Orantes set the tone for the comeback with a career-best 30 digs.
The Student Section and the Volleyball Pep Band
We would be remiss if we didn't give well-deserved shout outs to the student section and the Volleyball Pep Band.  Both were enthusiastic throughout (we particularly loved the "Welcome to the Block Party!" cheers from the students, and the "We Believe that We Can Win It" cheer from the band and students.)  Well done.  Really well done.
Match Stats
(Courtesy of GoPSUsports.co)