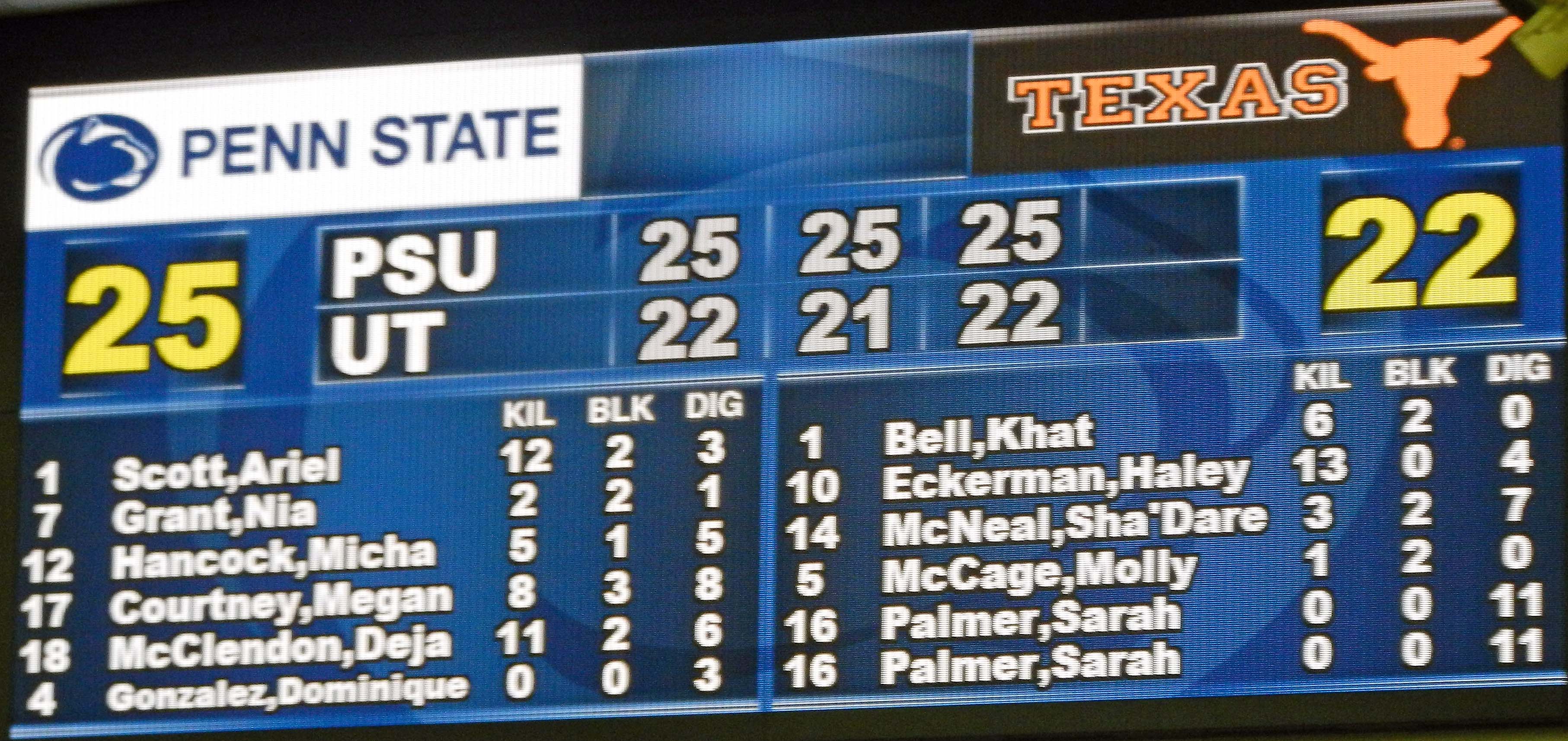 (Photos courtesy of GoPSUsports.com)
The Penn State Women's Volleyball team downed #-2 ranked Texas in straight sets (25-22, 25-21, 25-22), but even though it was a sweep, it wasn't an easy victory.  All three sets were back-and-forth affairs, with the Nittany Lions pulling away in the end. 
Before any Penn State fans get carried away by this early-season win, think back to September 15, 2007, when #2-ranked Stanford defeated #3-ranked Penn State 3-2 (23-30, 30-23, 30-27, 28-30, 9-15) in New Haven, Conn. 
They played another five-set match later in the season — three months to the day, on December 15, 2007 — in the NCAA Championship match.  This time, Penn State won 3-2 (30-25, 30-26, 23-20, 19-30, 15-8), capaturing Penn State's second NCAA women's volleyball national championship (the first of four in a row). 
So things can, and do, change over the course of a season.  Having said that, it was an impressive win — but only the first of many challenges the 5-0 Nittany Lions will face over the course of the 2012 season. 
Penn State placed three players on the 2012 Rockvale Outlets Nike Big Four Classic Women's Volleyball All-Tournament Team: 6-4 Jr. Opp/MH Ariel Scott (who was named the Tournament MVP), 6-1 Jr. OH Deja McClendon, and 5-11 So. S Micha Hancock.    Also Texas' 6-3 So. OH Haley Eckerman and 6-1 So. MB Khat Bell, Florida's 6-0 Fr. OH Živa Recek and Stanford's 6-1 So. OH Morgan Boukather and 6-2 Jr. MB Carly Wopat rounded out the team.
Match Stats
(Courtesy of GoPSUsports.com)
Ariel Scott's 12 kills were tops on the team.  Deja McClendon's 11 kills were second, followed by 6-2 Fr. OH Megan Courtney (photo below left, courtesy of GoPSUsports.com) with eight.  Micha Hancock had another solid match, registering 34 assists and five kills (she now has 22 kills for the season, with zero attack errors, for a team-leading .550 attack %).  5-6 So. DS Lacey Fuller (photo below right, courtesy of GoPSUsports.com) had a team-leading nine digs, followed by Courtney, who totaled eight.  6-6 Jr. MH Katie Slay led both teams with four blocks, followed by Courtney with three. 


Penn State hit .265 for the match, while holding Texas to a .188 team attack %.