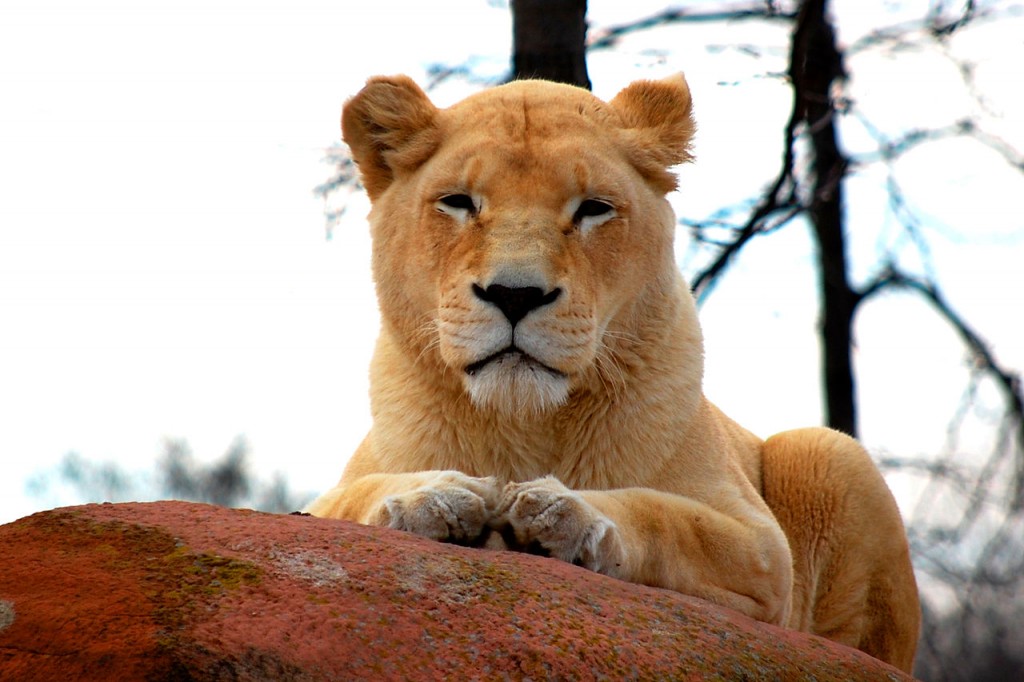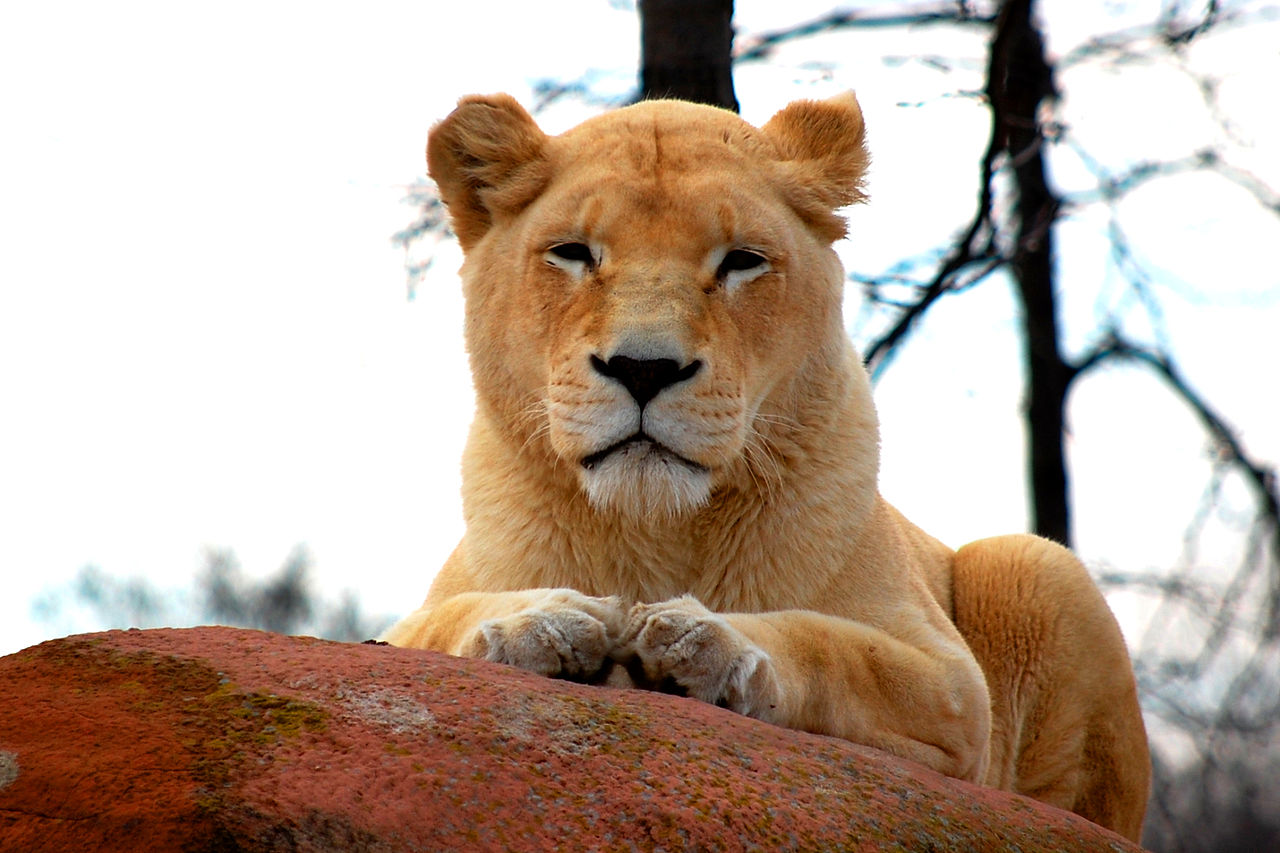 If Penn State always played like it did in the first set against TCU (.727 attack %, one attack error), the 2014 season would be a breeze. But there will be times when it is less machine-like, as it was in the third set (.212 attack %, six attack errors). Still, when the result is a 25-10, 25-17, 25-17 sweep, as it was last night in the Nittany Lions season opener against TCU (0-1) in Rec Hall, there isn't much for the fans to complain about (the coaches undoubtedly have a somewhat different view), particularly when three players hit .500 or better and the team as a whole hits .429 for the match.
The match marked the Penn State debuts for three freshman — 6-1 OH Ali Frantti, who registered 13 kills (.500 attack %), with seven digs and four total blocks (tops on the team), 6-1 OH Simone Lee (six kills, five digs, two blocks) and 5-8 DS Lainy Pierce.  6-2 Jr. Opp/RS Megan Courtney put down 12 kills (.556 attack %), with five digs and two total blocks.  6-2 Sr. MH Nia Grant was the third Nittany Lion to hit above .500 with seven kills (no errors) for a .538 attack %, also chipping in two service aces.  6-4 RS Jr. OH/MH Aiyana Whitney had eight kills (third-best on the team) and three total blocks (second on the team).  5-11 Sr. Setter Micha Hancock directed Penn State to that .429 attack %, and came up with seven digs, two kills and two blocks.
The loss was only the fifth by TCU in a season opener under head coach Prentice Lewis.  6-1 So. OH Ashley Smith and 6-1 So. OH Sarita Mikals led TCU with nine kills each.  5-7 Jr. Setter Alexia Heist and 5-8 So. Setter Trisha Langley ran TCU's 6-2 offense, dishing out 16 assists and 11 assists, respectively. On defense, 5-5 So. DS/L Shane Peters contributed six digs, with 6-4 So. MB Natalie Gower totaling three blocks.
Video Wrap
Match Stats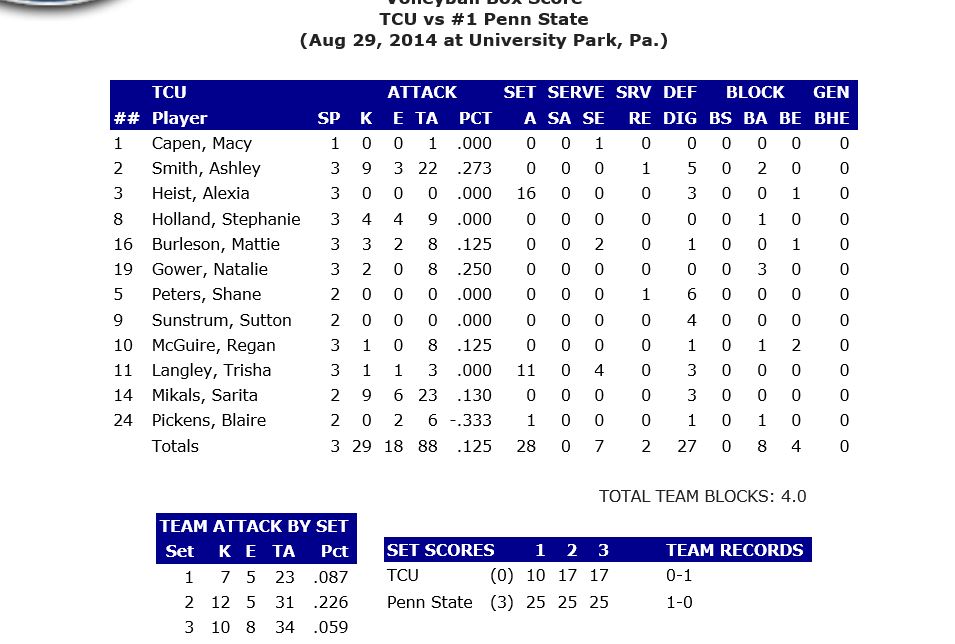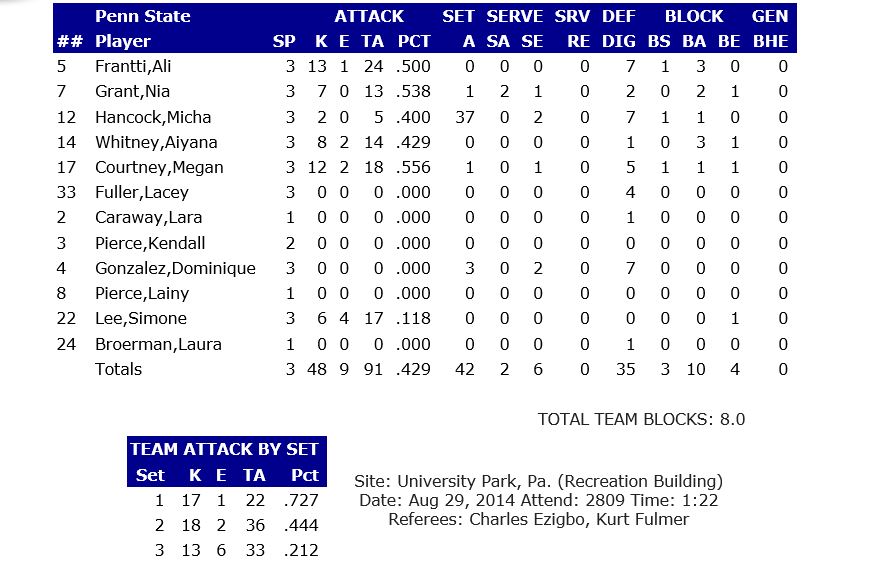 End Lines (a Fan's View)
By PhillyTom
Given that TCU doesn't really match up with PSU's size or skill level, I think the best you could say is that Penn State's performance was solid, but solid is a good thing in the first match of the season, with three new faces on the front row. Even late into the 3rd set, when things got a little sloppy for a few points, PSU had only six attack errors.
And that is a good thing given that PSU's entire front row is new (even though Megan Courtney started last season at OH, this season she has moved to the right side.)  To this fan, Courtney looked like she's been playing on the right side her entire career. Whitney was playing middle and was very smooth offensively and defensively. Haleigh Washington, the Nittany Lions' top-ranked recruit and a potential starting middle, did not play and is probably a player Head Coach Russ Rose was referring to at his recent press conference when he referred to injuries.
Ali Frantti didn't look like a freshman to me. She adjusts to sub-optimal sets extremely well. Simone Lee had a freshman hitting percentage but really looked smooth and super athletic. Micha Hancock was connecting well with everybody, even though the passing was inconsistent.
Penn State's performance was especially impressive compared to early season performances the last two seasons, when the team sometimes piled up hitting errors at an alarming rate. Even at the start of the conference season last year, balls were dropping between Hancock and Nia Grant due to miscommunication.  There wasn't even a hint of that last night. Grant looks comfortable and confident. If she keeps improving at the rate she has since midseason last year, given the quality of the outsides, Grant could have a great senior season. Her slide looks like its becoming nearly unstoppable. Coach Rose has to be pleased to see Hancock working the middle offense so so well so early in the season.
TCU is the best team they're going to play until they go to Stanford. I don't think anybody else can really challenge them, so some of their most important competition is going to be at practice. I don't expect them to win that Stanford match, but it will be a good measuring stick for them and if they can at least be competitive, they'll be ready to play Big Ten volleyball.
Other than Washington not playing, there was really nothing but good news out of this match.