Happy Valley (or at least the Rec Hall portion of it) was decidedly unhappy Saturday evening, as the Nittany Lions (2-1) fell to #19 North Carolina in five sets (25-16, 22-25, 25-21, 23-25, 9-15).
Although four Penn State players recorded double figure kills (led by a great 23-kill career-high performance by 6-1 Jr. OH Simone Lee) the team made numerous attack errors and service errors throughout the match.  Another bright spot was 5-5 Fr. libero Kendall White, who registered a career-high (three matches) mark of 17 digs. Both White and Lee were named to the Penn State Classic All-Tournament Team.
Redshirt sophomore Bryanna Weiskircher passed out 28 assists, after coming in to replace junior Abby Detering, who finished with 23 assists.
Coach Rose didn't mince words after the match:
I'm terribly disappointed in everything except the crowd and the band.  It's hard to be there for 2 1/2 hours and see people perform at the end of the match and at the end of the games as we did.  North Carolina has five seniors and they hung in there, and we had kids who I thought would be able to compete a little bit harder, and other than Simone [Lee], who I thought was just a hammer the whole night, I'm really disappointed in the effort [and] the coaching.  The University really supports the Program well, and I'm really disappointed that this is what it looks like under my direction.

How we lost [this match] is one of the worst ways a team can lose, and that is to quit. . . . It was 22 to 20 in the second game, and we lost 25-22 and made five errors in a row.  [We] were winning in the fourth game, made some errors, could have gotten over the hump, but didn't.  North Carolina hung in there, and did a better job, and they coached better than we coached, and that's the answer.  You can't hit .548 in the first game and then go to sleep.
Asked about changing setters, from Abby Detering to Bryanna Weiskircher, Rose said:
I thought [Detering] went kind  like the scoreboard last night [which went dark] — went dead.  I thought [Bryanna Weiskircher] came in and did a pretty good job and then at the end of the match [she] was dead. . . . I'm trying to find a good setter.  I thought both of them had flashes of doing some good things.

I thought Heidi [Thelen] did some good things, but the bottom line is we had some people who faded at the end of the match — whether it's physical or mental, it is what it is. . . . I think they just didn't have the gas necessary to compete.  The fifth game, Ali [Frantti] and Haleigh [Washington] hit negative.  We're not going to beat anybody with the two All-Americans hitting negative.  The problem is you're asking Simone to carry the team because you have to pass well to get the ball to Heidi and Tori [Gorrell.]  Tori looked like she was going to have a big game, she ended up with six swings.  Our game plan isn't to not set her.
Coach Rose did have good things to say about Simone Lee's performance (which we second, and third):
I thought Simone was really good.  I thought Simone was taking big swings all night long, and I thought that was really cool for her.
Simone Lee focused not on her own performance, but on what the team needs to do to avoid this kind of loss in the future:
It's "go time."  It's our decision, when we step on the court, whether or not we're going to go for the ball, whether or not we're going to take big swings, whether or not we're going to be there for our teammates, whether or not we're going to play together.  It's time, we need to do it. . . . It's a terrible feeling to lose, and to lose at home, and I don't think anyone wants to experience that ever again.
Coach Rose interjected:
Heidi hits .450 — you can't ask for more than that from Heidi.  She can't carry the team.  I don't think that's her disposition, to be somebody that carries the team.  Ali [Frantti] hits [.044] and Haleigh [Washington] hits [.062.]
Asked about what the team would focus on in practice, Heidi Thelen described how the team prepares for challenging end-of-game situations:
We need to never quit.  We do drills like that in practice all the time — where we're down, or we're up — we have to finish that game.  So, like Simone said, it's "go time" — we just have to practice hard never let that happen again.
Simone Lee added:
It's about all of us, it's about all of us working hard together, all of us spreading the offense.  It can't be about just one person getting every single swing.  I think during practice that's what we're going to need to focus on — making sure we have a spread offense, making sure that we're getting up in transition, making sure that we're working hard, so that everyone gets an opportunity to put the ball away at an efficient rate.
Whatever the solution, Penn State will need to fix things fast, as  as Penn State travels to Colorado next week to take on Colorado and Stanford.
Match Stats
(Courtesy of GoPSUsports.com)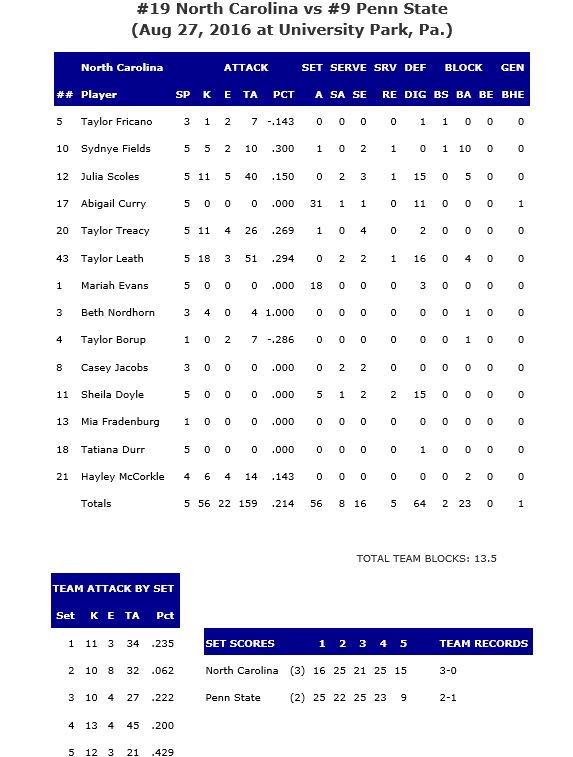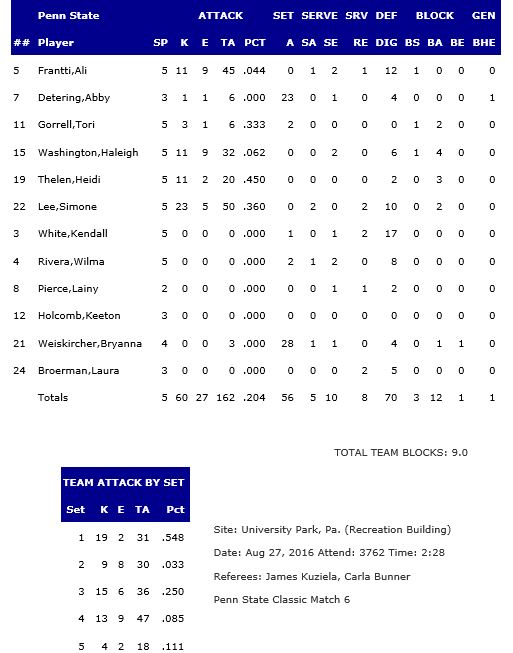 Credits