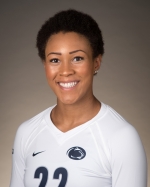 The 32 points scored by Rutgers on November 12, 2017 in Nebraska's sweep of the Scarlet Knights in the Devaney Center (25-8, 25-11, 25-13) tied for the fewest Nebraska has allowed in the 25-point rally scoring era (the Huskers held Maryland to 32 in 2015).
Last night, the Penn State Women's Volleyball team did even better, holding Rutgers to 23 points in a straight set victory over the Scarlet Knights (25-5, 25-9, 25-9) in New Brunswick, New Jersey.
The match stats told the story, as the Nittany Lions hit .537, with 40 kills, and limited the Scarlet Knights to  -.082, with only 15 kills.  Leading the way for Penn State was 6-1 Sr. OH Simone Lee with 17 kills (.800 hitting %!!), 3 blocks and 4 digs.  Lee's .800 hitting % was the best Penn State for three-set match record in the 25-point rally scoring era (for players with a minimum of 20 attacks).  5-5 So. libero Kendall White totaled 15 digs.  6-3 Sr. MB Haleigh Washington registered 5 blocks.  6-0 Sr. RS/setter Abby Detering distributed a match-high 20 assists, with 4 kills, 4 digs, and 2 blocks, while 6-0 RS Jr. setter Bryanna Weiskircher added 15 assists and 5 digs.
After Penn State's match against Maryland on Wednesday, November 15th, Head Coach Russ Rose said he would give his team a "C" for it's performance in that match and the previous match, against Indiana.  Coach Rose didn't offer any grades after last night's match, but we're going to guess that if he did, it would be at least a "B."
Match Stats