Check out the transcript from Tuesday's Penn State women's volleyball media availability featuring quotes from head coach Russ Rose and senior outside hitter Nia Reed.
Coach Rose on the weekend: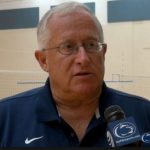 "I thought we played well on Friday night at Northwestern and we started really well against Illinois on Saturday. As the night progressed, I thought some of the people became tentative and I thought they ran out of gas. In this conference, both of those things can really kind of come back and get you.

"We had opportunities in all the games that we lost. Part of the sport and part of being a championship team in sports is having the ability to convert when you're given the opportunity to do that. I thought we stalled in a lot of areas. As coaches, we weren't able to get the players in the right position to do it. As players, they weren't able to do it as well."
Coach Rose on Penn State's seniors:
"Nia hasn't played as much because she was playing behind All-American outside hitters. I think she's always showed great patience in how she conducted herself and waiting for her opportunity to play. That's a great behavior to have. She has the opportunity this year to play. I think she's had some flashes where she's looked really good and she's had some matches where I'm puzzled by her effort.
"Bryanna [Weiskircher] has been here for four and a half years and I think has had matches where it looks like she's making great contributions and has a good handle on what our intent is. And then she has some matches where I'm questioning where her focus is and what my focus is in continuing with her setting. I think it's been an up and down ride at different times.
"The two newcomers who are just here for their last season in Bayleigh [Hoffman] and Taylor [Leath] – although they haven't played at Penn State for a long time, I think Taylor provides great leadership and the experiences that she's had previously at North Carolina. I think Bayleigh works hard and doesn't have as many opportunities to play.
"Teams are made up of a variety of individuals who are all asked to contribute and do different things in different ways. I think all of the four individuals who are seniors have made the effort to do those things."
Coach Rose on the Illinois loss:
"I think Jordyn [Poulter's] the best setter in the country. As I said to Bryanna, her charge wasn't to be better than Jordyn. Her charge was to lead her team to victory, and I didn't think she did that. That was my disappointment. We had some other people who didn't play great in crunch time, and I didn't do a very good job in crunch time either.
"I probably had some people in the wrong position and I had a couple kids go in to play in the fifth game who made errors. When you lose a two-point game and you bring a couple kids in and they make mistakes, it's as much on the coach as it is on the players. We all share in victory and we all share in defeat."
Coach Rose on playing lengthy matches:
"I think sometimes you're in five-game matches because you don't have the ability to sustain your effort for a long period and a lot of times you can't close people out. We've certainly had some matches this year that I think we demonstrated we have a lot of youth and the veteran players are unable to lead the younger players to victory."
Coach Rose on Michigan:
"I think Michigan has one of the key outside attackers in the conference in Carly Skjodt. Her and Jones are a great tandem at the outside positions. Their setter played for USA volleyball this summer. They've had some great wins. They beat Wisconsin earlier in the year and I think Wisconsin has one of the most talented rosters in the conference.
"When we beat Michigan at Michigan, I think it was probably one of our better matches that we've played to date. I think we're going to have to play a lot better than we've practiced and played if we think we're going to repeat that performance."
Coach Rose on Minnesota and Wisconsin:
"Minnesota and Wisconsin are two of the top teams in the country. It's unfortunate we're playing them on Thanksgiving weekend when there are no students here, but that's just how the schedule works.
"At least we're not traveling and risking being stranded somewhere in bad weather playing a 9 o'clock match on TV somewhere else. They're both great opponents and they're both teams that have been in the Final Four. We'll have to play our best if we hope to have any sort of momentum heading into postseason play."
Coach Rose on not comparing his team to others:
"I don't compare us with other teams. I don't know how other teams are. I can compare this team to teams that I've had the last 39 seasons and I would say I've had teams that demonstrated some tougher tendencies and behaviors than this group has, but there are a lot of young people. Maybe there's some growth and development that one can ascertain from the experiences that they're going through."
Coach Rose on Kendall White:
"She's had a couple of matches where she's had 30 digs. I'd rather win than have her have 30 digs, but Kendall always plays hard. I want her to have more of an impact on her serve, but I never worry about the fact that winning makes a difference to her."
Nia Reed on her Penn State career:

"It's meant a lot. You come here to work hard. You come here for the volleyball and the academics. It really went by so fast. Yesterday seems like freshman year. Don't take any time for granted, that's for sure, because like coach says all the time, 'You blink your eyes and it's gone.'"
Nia Reed on her fellow seniors:
"Bryanna's kind of been the core of the team for the last couple years. I've known Taylor since I was 14. Just to graduate with two of my best friends, it means the world. I was kind of nervous about redshirting my freshman year because I didn't know what it was going to be like my senior year. But it's perfect. I wouldn't want to go out any other way."
Nia Reed on Kendall White:
"She's just one of a kind, crazy, a ball of energy — just wired differently I'd say. She always goes hard every day. She practices how she plays in the game. She doesn't skip a beat. She's always the person you can rely on to make those great effort plays."
Nia Reed on Michigan's strengths:
"Their hitting and their back-row attacking. It's something we didn't really do a good job of with Purdue and Illinois. I think that's what we need to focus on right now is defending the back-row attack and their really good outside hitters."