Russ Rose, freshman setter Gabby Blossom, and redshirt sophomore defensive specialist Kristin Krause fielded questions before Tuesday's practice. The Nittany Lions (15-3) host Rutgers Wednesday at 7 p.m.
Coach Rose on playing Rutgers back-to-back:
"The benefit would be that the scouting time and preparation time is on one team. You're not having to spend your time trying to put together two scouting reports. But clearly, you play on Wednesday and there's always things that you're going to want to change based on things that you felt you did well or things that they did well."
Coach Rose on the Nebraska match:
"I thought it was a great energy in the building that really helped our kids. I don't think it was a match that we played great, but I thought we played really hard. Especially in the first game. For us to beat Nebraska, we needed to play great defense. The way we started, we probably gave them seven of their 10 points on hitting errors and serving errors. We really needed to settle down. Nia [Reed] had a really good match. I thought Bryanna [Weiskircher] played well. Kendall [White] was really steady throughout the match and played really hard.
"In my opinion, I believe that our back-row kids came in and made great contributions. There's been a lot of matches where that's been hot and cold or hit and miss. I was pleased that those were the results we received from them. When you go five games and a couple of the games are deuce games, matches go either way. I don't get too over the top because we won, and I wouldn't be too distracted if we lost.
"It's good that we won because now people stop talking about the fact that we hadn't beaten Nebraska in a few years. Some of the players, especially the older players, had to listen to questions about the fact that they had never beaten Nebraska. Bryanna at played. Nia didn't play very much. Tori [Gorrell] played against them. A lot of those kids who lost a number of five-game matches to Nebraska are all playing professionally. It didn't hurt their professional careers, it just hurt their chances to win the national championship. I think that's probably what happened."
Coach Rose on Emily Sciorra:

"She's just a really upbeat person who is always smiling and has a real positive personality. She's a person who provides energy to the group. When she goes in and does well, I'm happy for her as well as happy for what she does for the team because she's a good kid. She's no maintenance. Coaches unfortunately spend time with kids who are high maintenance, and it takes away from their ability to do their job and even enjoy their life a lot of times, but she's a young person who's a breath of fresh air."
Coach Rose on Jonni Parker's recruitment:

"Jonni was kind of an interesting recruiting situation because she was previously committed to another school. We didn't recruit her in the initial phase, and then when it was reopened we got into the equation. We got her to visit and she liked what we had to offer. What do you like about Jonni? She plays really hard. She came from a really competitive club program. She's an individual who I think is responsible for her performance. I think that she has a good awareness of the game. She knows how to play the game. She's certainly not an overpowering, physical player, but she plays bigger than her size."
Gabby Blossom on the atmosphere last Saturday: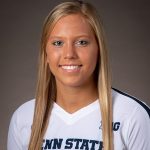 "It was awesome. Those are matches, when you think of Penn State, that's why you want to come here. That type of atmosphere. Rec Hall is so historic and so awesome. The upperclassmen talk about it all the time. That environment is so cool to play in front of and our fans are amazing and so supportive. Having them behind us in the fifth set and having that energy in the arena is super cool."
Gabby Blossom on some of her mentors other than Bryanna Weiskircher:
"Everyone in their own way, upperclassman-wise, has done an incredible job of knowing what they bring to the underclassmen and then instilling it in us. Taylor [Leath] is definitely the grandma who is giving you life lesson after life lesson. Tori [Gorrell]'s more of if you need anything she's there. The juniors, too, have done a great job."
Gabby Blossom on what the typical student doesn't understand about what it takes to be a Division I athlete:
"I guess the time. If you think about it, it's a three-hour practice, but then we're in the locker room at 1:30, out here at 2 before practice. After practice we're staying and getting reps. We're up in the morning lifting, getting treatment, and stuff like that. Time is big. Being on the road, keeping up with school can be demanding."
Gabby Blossom on the benefits of playing Rutgers twice in a row:
"It's fresh in your mind of how they play. In our scouting reports, you don't have to worry about two teams and two different offenses and defenses in one week. You just need to focus on that one team and what they do."
Gabby Blossom on where she's improved the most this season:
"Defense. I came in not good at it. The coaches [have helped me] and then Bryanna is one of my biggest coaches for sure."
Kristin Krause on growing up in a volleyball family:

"Since I came out of the womb I was involved with volleyball. Just my dad being involved and my mom helping out with him and then following the footsteps of my sister [Taylor] has really allowed me to be in the mindset of working hard and getting to where I am today."
Kristin Krause on some of her favorite memories at Penn State:
"Even though it's grueling, preseason is probably when we bond the most as a team. My preseasons with this group and the groups that I've played with in the past has been the most significant parts of my career here. Obviously last year making it to the Final Four was really exciting, but it didn't necessarily end the way we wanted it to. Hopefully it will happen in the future."
Kristin Krause on the team's "Prowler" workout:
"I would just say it's a grueling experience that's a very mental thing rather than physical. Our trainer, [Cam Davidson], has put us through all these grueling workouts that he knows our bodies can take. It's just a mental thing. When you're doing it with your team, you don't really want to let anyone down. That just kind of pushes you to finish it and do your best."
Kristin Krause on Coach Rose encouraging her to provide input to the team:
"Coming from him, who's probably like the best coach in the world, it's really important to me hearing that and knowing that he trusts me to give input to these girls and help us become the best team we can be."
Kristin Krause on her greatest strength as a player:
"Probably my volleyball IQ. I think that's because I've been around it for my whole life. I'm exposed to a high level of play here at Penn State and I've been around volleyball, through my dad coaching, my whole life. I've just built a lot of knowledge about the game."
Kristin Krause on what makes this year's team different:
"Definitely the freshmen and the energy that they bring to the court is something different. It's been a growing process and a learning process for them and for us. Just having such a new team — so many people learning how to play with each other — and how we can get this team going in the right direction has definitely been a difference for us throughout the past couple years that I've been here."
Kristin Krause on her plans after graduation:
"I hope to become an elementary school teacher, preferably first grade, but I'm willing to do whatever. I'm not really sure where it's going to take me, but hopefully I'll find myself in school for the rest of my life."
Kristin Krause on her sister's advice to her:
"Kind of just never taking any moment for granted. It's four years of your life that go by in the blink of an eye. When you're so busy like we are here with this schedule, you blink and it's gone. Not taking any moment for granted and working hard every day to take advantage of the opportunity that I have being here."