Check out the transcript from Tuesday's Penn State women's volleyball media availability featuring quotes from head coach Russ Rose, middle blocker Serena Gray, and defensive specialist Jenna Hampton.
Coach Rose on Jonni Parker battling through an ankle injury against Purdue:

"Jonni's a tough kid and plays hard. It certainly impacted the quality of her game, but I thought she played hard. It was unfortunate that the injury occurred, but that's part of the game. You've got to play with who you have. She had great numbers on Friday night and was unable to really kind of get the lift necessary to equal that effort on Saturday. We certainly could applaud her for wanting to get in there and give it her best effort."
Coach Rose on the five-set loss to the Boilermakers:
"I'm a believer that you shouldn't let a loss beat you twice. I think some of the younger players didn't necessarily play great throughout the whole match, but I thought some of the older were maybe more responsible for the letdown in how we played than the younger players. Any message that I had was really geared toward the older players than the younger players. I thought that that was more disappointing to me than the younger kids."
Coach Rose continued:
"It's sports. You have a schedule and you need to keep to your schedule and not get too caught up in the results of one event whether it's good or bad. I thought we played way better on Friday and I thought we competed well for a couple of games on Saturday. We got careless and Purdue's a talented team. When things started going, they had the best player on the floor and we didn't do anything to alter the outcome of the match. I think that was probably the biggest disappointment."
Coach Rose on playing Nebraska Friday in Lincoln:
"I think every match has its own byline. I don't really look at that. Every team has to navigate the season that they have. The schedules aren't balanced across the board in the conference. Some teams play some teams twice. Playing Nebraska a second time at Nebraska will be an interesting experience for our players, especially the younger players because they'll be playing certainly in front of the biggest crowds that they've played in front of.
"Nebraska's coming off a tough stretch as all of us experience in the conference at times playing the top teams on the road in succession. It's going to be a match where both teams hope that their kids rebound from maybe some challenging efforts and challenging performances and hope that they play well during the stretch. The first match was a different match. It was similar to the Purdue match. We won all the statistical categories and lost the match. The Nebraska match, they won a lot of the categories and we won the match.
"We can't get really caught up in certain things. You want to compete and see where you stack up in certain areas. The goal is to get better throughout the course of the season and try and get healthy. I can't comment on the health of the other teams, but we need some kids to get healthy if we want to make a run at the end of the season."
Coach Rose on Nebraska's Lexi Sun:
"Lexi, like a number of the Nebraska players, is a terrific talent. What I admire about Lexi's game is she has a great passion for the game, she physically is very strong, she hits the ball high, and she has the ability to hit all of the shots. I think she's just a really well skilled player who plays with a smile and doesn't let the results of the last play impact her effort on the next play."
Coach Rose on fatigue among the younger players:
"On a couple of kids I think they've kind of reached the saturation point in some areas. We try to address it. Some kids aren't practicing much because of injuries, so hopefully that can maybe recharge some of their batteries. It's across the board. Other teams who are depending on younger players have the same challenges that we might be looking at."
Coach Rose on his message to the team after the Purdue loss:
"I think I was pretty hard on them after the match on Saturday and I was probably equally hard on them yesterday in conversation. Maybe I'll see if I can be nicer today."
Coach Rose on Serena Gray's development:
"Serena's a really talented player with a vast potential. Everybody grows and develops at different times and speeds. I think with most players they dictate a lot more of when those sort of things happen than the coaches do."
Coach Rose on which freshmen have exceeded expectations:
"I think Jonni [Parker], Jenna [Hampton], and probably Kaitlyn [Hord] have been the most reliable across the board. I have great confidence that Gabby [Blossom's] going to play really hard. I like Gabby's fight. I think those four kids are probably as billed."
Coach Rose on the importance of a deep bench:
"It certainly was important in [the Nebraska] match. I thought that was the one match where those guys all came in and made great contributions. Conversely, I don't think we saw any of that in the last [Purdue] match. That's why it was so welcome when we saw it against Nebraska, because I didn't think that we really got much production with the sub pattern from the last match.
"That's part of the challenge with young people and back-row players is it's hard for them to keep their spirit up, because they don't play as much as they might want. If they lose their edge and then they get the call to go in to play, there's no switch that you can just flip and all of a sudden be ready to compete at a high level."
Coach Rose on the biggest benefit of adding Katie Schumacher-Cawley to the staff:
"Our conversations. I enjoy talking with Katie. She's a feisty gal. She'd say a lot worse things to the players if I let her."
Serena Gray on what went wrong against Purdue:
"I have no idea what happened there. I think we're still trying to figure out what it was so we can have it not happen again. One thing Coach Rose said is in a number of years he's never seen a match be given away like that. We were close to the finish line and we couldn't wrap it up at the end. I think that's an importance lesson to show the team is you can't take a lead for granted."
Serena Gray on whether the first half of the season has met her expectations:


"I think I knew what to expect when I got here. I was expecting the girls to be a lot bigger and they're really not. I was expecting the offenses to be a whole lot faster. The girls don't seem as scary or as big as they did when you're a freshman in high school and you're like, 'Oh my gosh, I'm going to be playing there one day.'"
Serena Gray on how she was introduced to volleyball:

"I was watching the 2012 Olympics in sixth or seventh grade and I remember watching Destinee Hooker play. I was like, 'Wow, she's awesome. She's really good.' And then I just wanted to play."
Jenna Hampton on consistently playing hard: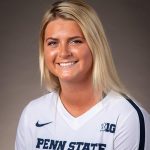 "I think it's something I've always done and it's something that the program is kind of known for. I'm just keeping the tradition. You've got to go hard for every ball. Every play, go hard. It's part of the game. Kendall [White's] helped me a lot. One of her main things is, 'Nothing touches the ground.' She goes hard every ball. It makes everyone else around her want to go for the ball too and make great plays, because she makes great plays all the time."
Jenna Hampton on defending Lexi Sun:
"She's hard to read. We're going to practice a lot this week on how to stop her and I think we're going to execute it well."
Jenna Hampton on how Taylor Leath has helped her:
"Taylor's helped me a lot. She's someone who's been around the game the longest. When she's front row, I'm behind her. We talk a lot. She's helped me get to know the left-back and left-front situation."
Jenna Hampton on Jonni Parker's leadership:
"Jonni's a really good person and she's a really good leader. I think she's helped me build more confidence in being able to help others and be a leader as well. Watching her do that, I think it helps bring me confidence to talk to other players. I love Jonni. I think she's a great player."
Jenna Hampton on who introduced her to volleyball:
"Vicky Paige. I played softball before I played volleyball and she was my coach. She was like, 'You would be a really good volleyball player.' So I tried volleyball because of her and ever since then I've loved it. I played softball and volleyball for a while, but then I started liking volleyball more and I had to choose one."
Jenna Hampton on her first impression of Penn State:
"I just love the competitiveness. It's really fun playing in front of huge crowds and everyone who loves volleyball."