Russ Rose, Nia Reed, and Tori Gorrell spoke to the media before Tuesday afternoon's practice. The Nittany Lions (13-3) will face Purdue Wednesday at 7 p.m. on ESPNU.
Coach Rose on Tori Gorrell:


"I think Tori's done a real nice job because she's got to play every front-row position in practice. She's had to play left side, middle, and right side. She's always kept a really positive attitude. Each position has different specifications and it's hard to transition to do all of those things, especially if you don't have a background playing all those positions. I think she's really done a nice job of trying to help the team in any way she possibly can."
Coach Rose on rotating players against Maryland:
"That was kind of a unique situation in that we had a little distance in a couple of the games. We were able to get different people in at the end of each game just to give them a little opportunity to play at home. It's a nice reward for the [backup] players to get a little treat for working hard in practice.
"In a lot of situations, the rotations of the game and how close some of the matches are don't really allow to have such a wide use of the roster. In our case, at least, that match we were fortunate that that happened. Against Ohio State the next day that wasn't the same case. The games were a lot closer at the end."
Coach Rose on the bench cheering for the team:
"I would hope that they would do that. If they don't do that, I would encourage them to do something else. Everybody has to give what they have to give. There's not opportunities for everybody to play. There's opportunities for everybody to give. Being on a team is a privilege not a right. Just because you're not playing doesn't mean you shouldn't be caring."
Coach Rose on his son, Chris, joining the staff: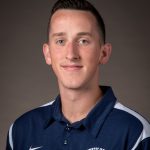 "Chris has been involved in volleyball for a long time. He's been associated with a number of programs and it was his desire to leave a paid position and come back here to work with our program. I think he's got a lot of responsibilities. I trust him and all the members of the staff to talk with all of the players and try to make everybody better. I'm not a micromanager that I have to be involved in everything and everything has to go by me. Everybody's trying to make the team better.

"I think some players respond better to other people than necessarily to the head coach or their position coach. Therefore I'm a big believer in everybody trying to interact with the players and help them become the best they can be. I think Chris does a nice job in doing those things. It helps that he's young. Out of all the staff, he's the only one that can play. That's a real bonus that he can go out there and play and make the players better by playing against them.

"When we're preparing for some teams, he's given the opportunity at times to try and replicate some of the skillsets of the other teams' players. That's a big advantage when you have someone in your gym who can do that. Some staffs are young staffs and they can do that. I wouldn't say that our staff would qualify in that area."
Coach Rose on Purdue:
"Purdue's always a really challenging place to play. The gym's always sold out. They've got great fan support. Their student section is always packed and has great enthusiasm. They have Sherridan Atkinson, who is clearly one of the premier attackers in the conference. I think [Blake] Mohler is one of the top middles in the conference. Dave [Shondell] is in a great state for volleyball, so they always have a really strong collection of back-row players that play real hard.
"We've had some great matches at Purdue because it's always a full gym. It's a tough place to play. The players have to have great focus and enthusiasm and be ready to play there or you get beat. Over the course of time, they've beaten a lot of really good teams there. We're going to have to be focused and ready to go."
Coach Rose on peaking at the right time:
"I worry about us not peaking at all. Every team's different. If you have a veteran team, you hope that they demonstrate the maturity that they have. In our case, with over half the roster being freshmen, every day there are new sets of challenges. Every day I have to take a breath and wonder what the next crisis is going to be. That's kind of been my read on this group as we enter October is that every day is a different challenge.
"We've played six or seven weekends and we've only had one or two weekends where we've had a full roster of healthy bodies. That's probably our biggest challenge is that we're always having to change things around. It's tough with younger players to keep changing it, because they don't have the level of experience to make the transition from playing one position to another position.
"It takes time to be comfortable playing next to someone. It takes time to develop the communication skills I think that are necessary in volleyball to be an exceptional team. We'll make some progress in some areas and then we'll have something happen and we have to kind of start over again."
Coach Rose on Nia Reed's return:
"We lost both matches in conference play when we didn't have Nia. She makes a big difference in how we play. Nia's a point scorer. In rally-score volleyball, you need point scorers. Certainly she's one of the individuals, when we don't have her available and don't have her on the floor, it makes it a little easier for the other team to strategize against the others."
Coach Rose on Allyson Cathey's development:

"She's young and this is a lot to throw at a freshman — to go in and play at a high level and try and keep a program in the top 10 in the country. There are flashes and days where it looks like she has a good handle on it. There are days where it looks like the weight of the expectations kind of get her down a little bit.

"I understand that and try to get her to understand that we don't have a lot of options so that she has to battle through it and keep her head up and keeping working and believe in herself. If you believe in yourself, you've got a much better chance of good things happening than when you get down on yourself."
Coach Rose on the new coaching staff:
"I have a new staff and there's a transition that takes place. I've worked with Salima [Rockwell] for a long time. Even though Dennis [Hohenshelt] was on the staff last year, he had different responsibilities. I think we're still adjusting to some of the things that maybe in the past we were a little smoother at, but that's what you get when you have a new staff.
"Everything takes time. There's no fast forward in gaining experience. As I tell the players and I told my children, 'In life, not all experiences are good, but they're all valuable.' The two matches this week I think will qualify in those categories as well."
Nia Reed on her return:
"I'm still limited in practice and stuff like that. I need the reps. It's good to go in a get a career high in kills, but I don't think I'm at the top of my game yet, because I didn't any digs or any blocks [against Ohio State]."
Nia Reed on Chris Rose's presence:
"I've known him since I was 14. He's a cool person to just go and talk to, whatever you need, not even volleyball related. He's very down to earth and funny. He's fun to have in the gym."
Nia Reed on the bench's energy:

"We were told that we should have a lot of 'benergy.' Over the last couple of weeks we've really brought it as a team on the bench. This year's different than other years because we don't have a deep bench like we've had in past years. When you come off the bench, it's nice to have them cheering you on and pushing you."
Nia Reed on painting as a hobby:
"I do all my own paintings. I have a lot of canvas paintings all over my room. I think when my sister turned 7 I did it with her as just something to do around the house, then I really got into it. I sketch and do stuff like that just to clear my mind."
Nia Reed on the freshmen:
"Our middles, they dominate every game. They just show me how you don't have to be a veteran to play like a veteran. You can be a rookie and still play like a vet. They're very witty and goofy. They're quiet until you really get to know them. They came in first week and were really shy and quiet, but once you get them in a room alone they're very talkative and ask a lot of questions."
Nia Reed on Tori Gorrell's versatility:
"It helps us out a lot. She can play on the left side, she play in the middle, she can run slides, she can hit a five on the right side. If somebody does end up not playing, she can just jump in. She started the last two years so she knows the game."
Tori Gorrell on which Canadian food she misses most:
"Probably poutine or Nanaimo bars."
Tori Gorrell on the freshman middles:
"Their ability to adapt [has impressed me]. I heard a lot about them in high school and their club days about things they used to do and how they never really ran slides. Then they're here and coach is expecting them to run slides and obviously they're willing to do it, which is awesome. They're killing it. They're starting to get so good at it. It's just really impressive for the years to come to see them keep improving."
Tori Gorrell on her new role:
"I'm just here to do whatever coach needs. I don't really care what I have to do. I'm here to help the team win."
Tori Gorrell on the team's bench energy:
"My freshman year coach would always say how terrible our bench energy was and it kind of made me sad. Throughout the years I think it's gotten a lot better. We actually have gotten a couple of warnings this year for our energy. I think our bench energy is pretty great and it helps the team a lot. When they come off, we're cheering for them and screaming their names and I just think that that gets them going."
Tori Gorrell on Jonni Parker's jump serve:

"I'm starting to learn how to pass, and whenever Jonni goes up to serve, my arms turn purple. I definitely think it's really impressive. It's quite scary. Her serve is going to hit you in the face if you don't get your hands there."
Tori Gorrell on the freshmen:
"They mesh so well with the team. It's hard to come in, especially with such a big group of girls, and have everyone fit in right away. Sometimes you don't always get along with everybody. I think that this group has done such a good job of wanting to interact with everybody and not choosing cliques."