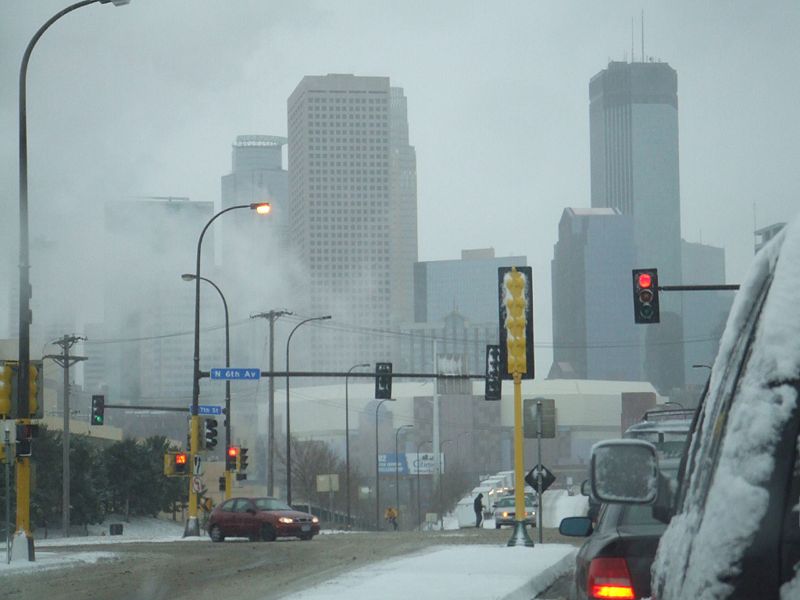 Were Gophers in a fog during Penn State Sweep?
Good Night for Nittany Lions; Forgettable for Gophers 
Heading into its match against the Minnesota Golden Gophers last evening in Minneapolis, the big question was whether Penn State women's volleyball team could play tough on the road against a quality opponent.  They answered that question with an impressive 3-0 win (25-23, 25-8, 25-20).  And yes, they did hold Minnesota, which was leading the B1G in attack %, to eight points in the second set, after a hard-fought 25-23 loss in the first set.
One Gopher fan described the loss as an "implosion" — with a good performance in the first set, an "awful" performance in the second set, and a performance in the third set that was "bad but interesting." 
We'd describe the match as something of an outlier.  Sure, Penn State had a great match, hitting .404 as a team and holding the Gophers to a .098 attack % — more than 240 points below their Big Ten-leading average going into the match.  But it was an evening in which not only did Penn State's 6-2 So. MH Nia Grant have a career night (8 kills on 10 errorless swings — an .800 attack %!), but Minnesota's star outside hitters 6-0 Jr. Ashley Wittman (4 kills, 4 errors, .000 attack %) and 6-1 Fr. Daly Santana  (1 kill, 4 errors, -.200 attack %) were virtually invisible.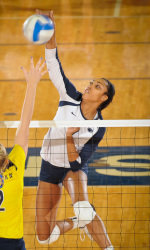 Nia Grant had a career night against the Gophers. Are more on the way?
That's not going to happen every time these teams meet.  And don't underestimate the difficulty of introducing new systems and new coaches to a team.  Hugh McCutcheon has only been at Minnesota since the end of August.  We'd give him at least a few more days to implement his ideas.  Maybe even weeks. 
These are terrific atheletes.  They have size, and Russ is a great coach.  They can do pretty much anything they want to do against anybody.  I like what I see. (Former Minnesota Head Coach Mike Hebert describing this year's Penn State team in an interview last evening on the Big Ten Digital Network.)
Still, there were plenty of good signs for Penn State.  6-4 Jr. RS/Opp Ariel Scott, 6-1 Jr. OH Deja McClendon, and 6-6 Jr. MH Katie Slay all had 9 kills.  5-11 So. S Micha Hancock registered 35 assists and 9 digs, and 5-6 So. L Dominique Gonzalez totaled 12 digs to lead the team.  Nia Grant led the team with 4 blocks and scored the last 3 points of the third set for the Nittany Lions.
Katherine Harms continued her stellar play for Minnesota, totalling a team-high 13 kills and two aces.  6-3 MB Tori Dixon was second on the team with 7 kills in 15 attempts.  We love her game — she is terrific, and we never, ever underestimate her talent.  5-5 Fr. L Lindsey Lawmaster had a tough night on serve receive.  Penn State appeared to target her, and eventually it paid off, as she had 5 receptions errors. 
Penn State will enjoy the home court advantage when Minnesota comes to Happy Valley.  But if the Nittany Lions think last night's contest was a promise of things to come, they are likely to be surprised and disappointed.
Song of the Day (for Experts Everywhere): You Don't Know Me
For all pundits, and would-be pundits out there, the late, great Ray Charles:
Match Stats
(Courtesy of GoPSUsports.com)