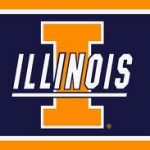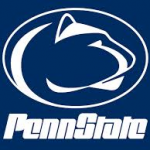 Coming into last night's match in Huff Hall against #3-ranked Penn State (15-1, 4-1 in the B1G), #13-ranked Illinois (11-5, 2-3 in the B1G), was looking to make some noise — both literally and figuratively.  Figuratively speaking, the Illini wanted to make some noise by breaking a two-match losing streak (a 3-1 at Wisconsin on September 30th, and a 3-2 loss at Minnesota on October 3rd) and notching a win against a top-10 team.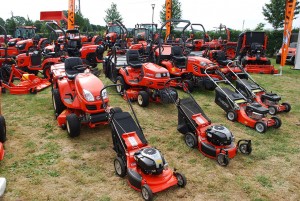 The UI Marketing & Promotions Staff wanted to make a lot of noise, literally, with an IlliNOISE Night promotion.  They brought a decibel meter to the match, and were rewarded with a new mark of 107 dB (which, according to the website H.E.A.R. – Are You at Risk is the equivalent of a power mower running next to you.  The site warns that "regular sustained exposure" to 107 dB can possibly cause permanent damage to your hearing.)
The crowd noise may have spurred on the Illini, but the Nittany Lions still prevailed 3-1 (25-16, 25-18, 24-26, 27-25).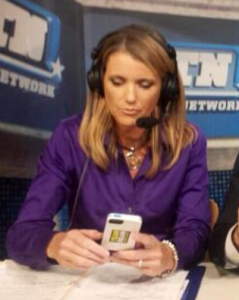 The best indication of the effect of the crowd noise was when, following a net violation call against the Illini in set 4 that gave Penn State a 21-19 lead, Big Ten Network commentator Liz Tortorello-Nelson said "hopefully they [the Illini] will bounce back."  Yikes!  Maybe IlliNOISE made her tone deaf? Note to Liz: whether your comment was, in fact, an expression of bias, or merely a [very] unfortunate turn of phrase, you have some work to do.
Do Your Amps Go to 11?
Mission accomplished for the UI Marketing & Promotions Staff. But before finalizing your plans for the next IlliNOISE night, a quick question: Do your amps go to 11?  See below for some possibly helpful pointers on audio engineering: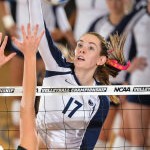 Penn State Recap
Once again, 6-2 Sr. OH Megan Courtney led Penn State — really, it was more like she personally willed the Nittany Lions to victory — with 18 kills and a team-high 19 digs  — her fourth consecutive and eighth double-double of the season.  She also contributed six total blocks, three of which were solo (one of her trademarks during an extraordinary career at Penn State).  Courtney also became the 8th Nittany Lion to reach the 1,000 mark for both career kills and career digs.  Congrats Megan.  And thanks.
Other key contributors on offense for Penn State were 6-4 RS Sr. MB Aiyana Whitney (16 kills, .319 attack %), 6-3 So. MB Haleigh Washington (11 kills, a team-high 7 blocks) and 6-2 So. OH Ali Frantti (10 kills, 5 digs).
5-6 Fr. libero Keeton Holcomb totaled 13 digs, followed closely by 5-5 Sr. Kendall Pierce, who registered a career-high 10 digs.  6-0 RS Fr. setter Bryanna Weiskircher directed the Nittany Lions to a .289 attack %, adding 14 digs and registering her fourth consecutive and fifth double-double of the season.
Illinois Recap
For the Illini, 6-1 Jr. OH Michelle Strizak finished with a career and match-high 22 kills, while 6-2 RS Sr. OH Jocelynn Birks registered 21 kills and 10 digs.  Star Fr. setter Jordyn Poulter  totaled 46 assists and 8 digs, while tenacious So. libero Brandi Donnelly came up with a season-high 25 digs.
After the match, Illinois head coach Kevin Hambly talked about Penn State and his team's performance:
[Penn State is] a good team and they have some great weapons. I thought Whitney, Courtney and Washington were all a handful; they have a bunch of kids that can play, especially Whitney. [Whitney] was just going over us and we couldn't touch. We had to scramble and do a lot of things on the fly to squash some things.

It was good to see us actually figure some things out and execute them in the third and fourth set. The thing that I like the most was that we started to fight, and put our hearts out there, and scramble. We need that, and we've been lacking for a while for whatever reason. It was nice to see us to do that.

In the first two sets we played too frantic and made too many errors. We gave them eight or nine points in those [first two] sets. It was like we were handicapping ourselves. I thought we settled down and did a good job in the third and fourth sets until we went back to making errors. If we don't make those errors, we could have won that set.
Credits
Lawn Mowers, 20150724 libramont187, by Jean Housen.  Own work. Licensed under CC BY-SA 4.0 via Wikimedia Commons.
Liz Tortorello-Nelson, courtesy of Big Ten Network.
Megan Courtney, by Mark Selders, courtesy of GoPSUsports.com
Match Stats
(Courtesy of GoPSUsports.com)