Penn State – Iowa Match Quotes
"I didn't think it was one of our cleaner matches.  I'd hope that we'd work a lot harder tomorrow [in practice].  We're not going to win big matches unless everybody's doing that little extra all the time.  Controlling the ball incorporates all phases [of the game]."  Penn State Head Coach Russ Rose, in a November 12, 2014 interview with Matt Martell of the Daily Collegian after the win over Iowa.

"Our group came out against the defending national champion, and we made them earn our respect.  We battled with them early on and then they separated. Our group got intimidated for a little bit.  I loved that our team came back and made them work in the third set. This is a tough road trip, but it's a big deal for us to get this experience moving forward." Iowa head coach Bond Shymansky, courtesy Hawkeyesports.com.
By the Numbers
Nine.  The number of consecutive sweeps for the AVCA #6-ranked Penn State Nittany Lions women's volleyball team. (25-3, 13-2), after its straight set (25-14, 25-12, 25-21) win against Iowa (13-13, 5-10) Wednesday evening at Rec Hall.
Five. The number of matches remaining in Penn State's regular season, including Saturday night's match against Minnesota.
Countless.  The number of times during Russ Rose's 36 seasons as Head Coach of the women's volleyball team that he has told his players they all need to do that little extra all the time if they want to win big matches.  And considering Rose is the all-time wins leader in Division 1 women's volleyball, he knows what he's talking about.
Match Recap
In Penn State's 25-14, 25-12, 25-21 win over Iowa, 6-4 RS Jr. Opp/RS Aiyana Whitney led all players with 16 kills (.714 attack %), with 6-3 Fr. MH Haleigh Washington (12 kills, .667 attack %), 6-2 Sr. MH Nia Grant (11 kills, must-be-a-typo but it's not .846 attack %, 6 blocks), and  6-2 Fr. OH Ali Frantti (9 kills and 2 blocks) following close behind.  Senior Dominique Gonzalez anchored the defense with 10 digs, while senior Lacey Fuller finished second on the squad with eight. With 5-11 Sr. Micha Hancock directing the attack, Penn State ended with a .457 team attack % compared to a .102 attack % for Iowa.
Match Stats (Courtesy of GoPSUsports.com)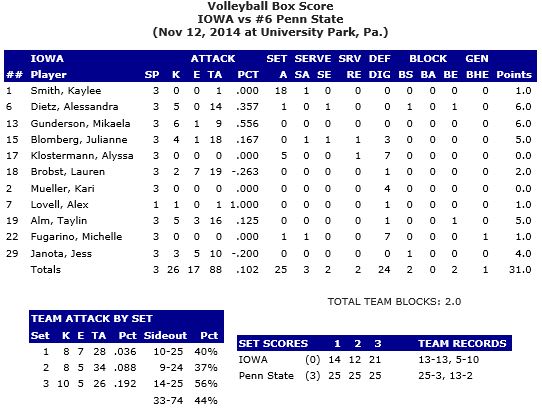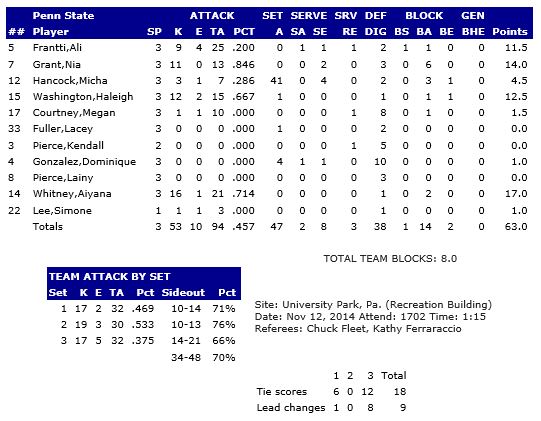 _____________________________
Photo Credits