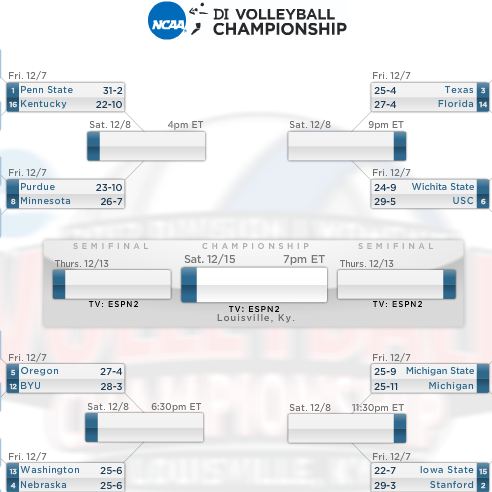 Lions to Face Kentucky in West Lafayette
This one wasn't unexpected, but Penn State's 25-15, 25-12, 25-15 sweep of Bowling Green was satisfying nonetheless.  The win earned the Nittany Lions (31-2) a trip to the Sweet 16 in the West Lafayette Regional Semis, where they will face #16 Seed Kentucky on December 7th in Purdue's Mackey Arena.  This will be Penn State's 10th consecutive appearance in the NCAA Regional Semifinals.
Against Bowling Green, Penn continued its solid play.  Since falling to Nebraska 3-2 in Omaha on October 28th, Penn State has gone 10-0, with eight sweeps and two 3-1 victories — over Minnesota (25-21, 25-19, 23-25, 25-21 in Rec Hall, and over Purdue (25-16, 22-25, 25-19, 25-21 in West Lafayette.  Coincidentally, Minnesota and Purdue will face each other in the other West Lafayette Regional Semifinal.  An all B1G Regional Final? More on that later.
Penn State's attack was, well, solid — the Lions hit .329 as a team, led by 6-4 Jr. Opp/RS Ariel Scott's 8 kills (.412 attack %), seven kills by 6-1 Jr. OH Deja McClendon  and 6-2 So. MH Nia Grant, and yet another outstanding all-around performance by 6-2 Fr. OH Megan Courtney, who totaled 6 kills (.417 attack %), a match-high 9 digs, and 3 blocks (two of them solo!).  5-11 So. S Micha Hancock continued her run of service aces in the tournament, registering 5, to give her 15 total in the first two rounds.   5-6 So. L Dominique Gonzalez posted eight digs, and 5-6 So. DS Lacey Fuller and 5-6 Fr. DS Kendall Pierce (we loved the "Pierce is Fierce" sign held up by two fans) each registered two service aces.
Match Stats
(Courtesy of GoPSUsports.com)


Revenge of the "Cupcakes"
"Cupcakes" are not as easy as pie.
As it turns out, cupcakes are not as easy as pie.
Defying the wisdom of the volleyball world (or at least significant parts of it) when the NCAA Tournament Selection Committee announced the brackets and seeds this year (i.e. "Another easy road to the Final Four for Penn State!" and  "A Cupcake Regional"), the "Cupcakes" are having their revenge, as unseeded Purdue, Michigan, and Michigan State will be joining Penn State, Nebraska and Minnesota in the Sweet Sixteen.  Penn State won the Big Ten, Nebraska and Minnesota were tied for second, and Purdue was 5th, and, Michigan and Michigan State were tied for 6th-place in the Big Ten this season.
"Cupcakes"? Ask #9 Florida State (which was defeated 3-2 by unseeded Purdue in its Round 2 match on its home court in Tallahassee), or #10 seed Louisville (which was defeated 3-1 by unseeded Michigan in its Round 2 match on its home court in Louisville), or #7 seed (and 2011 NCAA Champion) UCLA (which was defeated 3-1 by unseeded Michigan State in its Round 2 match in Pauley Pavilion in Los Angeles — before a crowd of . . . 780!)
Here's Purdue head coach Dave Shondell after the Florida State match:
And here are video highlights of Michigan's upset win over #10 seed Louisville.
Finally, from MSUspartans.com, here's what Michigan State head coach Cathy George had to say after the Spartan's upset win over UCLA:
Our team played with a lot of heart and we really got after it.  We played defense and had an answer for a lot of their powerful attacks. They have two great outside hitters and I think we contained them and played together. That's what we needed to come away with a victory against the defending National Champion at their home. It was important that we stuck together through thick and thin and answered the call.
When the call is "who ordered the cupcakes?" some caution might be advisable.