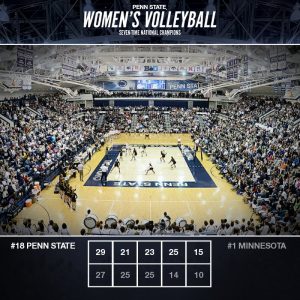 In press conferences, 6-1 Jr. OH Simone Lee is unfailingly polite, thoughtful and articulate.  Last night she was all of those things after the match.  During the match?  To the delight of 2700+ Rec Hall fans, Lee was in full Beast Mode, leading #15-ranked Penn State (13-3, 5-0 B1G) with a career-best 30 kills in a 5-set win  (29-27, 21-25, 23-25, 25-14, 15-10) over the #1-for-now Minnesota Golden Gophers (12-2, 4-1 Big Ten).
It wasn't all Lee — this was a true team effort, from 6-3 Jr. MH Haleigh Washington's 14 kills on 20 errorless swings (that's .700 hitting, folks, which placed her right at the top of the B1G's conference-only hitting stats with a .529 hitting %), to 6-2 Jr. RS Heidi Thelen's 14 kills (.367 hitting %) and 5 blocks, to 6-1 Jr. OH Ali Frantti's 13 kills, 13 digs, 2 blocks and 2 assists, to 6-2 RS Fr. MH Tori Gorrell's  3 kills and five blocks, to 5-5 Fr. libero Kendall White's match-high 21 digs, 4 assists and . . . another kill (she now has 3 kills for the season, though she is only hitting .125) to 6-0 Jr. setter Abby Detering's 61 assists, 10 digs, 5 kills, and 3 service aces, to 5-7  So. DS Keeton Holcomb's 7 digs and 3 assists, to . . . . well, you get the idea.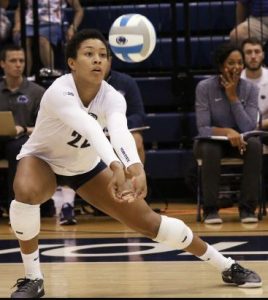 There were many opportunities for Penn State to throw in the towel, starting in Set 1, when Minnesota roared out to a 13-4 lead.  But the Nittany Lions held off the Gophers, and fought back to take the set 29-27 (that's a 25-14 Penn State advantage over the last 39 points.)  They could have folded in Set 4, when Minnesota opened up a 7-2 lead.  Wasn't going to happen, as the Nittany Lions outscored the Gophers 23-7 (yes, you read that right) the rest of the way to tie the match at two sets apiece.  After a 6-6 tie in the Set 5, Penn State pulled away to win 15-10 to take the match.
Great effort, great win.  Congrats to all!
Post-Match Press Conference
Here's a link to a video of the post-match Press conference (Courtesy of Penn State Women's Volleyball): Post Match Press Conference
Match Stats
Courtesy of GoPSUsports.com
Credits
Rec Hall, courtesy of Penn State Women's Volleyball
Simone Lee, by Craig Houtz, courtesy of GoPSUsports.com