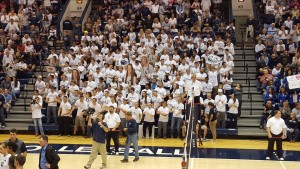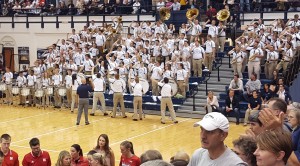 Playing one of its best matches since downing Wisconsin 3-0 on September 23rd, Penn State (17-2, 6-2 in the B1G) defeated Purdue (15-4, 6-2 in the B1G) Saturday night 3-0 (25-18, 25-17, 25-17) in front of 4,000+ enthusiastic fans — led by the always-terrific wRECking crew (pictured at left) and the Penn State Volleyball Pep Band (pictured at right).
Head Coach Russ Rose praised the team effort, and in particular, the performances of So. MB Haleigh Washington (10 kills, .588 attack %, 9 blocks) and RS Fr. setter Bryanna Weiskircher (36 assists — a team .315 attack % — 6 digs, 3 blocks and a match and career-high 4 service aces.)


I want to thank the crowd — I thought we had a great crowd, right before the football game, that's terrific to have that support.  The fans, the student section, and the band make a big difference in the event and we're very appreciative of that.  I thought we played much better than we did last night, against a team that started the weekend as the number one team in the conference.  I thought Bryanna played well, served especially well and Haleigh had a great night offensively.  She's been struggling a little bit, so I'm pleased.

I thought we served and passed really well and had a real nice effort tonight.  I'm especially pleased that we really kept our errors low against a really good team.  Purdue is very good.  They're a top-20 team and they were the only undefeated team in the conference.
So. OH Simone Lee  led the Nittany Lions with a match-high 12 kills (.333 attack %). So. OH Ali Frantti had a solid performance, contributing 9 kills (.318 attack %), a match-high 11 digs, and a career-high 6 blocks.
Sr. DS Lara Caraway started her second consecutive match, coming up with 7 digs.  Sr. DS Kendall Pierce totaled 5 digs and Fr. libero Keeton Holcomb tallied 9.
For the Boilermakers, Sr. Annie Drews registered 11 kills and 6 digs, RS Jr. Faye Adelaja totaled 8 kills and 3 blocks, and So. Danielle Cuttino tallied 6 kills and  5 blocks. Sr. Amanda Neill Fr. Alexa Smith each registered 7 digs.
Talking about . . . communication
Coach Rose commented after the Indiana match that Caraway did what a senior should do — "come in, play well, talk, and help the younger players."  Against Purdue, the entire team appeared to be talking more on the court.  After the match, Washington spoke of the importance of communication:
Communication is a huge thing, especially in a team sport with a young team.  We were in a huddle at one point — just us on the floor — and I realized it was all sophomores and Aiyana [Whitney, a RS Sr.].  I thought: "we have alot of young players out there now."  I think that when you have a young team and you have people coming in, filling roles, you really need to talk and you really need to communicate.  It's really important and it really helps the team flow.
On the Road Again
Asked about maintaining the team's momentum in upcoming matches (the Nittany Lions face Michigan in Ann Arbor on Wednesday, October 21st, and Michigan State in East Lansing on Saturday, October 24th) Rose talked about the talent throughout the B1G this season and the challenges posed by away matches:
The conference is really tough — that's the bottom line.  You play every match, and you do the best you can.  I've been here a long time.  We've won matches and we've lost matches at Michigan and Michigan State, so I know they are two tough places to play, it's a tough travel week for us.  Because of television we have to fly [to Ann Arbor] on Tuesday to play Wednesday, and then come back, and then fly again on Friday to play on Saturday.  So it will place some challenges on the kids . . . but that's what you have to do.  If you want to be in a big conference you have to play by big conference rules.
Match Stats
(courtesy GoPSUsports.com)