Nia Reed Was Ready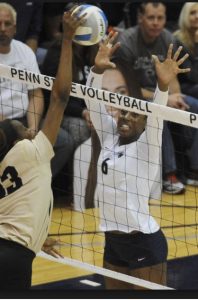 #1-ranked Penn State downed #9-ranked Wisconsin Wednesday night, 3-1 (25-19, 25-22, 23-25, 25-16).  Volleyball is the consummate team sport, but for this match, the big story was the spectacular play of 6-1 RS Jr. RS/OH Nia Reed.
Reed has played sporadically this season, with definite ups and downs.  At an event this summer, sponsored by the Penn State Women's Volleyball Booster Club, Reed told the audience that she had been reading "212: The Extra Degree," a book by Sam Parker about the big difference a small change can make:  at 211° water is hot. At 212°, it boils.  Reed said she was waiting to see what the "boiling point" is for this season's Penn State Women's volleyball team.
Against Wisconsin on Wednesday night, Reed didn't enter the match until well into the second game — but once in, she simply took over, with eight kills on nine attempts, and scored Penn State's final six points in the game with five kills and a block, as the Nittany Lions came back from a 17-10 deficit to take the set, 25-22.  Reed finished the match with 11 kills on 19 swings (.421 hitting %).
Asked after the match whether she had found her own "boiling point," Reed said that it really is more about always being ready to go into a match:
Coach is always telling me to be ready, so as a designated hitter, I'm always ready.  The game plan was just to go up and take big swings.  That's what I'm designed to do.  Every game is different, every game is a different matchup.  So my mentality is not "am I going to play in this game," it's "always be ready."   Just like Coach says, "Be ready," whether it's in practice, or in games, that's my mindset.
Coach Rose interjected "My wife is Nia's biggest fan.  She's always telling me 'If somebody struggles, Nia's ready.  Nia's ready.'  Tonight, Nia was ready."   Yes, she was.
Match Recap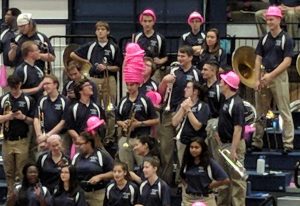 6-3 Sr. MB Haleigh Washington had yet another terrific match.  Her sixth block of the evening gave her 500 career blocks — the ninth Penn Stater to reach that milestone, and the seventh to also reach 1,000 career kills.  For the match, she recorded 14 kills (.448 hitting %), with a match-high 8 blocks. 6-2 Sr. RS/Opp Heidi Thelen also performed well, totaling 7 kills (.353 hitting %) and 5 blocks.  5-5 So. libero Kendall White registered a match-high 21 digs, followed by 6-1 Sr. OH Simone Lee, who ended the night with a career-high 18 digs. Penn State out-blocked the Badgers, 14.0-9.0, and out-hit Wisconsin .241-.207.
Post-Match Quotes
Russ Rose on the Wisconsin Match
I thought it was a typical Big Ten match, with two really strong teams that are competing hard.  The keys for us: I thought Simone [Lee] had a great match passing.  I thought Nia [Reed] came in and put on a great offensive performance, which is a great opportunity for her to help the team like that.  And Haleigh [Washington] hit for a good number and led the match in blocking.  We executed a good bit of our game plan, and you always feel fortunate when you get a victory.

I thought we came out well.  I thought Ali came out, was fresh and had a couple of good swings that helped us a little bit.  Again, I thought Simone passed well and played great defense — I have to think that 18 [digs] is her career high.  I wouldn't say it was one of our best matches, but it was a tough match against a really good opponent that beat us last year at their place, and we'll see them in a month, and I'm sure they'll be excited to see us rolling into town.
Haleigh Washington on seeing Nia Reed have such a great match
It's great seeing your teammates succeed, especially when you have such passing out of Simone.  So it's great seeing Simone really pass well, and then have Nia just pop off.  If you saw me, I was smiling and jumping up and down and getting so excited.  Because you know that she's been working so hard.  Nia's a tank.  Goes into practice every day and works so hard.  She can keep working and keep working and keep working.  To see a result like that is just phenomenal.
Nia Reed on how it felt to have her teammates keep setting her the ball
It's nice to know your teammates have faith and trust in you.  So just being able to swing away, kill after kill, that was great to have.
Haleigh Washington on her outlook on competition: love-to-win or hate-to-lose
I love to win.  I only say that because hating to lose is a negative mentality.  If you're worried about "I can't lose," with "I can't" in your head, it's a negative.  And your body responds negatively to negatives.  So if you're thinking "I want to win.  I love to win.  I'm going to get this win," then your body responds positively to the positive talk.  So I think I'm going to go with "love to win."
Match Stats
Courtesy of GoPSUsports.com