Match Recap
No. 8 Penn State women's volleyball swept Hofstra 3-0 (25-13, 25-19, 25-18) Friday night at Rec Hall to open its 2019 season.
Jonni Parker led the Nittany Lions to victory with a match-high 14 kills (.667) and seven digs against the Pride. All-American libero Kendall White, who spent the summer training with the U.S. women's national team in Anaheim, paced Penn State's defense with eight digs.
Head coach Russ Rose started five sophomores and two seniors to begin the Penn State Classic, as Tori Gorrell showcased her versatility in the front row with six kills, three blocks, and two digs. Gabby Blossom made her second career start at setter and dished out a match-high 29 assists and seven digs.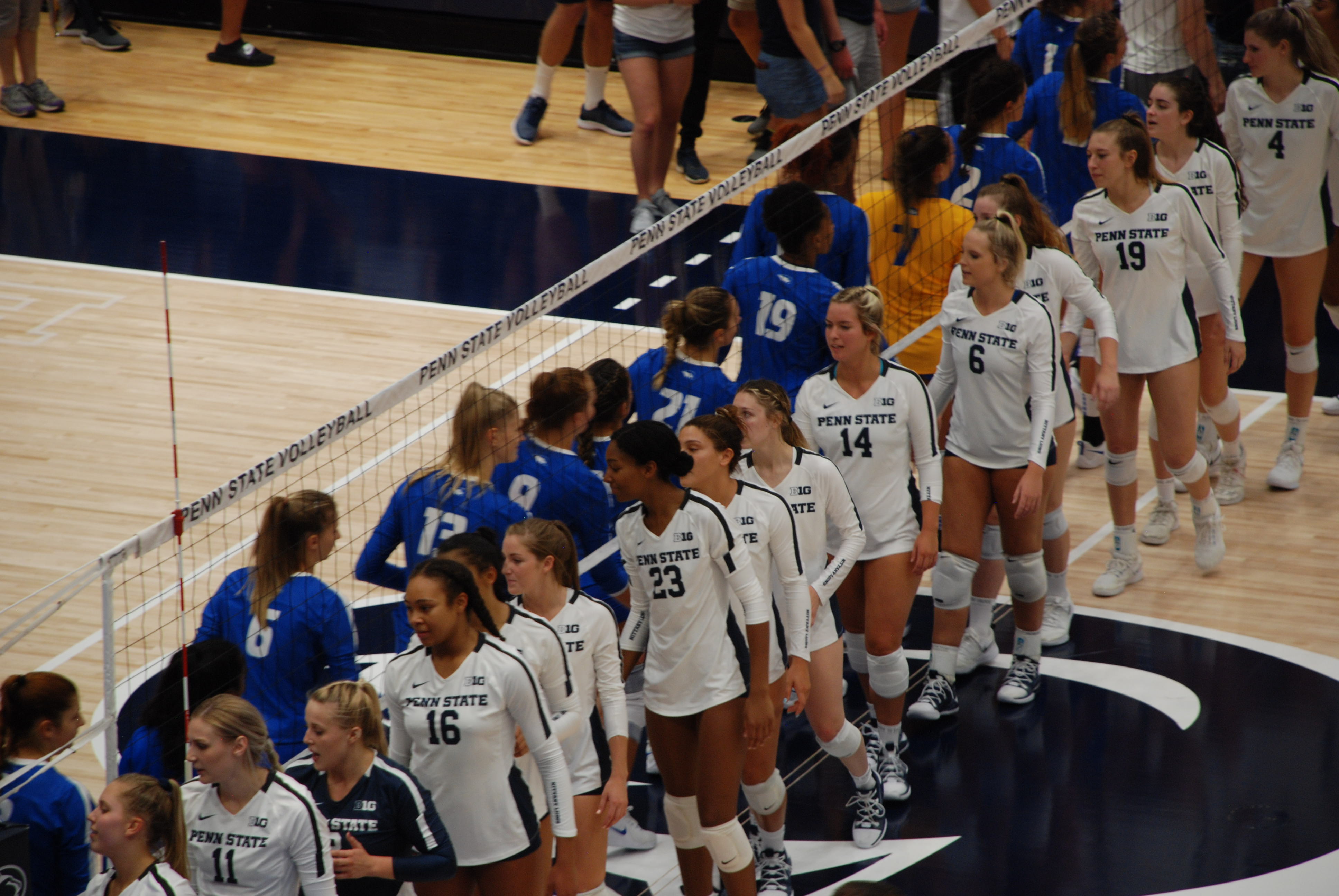 The Nittany Lions hit .417 as a team against Hofstra and buried six service aces, including a team-high two from Parker, who picked up right where she left off last season. Defensive specialist Macall Peed was the only freshman to see the floor for Penn State, while senior Keeton Holcomb returned to action after being away from the team last season.
Sophomore outside hitter Allyson Cathey put together nine kills in her fifth career start, but at times struggled to keep the ball in play — surrendering five attack errors. Middle blockers Kaitlyn Hord and Serena Gray were both extremely efficient against the Pride, combining for nine kills and no errors.
The Nittany Lions (1-0) return to Rec Hall Saturday for a doubleheader against Holy Cross and Wichita State to wrap up the Penn State Classic.
Post-Match Quotes
Coach Rose's opening statement:
"I thought for an opening night match it was a great crowd. I thought the student section was really ready to go, so that was great. The band was ready. The first game we played well. We had a real good effort at the net. I thought Kait was real good at the net in the first game. Hofstra has some good, experienced, older players that can cause you some challenges with what they do offensively. I thought we passed the ball pretty well. I didn't think our defense was great, but we limited our errors in a lot of ways. Considering that was really our first official match that we played — we've had scrimmages and inter-squad things — but it was the first time we really had a match where we had to monitor substitutions and try to do certain things. It gave us some good information. I thought Jonni was exceptional. I thought Kait did a nice job at the net. Gabby is real competitive and did a nice job in the role of setter. That's why they're here."
Kaitlyn Hord on the outcome of the match:
"I think it was a great way to open up the season. I thought Hofstra played really well and they had a couple of veterans who came back from last year. I think it was definitely the challenge we were looking for."
Jonni Parker on what was learned: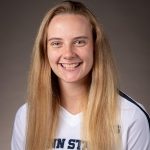 "Like Kait said, it was a great way to open up the season. We definitely have some things we need to work on, and they gave us the ability to see those areas of the game. I think the rest of the weekend will build on those opportunities to see what we need to work on ourselves."
Gabby Blossom on her second career start:
"We work every day in the gym, so yeah, second start was cool, but it's always cool to play. It's cool to play for this program. We have a lot of pride in it. There's a lot of support. I worked with Coach [Rose] a lot this spring, so yeah it's exciting."
Jonni Parker on whether she still gets pre-match jitters:
"They're not necessarily first game jitters, but it's always good to be a little bit on edge so you're always alert and aware of what's going on on the court. First game of the season, I think everybody's just excited."
Jonni Parker on how things changed late in the second set:
"From the middle of that second set toward the end, you could definitely feel the momentum shift. I went into one of the timeouts and said, 'We've got to finish this game with the momentum on our side.' Because there's going to be a lot of times during the season when momentum's not going our way during the set, and we've got to be able to change it really quick. Big teams will go on a run and we won't be able to get back from it. We've got to make sure we do one-and-done, side out, so we can get on with our rows."
Coach Rose on the back row and Hofstra as a whole:
"We have to do that a little bit more. Certainly with Keeton coming back and her being a little more experienced — Kendall and Jenna, I just think those guys have a little more experience. It was good to get Macall out there and I think Emily [Sciorra] had a couple of good days in practice this week. I'd like to get her out there a little bit. I didn't think our defense was great, but all matches have challenges. Rally score, teams like Hofstra that have a large number of international kids, pose just a real different challenge because they're really unimpressed by big crowds and they don't know the difference from Penn State and any other school. It's been a long trip to come to the United States and play and they've played before. They're accustomed to doing what they're here to do — take big swings and keep playing. When you've got a lot of young kids out there, they can get excited. For us, it is a little bit more of a challenge. For sure, I think we have to get better. I thought Allyson got a little better at the end of the game. She was hitting negative after two games. She had a good third game offensively. She had a bad first two games. That was good because we can't expect Jonni to hit .600 in the Big Ten when those teams know who she is."
Gabby Blossom on her favorite part of setting for Jonni Parker: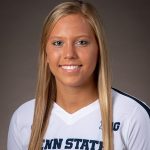 "Jonni used to be a setter, so she's the type of hitter who can be like, 'Put me on the two ball' and as the setter I'll be like,  'Yeah, I want you to hit what you want to hit.' Definitely the communication. She's smart. She can make a bad set look really good. It's a big advantage when you're a setter and your hitters make you look good on a bad set. She's definitely one of those people."
Coach Rose on the sophomore class:
"Well, I mean, they were identified as the No. 1 recruiting class in the country a year ago. They had three fifth-year kids on the floor for those who were playing to carry a major load last year. It was a little easier for them to transition into the game, so now the players have a little more responsibility — all the ones who are playing. It's a challenge. And not just today. Get back to me in two weeks when they're playing against Stanford and Stanford has five seniors on the floor and we have five sophomores on the floor. Get back to me and ask me how it feels then. I remember when we had five seniors on the floor and Stanford had five sophomores. It's just part of the sequence of events that happen. Sometimes you have great balance. Right now, we're kind of in an era where we've got a lot of younger kids playing. We have some kids who need to get healthy because I'm not sure how some of these people can last a whole season. It's really a tough task to do that."
Coach Rose on playing at Rec Hall:
"I think everybody enjoys playing at home and there are some special things that our players really appreciate about playing at home. I think all teams would say that their place is the best place, or their mom's cooking is the best cooking. I think our players really have a great feel for the wRECking Crew and the band and I think the fans are really loyal. They support the players. That's one of the things that's great. There's great proximity. They're close to the court and I think those things really make it special. It's a younger crowd. There are some places where the crowd is a little bit different in age. I think everybody would say their crowd's the best crowd, but I know our players really appreciate what they have when the crowd's there. Somebody like me, who when we started there was no crowd. I really appreciate the fact that so many people care about the effort of this group and all the people who helped build the program."