Match Recap
No. 4 Penn State women's volleyball swept No. 10 Oregon 3-0 (25-21, 29-27, 25-19) Saturday night at Rec Hall for its first win over a ranked opponent this season.
Jonni Parker led the Nittany Lions to victory with a season-high 15 kills and eight digs against the Ducks, who were also swept in the Big Ten/Pac-12 Challenge by Minnesota Friday evening. Gabby Blossom turned in a strong performance for the second night in a row, dishing out 40 assists while adding 10 digs, a kill, and a service ace.
Kendall White again paced Penn State's defense with a team-high 12 digs. The senior libero has reached double-digit digs in every match this season except the opener against Hofstra. Allyson Cathey and Kaitlyn Hord chipped in eight kills apiece, while Serena Gray and Tori Gorrell combined for 13 more to round out Penn State's offense.
Although the Nittany Lions only hit .228 as a team against the Ducks, they showed impressive resilience during a tough second set to rally back from down 20-14. A Parker kill and Oregon attack error ensured Penn State would take a 2-0 lead. The Ducks didn't shy away from a battle in the third set, however, reaching 19-19 before surrendering six straight points to finish the match.
Oregon was also missing two of its starters this weekend due to injury, including All-American right side Willow Johnson, who was wearing a walking boot on her foot at Rec Hall. Hord and Parker are currently tied for the team lead with 73 kills apiece through the first seven matches of the season, while Hord and Gray are each hitting over .500 so far.
The Nittany Lions (6-1) have two more non-conference matches remaining on their schedule — both against in-state rival Pitt, which is ranked No. 6 in the nation. Penn State welcomes the Panthers to Rec Hall Friday at 8 p.m. before heading to Petersen Events Center Sunday at 1 p.m.
Post-Match Quotes
Coach Rose's opening statement:
"I thought it was a really competitive match against a terrific opponent from a great conference that, as one would expect, competed really hard. They were undermanned with a couple of players who were injured on their road trip out East. And yet, as I said to our team after watching them play against Minnesota, I thought they competed really hard. I'm sure that their administrator who was along on the trip was proud of them and that if something like that happened to our team, I'd feel proud that we competed really as hard as they did. I thought they did the same thing again this evening. It's always tough. The teams in the top conferences are always challenging. Oregon was a team and program last year that advanced as far as we did. They were picked to finish second in their conference. It was a nice win and we had a great crowd. We're appreciative of the support that we received from the student section and the band, and we know we have a lot of things that we have to get better at."
Coach Rose on Penn State's service pressure:
"Serena was our best server throughout, but certainly her little run at the end of the third game was really very good. Last night was a really hard, physical match, and I think it kind of showed its toll on Stanford in their match earlier this evening with Minnesota. Not only the physical aspect of it, but the emotional aspect of the evening with such a large crowd. Last night, [Serena] was walking slowly back to the service line a number of times, so for her to go back there late in the third game and be able to rattle off some aces, especially after the timeout, was really good for us. We had a couple people who were struggling from the service line, so we have to get better at it for sure. It's not a skill that we take lightly, but I thought Jonni did a nice job keeping the jump serve in, so that was good."
Coach Rose on what was said during the timeout late in the third set:
"That you work really hard to get a four or five point lead and we made a few careless errors. We had a down ball in the middle of the net and they served a couple of balls. I brought a sub in and she didn't even get a chance to touch the ball and they scored four points to get the score tied up at 19. It's a game of runs and you have to be mindful of where you are in relationship to the position of the ball and what rotation you're in and where you are. Make sure that if you have a good rotation coming up that you keep the ball in play. And if you have a bad rotation exposed, don't add to the problem."
Tori Gorrell on the short turnaround from last night: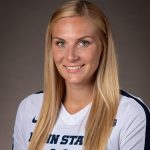 "I think we handled it pretty well. We're quite a young group and I think that we've got more fresh legs than a lot of other teams may have. I think that's one positive thing that we do really well. We're used to doing long practices, three-hour practices every single day of the week, so I think it really prepares us well for the weekend and staying fit and staying in shape; eating well and hydrating; all the good things that make an athlete an athlete. I think our team does that pretty well and it allows us to do well on weekends."
Jonni Parker on the takeaways from this weekend: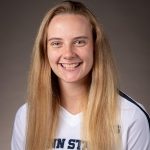 "I think this weekend is just a learning experience, for sure. We can't let one become two. On the wrong side of things, we could have let last night dictate how today went, but we didn't. We woke up this morning and said it's a new day. We've got to get better. We used it as a learning experience and I think we did really well today. Last night was definitely a more physical match, so today we had to make sure we were mentally sharper. I think we did a really good job of that."
Tori Gorrell on how the mentality changed from Friday to Saturday:
"I think we were a lot more focused last night on stopping their bigger hitters. We were focused on individual players, whereas tonight they had more of a spread offense. I think we did a really good job of keying in on [their] rotations and where they were going. It was just a very mental game for us tonight and last night was more of a physical game."
Jonni Parker on the second set struggles Penn State faced:
"I think that's kind of like what Coach [Rose] said. This is a game of runs, so there are going to be times where you're either giving away runs or you're the team getting runs. At that point, we just couldn't get a pass up in order to terminate. Especially if we've got a good pass, we've got to get our middles going and stuff like that so we can open up the pins. At that point, we just couldn't do it, but I think we did really well at coming back and we didn't let that dictate how the rest of the set went. I thought we pushed back pretty well."