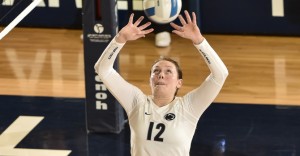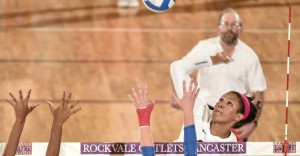 If this had been a hockey game, our first star would be 6-1 Fr. OH Simone Lee, who led the team with 12 kills, and played a very tough match all-around — particularly given that it was in front of her home state (if not home town) fans — that pressure that some freshmen can't handle. Our second star would go to 5-11 Sr. Setter Micha Hancock, whose 9 kills on 12 errorless swings and skilled setting led Penn State right from the start and provided the match-ending point. And our third star would be 5-6 Sr. Libero Dom Gonzalez (the "Dominator" ?)– who really could be the first star, and maybe should be. All she did was nearly double the digs of B1G digs leader Taylor Morey, and scoop up pretty much everything in her path, and then some. But it was a genuine team effort, so it's somewhat of a disservice to the team to pick out individual "stars."
In any event, we'll have more tomorrow, but for now, what a B1G win for Penn State! And don't sell Wisconsin short, either. It is a very, very good team, and will only get better. Carlini is, in our humble opinion, everything you've heard, and more. And Kelly Sheffield is a very good coach. Still, Penn State won. A statement win? We'd say "yes."
Freshman Simone Lee (Menomonee Falls, Wisc.) powered the offense with her fourth double-digit kill performance of the season, putting down a team-high 12 kills. Freshman Ali Frantti (Spring Grove, Ill.) and finished tied for second on the squad with nine kills, while also finishing second on the team with three blocks.

Redshirt junior Aiyana Whitney (Norwood, N.J.) tallied eight kills and four digs, while also matching a career-high mark with a match-high six blocks. Senior Dominique Gonzalez (San Antonio, Texas) fueled the Nittany Lion defense with her third 20-dig performance of the season. She matched a season-high mark with a team-high 21 digs. Junior Megan Courtney (Dayton, Ohio) finished second on the team with 14 digs, while also adding eight kills.

Senior Micha Hancock (Edmond, Okla.) matched a career-high mark with nine kills on 12 errorless swings, hitting .750. The senior setter also recorded her third double-double of the season, dishing out 38 assists to go along with 10 digs, two blocks and two aces.

For the complete recap, Click Here.