(click images for more info)
Date (Time)
Opponent
Site
Media
Coverage
11-19-14
(7:00 p.m. ET)
Ann Arbor,
MI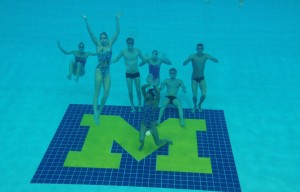 You may wonder why our lead photo is of swimmers in a pool — given the Michigan logo, presumably a pool at the University of Michigan.  The answer is that Penn State will be facing off against Michigan tonight at Cliff Keen Arena, and in a previous incarnation (from 1956 to 1988), Cliff Keen Arena was known as Matt Mann Pool.  Because it was — and there's really no getting around this — a swimming pool.  We'd show you a picture of Cliff Keen when it was a pool, but try as we might, we couldn't find one.  The picture at right is a different University of Michigan pool.  But we love the photo anyway.
Putting aside the history of Cliff Keen Arena, we're speaking today with Talking Head, a long-time Penn State fan who played volleyball at the collegiate level, and has coached for many years.


DigNittany:  AVCA #4 Penn State (26-3, 14-2 in the B1G) visits Michigan (12-14, 7-9 in the B1G) tonight at Cliff Keen Arena (aka ).  The match starts at 7:00 p.m. and will be streamed on BTN Plus (it's a subscription service).  Led by 5-11 Sr. setter Lexi Dannemiller (third in the B1G with 11.38 assists/set), 6-5 So. MB Abby Cole (4th in the B1G with 4.22 points/set, 6th in the B1G with a .371 attack %, and 6th with 3.60 kills/set), and 5-6 Jr. libero Tiffany Morales (8th in the B1G with 3.87 digs/set), Michigan's last match was a four-set win over No. 17 Ohio State on Nov. 15.


Other key players include 5-8  Fr. OH Caroline Knop, who is listed in Michigan's roster as a DS, but who has posted double-doubles in each of her last four matches, including a 14-kill, 12-dig double-double in the win over Ohio State, and who is averaging 3.00 kills/set and 2.80 digs/set for the past five matches, and 6-2 Fr. OH Adeja Lambert.
In the first meeting between these two teams, at Rec Hall, Penn State won in a sweep (25-18, 25-16, 25-15), with both 6-1 Fr. OH Ali Frantti (15 kills) and 6-3 Fr. MH Haleigh Washington (10 kills) having big matches.  This time, Michigan will be playing on its home court (in its home pool?).
Two questions: 1) what do you think of Abbey Cole and Caroline Knop?  And 2) What are some of the challenges Penn State will face from Michigan (other than playing them in a swimming pool)?
Talking Head: As far the Caroline Knop goes, its hard not to like this kid, even if your team is playing Michigan.  She saunters on the court with headband and chewing gum without a care in the world, other than the confidence and determination to take on all comers and situations.  I think to many fans who do not know her, the immediate reaction is to frown and say what is Coach Rosen doing?  Caroline was pressed into action due to early injuries in the Michigan lineup, and for girl who at 5'7 or 5-8 is perfectly suited for the Libero or DS spot, she didn't blink eye when asked to hammer away at blockers 6 to 8 inches taller than her.   One look at her play and looking at her stats week-in and week-out, it becomes crystal clear this girl competes and preforms at a high level.  She is a tenacious athlete on the court and is second on the Michigan Roster with 265 Kills.
Abby Cole is an elite player and is having an All-B1G season and is currently in the 6th spot in Kills and Hitting percentage. At a mobile and aggressive 6'5, she immediately presents problems for any team.  In their first match, PSU did a fantastic containing Cole and Knop holding them to 6 and 7kills in the 3 game sweep.   It will be interesting to see whether PSU can exploit those match-ups again when they enter the Wolverines den.  You can bet that the "POOL" will be loud and filled with energy. It may be key for PSU to jump out early in the games to avoid the potential "reverb" of the cement walls.   Attacking Knop on the Rightside and getting a match up with Frantti or Courtney for that matter on Danemiller will be key again.
DigNittany:  Penn State has been elevating its game in recent weeks – we know, there are many areas in which they need to improve, but when your players win three of the B1G's weekly awards, as Penn State did this week, you're playing pretty well.  Those players – 6-4 RS Jr. Opp/RS Aiyana Whitney (B1G Player of the Week), 5-11 Sr. setter Micha Hancock B1G Setter of the Week) and 6-3 Fr. MH Haleigh Washington (B1G Freshman of the Week – her second in a row) have all been playing at a very high level.  Hancock appears to have her serve back (she's the NCAA leader with .96 service aces/set) and has guided Penn State to a .355 team attack %, Whitney has a .395 attack % (3rd in the Big Ten), Washington leads the B1G with a .491 attack %, and 6-2 Sr. MH Nia Grant's .476 attack % is 1st in the NCAA rankings and 2nd in the B1G (different minimums to qualify – Washington isn't on the NCAA list).  These are very impressive offensive numbers.  Your thoughts?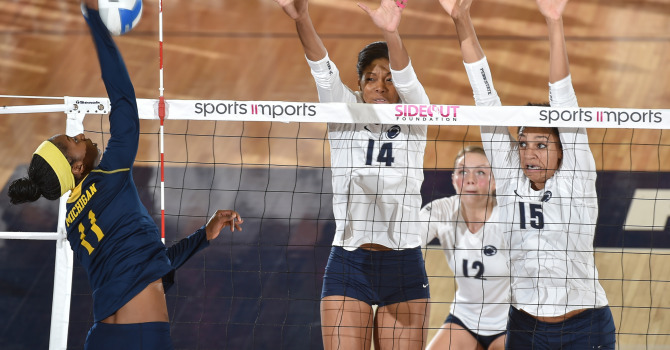 Talking Head: There was an article posted about the 3-headed monster that I caught in the Daily Collegian ["Penn State women's volleyball's 'three-headed monster' makes way into history books"] that really spelled out the damage that these 3 are doing within the B1G, and the crazy thing is that where Grant has been excellent all year long, Whitney and Washington seem to get better and better each time out.  I would point to that article for the specifics as it is so impressive.  Micha is leading her team through her setting and going after mismatches that each game presents, but what I really liked was in game 3 of the Michigan match, when Penn State was down 9-13 in the game, she took over with her serve and tied it at 13's and imo turned the match around.   Micha has been quiet from the service line but seems to have found her groove again  = LOOK OUT!!!  SHHHH BOOM!!!

DigNittany:  With all the offensive pyrotechnics, 5-6 Sr. libero Dominique Gonzalez is sometimes overlooked, yet she ranks 11th in the B1G with 3.63 digs/set, has totaled 24 service aces, and together with 6-2 Jr. OH Megan Courtney (2.08 digs/set) and 5-6 Sr. DS Lacey Fuller (1.61 digs/set), provides a steadying presence defensively and helps keep the team focused.  How important are these three players to Penn State's success?

Talking Head:  It is truly a pleasure that Dom has finally been getting the respect and recognition this year, because I think she has been overlooked by many for a few years now.   PSU leads the league, or is near the top, in so many statistical categories and has won 12 of its 16 B1G matches in 3.   Seeing Dom in the 11th position or any PSU libero over the past 6-8 years seems to be standard.  All I know is that Dom rarely if ever gets aced and is now passing 2 like the men's game of the 80's.  She, and especially Lacey, are picking up the hitters so early on in the attacking motion that it is uncanny how often they are in the "right" position even though it might not be the tradtional base 2 spot.  Lacey is most certainly part of that "Electric Company" (reference to Haleigh Washington).  In fact, Lacey might be the sparkplug, as she gets her team going like no other and not only gets to balls others might deem impossible to reacgm but does so with a vastly improved first touch!
Megan Courtney is just like a fine Merlot. . . . Patience.  It will be worth it.

DigNittany:  6-2 Fr. OH Ali Frantti (pictured at right) burst onto this scene this year with several outstanding matches, and although she has had several matches in which she has struggled, continues to lead the team in kills/set and points/set.  To us, it seems pretty natural for a freshman – even one as talented as Frantti, to have her ups and downs.  Your thoughts on how Ali Frantti has played this season?
Talking Head:  Frantti is as good as any freshmen OH out there and I think like a baseball pitcher, she sometimes struggles with her location.  A number of things could be in play here, including length of the season, not seeing the ball as much now that the others are providing more offense, teams have more tape on her, and the overall balancing of being a starting Freshmen Student-Athlete.   Ali is in great hands with this team and more importantly coaching staff.   I think we have seen a few responsibilities taken off her plate and this will help her regain her stellar level of play.  I am so thankful that we have a cannon like her on our team and you can't keep a player like her down for long.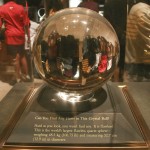 DigNittany: OK, throw caution to the wind.  Your prediction for tonight's match?
Talking Head: PSU has so many weapons and can take advantage of mismatches in a way that very few teams can.  Michigan is fighting for its life and that is very very dangerous for the Nittany Lions, but if PSU stays cool, they win.  PSU 3-0.
DigNittany:  Thanks very much.  We appreciate it.
_________________________
Photo Credits