Match Recap
No. 9 Penn State women's volleyball came from behind to beat No. 5 Nebraska 3-2 (25-22, 11-25, 24-26, 25-23, 15-9) Saturday night at Rec Hall.
It was Penn State's first win over the Cornhuskers since a Nov. 29, 2014 home sweep on the way to the program's seventh national championship later that season.
Nia Reed led the Nittany Lions with a career-high 20 kills in the thrilling victory, while Lexi Sun matched her with 20 kills for John Cook's Huskers, who fell to 15-3 (6-2 Big Ten) on the season. Penn State holds the exact same record heading into Wednesday's home match against Rutgers at 7 p.m.
Redshirt senior setter Bryanna Weiskircher continued her strong play this season with 48 assists, 16 digs, three kills, three blocks, and a service ace. Kendall White was terrific all night long with match-high performances in both digs (25) and aces (3).
Taylor Leath finished with another double-double for the Nittany Lions, while Tori Gorrell turned in nine kills and four blocks in place of freshman middle blocker Kaitlyn Hord, who was in street clothes on Penn State's bench Saturday night.
Serena Gray and Jonni Parker tallied eight kills apiece and combined for 10 digs and 10 blocks in the victory. Penn State is on a six-match winning streak in conference play.
Post-Match Quotes
Coach Rose on the win:
"I thought it was a really competitive match and I thought we showed great grit and resolve. I didn't think we were great in the first game, but we found a way through defense to win the first game. Nebraska was very, very good in the second game. We knew that we were going to have to battle and play better. We played much better in the third game. We had a chance in the third game, won the fourth game. Two deuce games in a row.
"There's a great advantage to playing at home, and we had a terrific crowd. The energy was great. We're really appreciative of the band and the wRECking Crew and the fans to give the players the energy when things were tough. In a fifth game, anything that happen. We used 10 substitutions in the fifth game and I thought it was to our advantage that we were able to substitute the way we did, because those players practice every day. I just felt that at that point there was a great formula for giving those guys a chance, and I thought they did a real nice job.
"I thought it was a great team victory even though the stats weren't great. I thought Kendall dug a lot of balls. I thought Taylor held up really well considering she had to pass as many balls as she did. Nia's a terrific attacker. Nebraska's a great opponent. They've got three All-Americans on the floor and we knew it was going to be a tough match. It was as billed."
Coach Rose on the match serving as a barometer:
"It was one of the matches where you look at the stats and say, 'How did you win the match?' Sometimes the stats are skewed by one game. In this case, they were really skewed by the one game. We feel like we should be able to compete with everybody, but we're also not naive to the fact that we have a lot of young players and there's a lot of inexperience. There's just a lot of tentative things that happen, but I'd like to think that we're going to get better.
"I would hope that at some point in time we'll play at a more consistent level. I think it's a great win tonight. I hope these kids really enjoy it. It was a great ending to a tough day for Penn State fans, so we're glad that we were able to win the match."
Coach Rose on taking things one match at a time:
"I spend the same amount of time on every opponent, because all the matches have the same value. Nebraska's a great opponent. I have a degree from Nebraska, so I have respect for Nebraska the same as I have respect for all of the other institutions. We've had some struggles with Nebraska because Nebraska's really good. We've had struggles with a lot of teams when they're really good.
"The results are the results. We won a match against a good opponent tonight. We're glad that we had such great support from the fans. I thought the kids played really hard. It wasn't a perfect match, but we dug a lot of balls and we got great contributions from a lot of people that hadn't played a lot. We'll get back to work on Monday."
Coach Rose on his message to the team:
"My message is the same all the time — that they need to battle. They need to be more cognizant of their body language. People pay money to come watch them play. They deserve to see people playing with passion and they should have some emotion and energy in their effort. I never know what they're thinking. I can only say what I see, and I don't hesitate to point that out."
Kendall White on being a vocal leader:
"I'm always the loudest person, so I'm always going to be vocal in timeouts. I'm very expressive, so I come out and try to bring everybody together in timeouts and everything like that. Bryanna and Nia come out as fifth-year seniors and they lead by example. They know what I'm saying, but I'm just vocalizing it."
Nia Reed on whether it avenged last year's loss in the Final Four:
"Oh, for sure. The only people who are undefeated against Nebraska are our freshmen. It was a good win to say we beat Nebraska at least one time."
Kendall White on keeping things in perspective: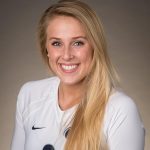 "Like [Coach Rose] said, every opponent is good. We treat every opponent the same. We scout every opponent the same. Of course we want to win against [Nebraska]. They're good players, like he was saying. We want to come out and beat everybody. It's our house, so we want to defend our home court. It's our advantage, so anybody who comes in here we want to beat."
Bryanna Weiskircher on staying focused:
"We were just trying to play in the moment and be confident in what we were doing. We knew that we could beat them. We won the first game. It was one of those things where we knew we had to come together as a team to be able to pull off the win, because Nebraska is a really good team. They're out to get us as much as we're out to get them.
"I think that no matter who's on the other side of the net, we've been trying to preach to the younger kids, 'It's what we're doing to be able to impact our own games and win the match.' It doesn't matter what the numbers say. As long as you come out with the win, that's really what we're going for."
Kendall White on Nia Reed's performance:

"She played like a fifth-year senior. She was on when we needed her to be on. She was there to score when we needed her to score. She came out in the fifth set and was like,'We're winning this game.' And that's what we need — our fifth-year girls coming in, leading the freshmen, taking charge and making those money ball plays. She did her job and she did it well."
Coach Rose on showing resolve:
"It's just important in life. I teach them things that I think are important about life. This is just a small, little segment of what they've got going on in their lives. If we're doing it three hours a day, it's really not that much. It's 12 percent of the day. What really has to happen is they have to understand the importance of when you make a commitment to do something you've got to be all in.
"I'm most pleased about the fact that the players that came in at the end had a good effort in the fifth game. We could lose our next match. We're not a juggernaut team. We're not a team that's hitting .400. We've had teams that hit .400 for the season. It didn't make a difference who we played. We went a whole season one year and never lost a game.
"This is a team that has to battle. They have to work hard every day. They have to work together. They have to communicate. They have to do all the things that they're going to be required to be successful in life to do. That's one of the great things about sports."
Match Stats