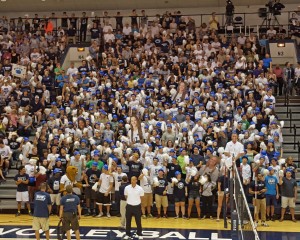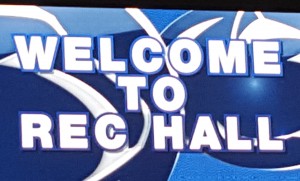 As volleyball fans look forward to Part II of Penn State vs. Ohio State (Friday night, 7:00 p.m. in Rec Hall), Nittany Lion fans can focus on the fact that in Part I (in Columbus on Wednesday night) Penn State (20-2, 9-2) swept Ohio State  (19-4, 8-3) 25-18, 25-15, 25-17.  To be sure, there were many good things to take away from that match for PSU: the team is coming together, getting healthy, working in new rotations that will make it tough for opponents to game-plan against them, communicating better, blocking better, getting in-sync on offense.
6-1 So. OH  Ali Frantti had her best match of the season (at least on offense) with 14 kills (.417 attack %) and 2 aces.  6-4 RS Sr. MB/RS Aiyana Whitney registered 9 kills, and a career-high .562 attack %, and led Penn State with 7 blocks (1 solo).  6-2 Sr. OH/RS Megan Courtney played in her first match since the loss to Northwestern, and did just fine: 9 kills (23 attacks), 3 blocks and 2 digs.  6-0 RS Fr. setter Bryanna Weiskircher continued to develop, guiding the team to a .349 attack %, and leading the team with 10 digs.  Penn State dominated the front row, with an 11.0-5.0 advantage over Ohio State in blocking.  5-5 Sr. DS Kendall Pierce and 5-8 So. DS Lainy Pierce were singled out by the announcers for "lighting it up defensively" from the back row.
But before we fans get ahead of ourselves, remember that the Buckeye's starting setter, Taylor Hughes,was injured.  And think about these points made by Penn State fan Future:
Often times when you see huge leads open up — like last night [against Ohio State], for example, or in the 1st set against Nebraska — it is a combination of your team executing at a high level in an area or two, and the opposing team just frankly being awful in most of theirs.  Last night in the first set, Penn State was serving very well and the Buckeyes just couldn't get the ball past the block and committed numerous unforced errors.

Eventually a good team — and OSU is a good team — will figure it out and begin to play their game.  When that happens, suddenly the team with a huge lead ALSO has to remember to execute in all aspects of the game.  Sometimes that team is not ready to go.
So if Ohio State can manage a better start — and a healthy Taylor Hughes certainly would help them do that — they might turn things around, and make a match of it.  We wouldn't bet against that outcome.  Then again, we don't bet.
Stat Joust – Ohio State and Penn State
(Conference matches only)
| Hitting Percentage | S | K | E | TA | Pct. |
| --- | --- | --- | --- | --- | --- |
| Purdue | 36 | 512 | 165 | 1176 | .295 |
| Penn State | 42 | 557 | 195 | 1423 | .254 |
| Wisconsin | 37 | 500 | 175 | 1322 | .246 |
| Michigan | 40 | 541 | 206 | 1397 | .240 |
| Minnesota | 43 | 588 | 205 | 1609 | .238 |
| Michigan State | 35 | 462 | 179 | 1202 | .235 |
| Ohio State | 45 | 601 | 237 | 1555 | .234 |
| Nebraska | 38 | 527 | 199 | 1472 | .223 |
| Northwestern | 33 | 433 | 185 | 1164 | .213 |
| Illinois | 37 | 500 | 223 | 1337 | .207 |
| Maryland | 36 | 445 | 221 | 1272 | .176 |
| Iowa | 34 | 406 | 198 | 1200 | .173 |
| Indiana | 37 | 474 | 252 | 1332 | .167 |
| Rutgers | 35 | 371 | 220 | 1195 | .126 |
| Opp. Hitting Pct. | S | K | E | TA | Pct. |
| --- | --- | --- | --- | --- | --- |
| Minnesota | 43 | 557 | 276 | 1660 | .169 |
| Penn State | 42 | 520 | 264 | 1504 | .170 |
| Nebraska | 38 | 495 | 227 | 1462 | .183 |
| Purdue | 36 | 436 | 207 | 1226 | .187 |
| Wisconsin | 37 | 475 | 220 | 1366 | .187 |
| Michigan State | 35 | 432 | 205 | 1203 | .189 |
| Ohio State | 45 | 557 | 255 | 1568 | .193 |
| Illinois | 37 | 504 | 207 | 1346 | .221 |
| Michigan | 40 | 561 | 207 | 1428 | .248 |
| Northwestern | 33 | 415 | 145 | 1083 | .249 |
| Indiana | 37 | 479 | 161 | 1211 | .263 |
| Iowa | 34 | 490 | 163 | 1197 | .273 |
| Maryland | 36 | 486 | 164 | 1168 | .276 |
| Rutgers | 35 | 501 | 159 | 1211 | .282 |
| Blocks | S | BS | BA | Total | Avg./S |
| --- | --- | --- | --- | --- | --- |
| Penn State | 42 | 31 | 198 | 229 | 3.1 |
| Nebraska | 38 | 18 | 192 | 210 | 3.0 |
| Wisconsin | 37 | 10 | 192 | 202 | 2.9 |
| Minnesota | 43 | 19 | 200 | 219 | 2.8 |
| Ohio State | 45 | 35 | 168 | 203 | 2.6 |
| Purdue | 36 | 25 | 128 | 153 | 2.5 |
| Illinois | 37 | 11 | 157 | 168 | 2.4 |
| Michigan State | 35 | 24 | 122 | 146 | 2.4 |
| Rutgers | 35 | 8 | 142 | 150 | 2.3 |
| Maryland | 36 | 18 | 108 | 126 | 2.0 |
| Michigan | 40 | 16 | 120 | 136 | 1.9 |
| Northwestern | 33 | 23 | 81 | 104 | 1.9 |
| Indiana | 37 | 10 | 110 | 120 | 1.8 |
| Iowa | 34 | 14 | 84 | 98 | 1.6 |
| Blocks by Opponents | S | BS | BA | Total | Avg./S |
| --- | --- | --- | --- | --- | --- |
| Penn State | 42 | 15 | 133 | 148 | 1.9 |
| Purdue | 36 | 13 | 117 | 130 | 2.0 |
| Wisconsin | 37 | 15 | 123 | 138 | 2.1 |
| Ohio State | 45 | 16 | 154 | 170 | 2.1 |
| Nebraska | 38 | 21 | 115 | 136 | 2.1 |
| Michigan State | 35 | 20 | 114 | 134 | 2.2 |
| Minnesota | 43 | 24 | 140 | 164 | 2.2 |
| Northwestern | 33 | 16 | 136 | 152 | 2.5 |
| Illinois | 37 | 15 | 158 | 173 | 2.5 |
| Michigan | 40 | 30 | 146 | 176 | 2.6 |
| Maryland | 36 | 15 | 172 | 187 | 2.8 |
| Indiana | 37 | 14 | 176 | 190 | 2.8 |
| Rutgers | 35 | 25 | 155 | 180 | 2.9 |
| Iowa | 34 | 23 | 160 | 183 | 3.0 |
| Service Aces | S | No. | Avg./S |
| --- | --- | --- | --- |
| Maryland | 36 | 52 | 1.4 |
| Michigan State | 35 | 38 | 1.1 |
| Indiana | 37 | 42 | 1.1 |
| Northwestern | 33 | 36 | 1.1 |
| Minnesota | 43 | 41 | 1.0 |
| Nebraska | 38 | 37 | 1.0 |
| Iowa | 34 | 33 | 1.0 |
| Ohio State | 45 | 47 | 1.0 |
| Rutgers | 35 | 33 | 0.9 |
| Penn State | 42 | 37 | 0.9 |
| Wisconsin | 37 | 33 | 0.9 |
| Purdue | 36 | 29 | 0.8 |
| Michigan | 40 | 24 | 0.6 |
| Illinois | 37 | 20 | 0.5 |
| Service Aces by Opponents | S | No. | Avg./S |
| --- | --- | --- | --- |
| Nebraska | 38 | 15 | 0.4 |
| Penn State | 42 | 28 | 0.7 |
| Illinois | 37 | 26 | 0.7 |
| Minnesota | 43 | 30 | 0.7 |
| Michigan | 40 | 29 | 0.7 |
| Indiana | 37 | 33 | 0.9 |
| Wisconsin | 37 | 35 | 0.9 |
| Michigan State | 35 | 38 | 1.1 |
| Maryland | 36 | 40 | 1.1 |
| Iowa | 34 | 37 | 1.1 |
| Ohio State | 45 | 48 | 1.1 |
| Rutgers | 35 | 41 | 1.2 |
| Northwestern | 33 | 42 | 1.3 |
| Purdue | 36 | 57 | 1.6 |
Individual Leaders
(Must have competed in at least 50% of team's games)
| Hitting Percentage | S | K | E | TA | Pct. |
| --- | --- | --- | --- | --- | --- |
| Haleigh Washington, Penn State | 42 | 111 | 24 | 217 | .401 |
| Faye Adelaja, Purdue | 36 | 87 | 22 | 162 | .401 |
| Danielle Cuttino, Purdue | 36 | 86 | 20 | 170 | .388 |
| Gabrielle Hazen, Northwestern | 18 | 38 | 11 | 71 | .380 |
| Krystalyn Goode, Michigan | 27 | 43 | 10 | 91 | .363 |
| Haleigh Nelson, Wisconsin | 37 | 81 | 14 | 185 | .362 |
| Alyssa Garvelink, Michigan State | 35 | 78 | 26 | 153 | .340 |
| Maddie Slater, Northwestern | 33 | 72 | 21 | 153 | .333 |
| Taylor Sandbothe, Ohio State | 44 | 117 | 32 | 260 | .327 |
| Molly Lohman, Minnesota | 36 | 55 | 16 | 122 | .320 |
| Jazzmine McDonald, Indiana | 27 | 56 | 21 | 116 | .302 |
| Allyssah Fitterer, Michigan State | 30 | 61 | 19 | 140 | .300 |
| Aiyana Whitney, Penn State | 42 | 120 | 34 | 288 | .299 |
| Abby Cole, Michigan | 40 | 126 | 43 | 281 | .295 |
| Tionna Williams, Wisconsin | 37 | 78 | 26 | 180 | .289 |
(Must have at least 3.33 attacks per set)
| Kills | S | No. | Avg./S |
| --- | --- | --- | --- |
| Daly Santana, Minnesota | 43 | 194 | 4.5 |
| Jocelynn Birks, Illinois | 31 | 133 | 4.3 |
| Adreene Elliott, Maryland | 36 | 149 | 4.1 |
| Annie Drews, Purdue | 36 | 140 | 3.9 |
| Megan Courtney, Penn State | 28 | 101 | 3.6 |
| Elizabeth Campbell, Ohio State | 44 | 145 | 3.3 |
| Michelle Strizak, Illinois | 34 | 111 | 3.3 |
| Abby Cole, Michigan | 40 | 126 | 3.2 |
| Kadie Rolfzen, Nebraska | 38 | 123 | 3.2 |
| Amelia Anderson, Indiana | 36 | 116 | 3.2 |
| Meme Fletcher, Rutgers | 35 | 112 | 3.2 |
| Mikaela Foecke, Nebraska | 34 | 110 | 3.2 |
| Audra Appold, Ohio State | 40 | 121 | 3.0 |
| Lauryn Gillis, Wisconsin | 37 | 112 | 3.0 |
| Lauren Brobst, Iowa | 34 | 102 | 3.0 |
| Symone Abbott, Northwestern | 33 | 99 | 3.0 |
| Service Aces | S | No. | Avg./S |
| --- | --- | --- | --- |
| Makayla Lundin, Indiana | 3 | 2 | 0.7 |
| Adreene Elliott, Maryland | 36 | 18 | 0.5 |
| Allison Hammond, Indiana | 17 | 8 | 0.5 |
| Mikaela Foecke, Nebraska | 34 | 12 | 0.4 |
| Bryanna Weiskircher, Penn State | 42 | 13 | 0.3 |
| Daly Santana, Minnesota | 43 | 13 | 0.3 |
| Kelsey Wicinski, Maryland | 36 | 12 | 0.3 |
| Haleigh Nelson, Wisconsin | 37 | 11 | 0.3 |
| Holly Toliver, Michigan State | 34 | 11 | 0.3 |
| Anna Sudbury, Rutgers | 35 | 11 | 0.3 |
| Luisa Schirmer, Ohio State | 44 | 11 | 0.3 |
| Ashley Evans, Purdue | 35 | 10 | 0.3 |
| Ashley Mariani, Iowa | 34 | 9 | 0.3 |
| Abbie Kraus, Northwestern | 33 | 9 | 0.3 |
| Haleigh Washington, Penn State | 42 | 10 | 0.2 |
| Elizabeth Campbell, Ohio State | 44 | 9 | 0.2 |
| Taylor Sandbothe, Ohio State | 44 | 9 | 0.2 |
| Taylor Hughes, Ohio State | 37 | 9 | 0.2 |
| Valeria Leon, Ohio State | 45 | 8 | 0.2 |
| Amanda Neill, Purdue | 36 | 8 | 0.2 |
| Taylor Lebo, Indiana | 37 | 8 | 0.2 |
| Molly Kelly, Iowa | 34 | 8 | 0.2 |
| Ali Schroeter, Rutgers | 35 | 8 | 0.2 |
| Rachel Minarick, Michigan State | 35 | 8 | 0.2 |
| Dalianliz Rosado, Minnesota | 43 | 7 | 0.2 |
| Sarah Wilhite, Minnesota | 39 | 7 | 0.2 |
| Taylor Morey, Wisconsin | 37 | 7 | 0.2 |
| Amy Dion, Maryland | 36 | 7 | 0.2 |
| Megan Tallman, Indiana | 35 | 6 | 0.2 |
| Lauren Carlini, Wisconsin | 37 | 6 | 0.2 |
| Julia Conard, Illinois | 26 | 6 | 0.2 |
| Annika Albrecht, Nebraska | 38 | 6 | 0.2 |
| Lindsey Lerg, Michigan | 37 | 6 | 0.2 |
| Loxley Keala, Iowa | 34 | 6 | 0.2 |
| Kayla Morin, Northwestern | 33 | 5 | 0.2 |
| Caroline Niedospial, Northwestern | 33 | 5 | 0.2 |
| Alyssa Klostermann, Iowa | 26 | 5 | 0.2 |
| Samantha Fogg, Indiana | 32 | 5 | 0.2 |
| Lydia Dimke, Purdue | 6 | 1 | 0.2 |
| Blocks | S | BS | BA | Total | Avg./S |
| --- | --- | --- | --- | --- | --- |
| Tionna Williams, Wisconsin | 37 | 4 | 54 | 58 | 1.6 |
| Haleigh Washington, Penn State | 42 | 11 | 50 | 61 | 1.5 |
| Amber Rolfzen, Nebraska | 38 | 5 | 52 | 57 | 1.5 |
| Mikaela Matthews, Rutgers | 9 | 0 | 13 | 13 | 1.4 |
| Paige Tapp, Minnesota | 43 | 5 | 52 | 57 | 1.3 |
| Cecilia Hall, Nebraska | 38 | 4 | 44 | 48 | 1.3 |
| Taylor Sandbothe, Ohio State | 44 | 12 | 42 | 54 | 1.2 |
| Ali Bastianelli, Illinois | 36 | 1 | 43 | 44 | 1.2 |
| Haleigh Nelson, Wisconsin | 37 | 3 | 41 | 44 | 1.2 |
| Danielle Cuttino, Purdue | 36 | 8 | 34 | 42 | 1.2 |
| Hannah Tapp, Minnesota | 43 | 4 | 42 | 46 | 1.1 |
| Aiyana Whitney, Penn State | 42 | 3 | 42 | 45 | 1.1 |
| Molly Lohman, Minnesota | 36 | 2 | 36 | 38 | 1.1 |
| Eden Frazier, Rutgers | 35 | 3 | 35 | 38 | 1.1 |
| Alyssa Garvelink, Michigan State | 35 | 9 | 29 | 38 | 1.1 |
| Megan Tompkins, Michigan State | 17 | 3 | 16 | 19 | 1.1 |
| Digs | S | No. | Avg./S |
| --- | --- | --- | --- |
| J Wong-Orantes, Nebraska | 38 | 197 | 5.2 |
| Annika Olsen, Iowa | 34 | 163 | 4.8 |
| Dalianliz Rosado, Minnesota | 43 | 194 | 4.5 |
| Caroline Niedospial, Northwestern | 33 | 149 | 4.5 |
| Brandi Donnelly, Illinois | 37 | 154 | 4.2 |
| Taylor Morey, Wisconsin | 37 | 153 | 4.1 |
| Abby Monson, Michigan State | 35 | 138 | 3.9 |
| Megan Courtney, Penn State | 28 | 106 | 3.8 |
| Valeria Leon, Ohio State | 45 | 160 | 3.6 |
| Courtney Harnish, Indiana | 37 | 127 | 3.4 |
| Kelsey Wicinski, Maryland | 36 | 123 | 3.4 |
| Amanda Neill, Purdue | 36 | 123 | 3.4 |
| Keeton Holcomb, Penn State | 42 | 138 | 3.3 |
| Lindsey Lerg, Michigan | 37 | 117 | 3.2 |
| Daly Santana, Minnesota | 43 | 129 | 3.0 |