Big Match Environment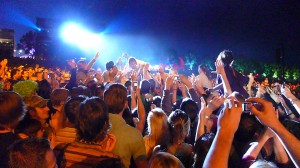 DigNittany: The Penn State – Stanford match has been on nearly everyone's radar since it was first announced, and with good reason.  As our own Lionsfan pointed out in his Look at Week 2, these two teams have amazing histories:
The only two teams to make every NCAA tournament.
The only two teams to win six NCAA championships.
188 NCAA tournament match wins between them.
133 times one of these programs has been ranked #1.
12 national titles between them.
11 times the teams have both been ranked in the Top 4 when meeting (including this year)
As if that backdrop weren't enough, Penn State is ranked #1 and Stanford #2 in the latest AVCA Poll (Stanford is #1 and Penn State is #4 in DigNittany's North Pole Poll).  So, do you think this match will draw a good crowd (and will the fans make a lot of noise?).
Bob Kinder: Stanford averages just under 2,000 per game which is high for the Pac 12, sadly, so a big crowd won't happen.  hat said it will be bigger crowd than the last time these two teams met in December in Lexington when Penn State came from down 9-6 in Set 5 to win 15-11.   There are two games Friday night with our game at 6PM PDT followed by UCLA and Illinois.   Also Saturday will be the Stanford- USC football game which will sell out so hoping for spill over from people arriving a day before the football game.  My guess just under 3,000, but we will be loud.  Many feel that our December match sending Penn State to the Final Four was really the match between the two top teams.   School doesn't start for more than two weeks so few students will attend.
Comparing the Middles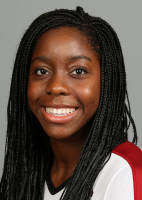 DigNittany: The consensus appears to be that Stanford's middles – AVCA 1st-Team All American 6-3 Jr. Inky Ajanaku and 6-2 Jr. Megan McGehee – are better than Penn State's – 6-2 Sr. Nia Grant and either 6-2 Fr. Heidi Thelen or 6-4 Sr. Aiyana Whitney (or, if she is cleared to play after a pre-season injury, 6-3 Fr. Haleigh Washington), although some Stanford fans have expressed concern about the MB2 spot.  What can you tell us about Ajanaku's and McGehee's play this season?
Bob Kinder: First I hope Washington can play.  Inky Ajanaku was a 1st team All American last season, while departing MBer Carly Wopat was 1st team All American.  Inky has hit 512 in her first two games and is a great blocker. She may be the best MBer in America. Our MB2 replaces an All American so there is a drop off from last season when Inky is out but that's to be expected as what other team has had 2 of the top 6 MBers in the country.   Our starter at MB2 could be either Merete Lutz a 6-8 Redshirt Frosh or 6-2 Jr Megan McGehee.   Lutz was the projected starter until she sprained her ankle 2 weeks ago.  Lutz did play briefly Sunday against Nebraska.  McGehee has started both games thus far hitting hitting 368.   McGehee excels on the slide.   Last season in her only start in 2 years Megan had 11 kills and hit 568 against Cal.   Lutz is the superior blocker.   We are very young and inexperienced at MB2 with only 3 starts total for Lutz and McGehee.
Comparing the Pin Hitters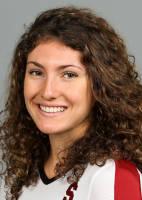 DigNittany: Some think that with 6-2 Jr. Megan Courtney at Opposite/RS, and Big Ten Freshman of the Week 6-1 OH Ali Frantti, 6-1 Fr. OH Simone Lee (both part of Penn State's vaunted 2014 recruiting class), and 6-4 Sr. Aiyana Whitney, Penn state might have an advantage at the pins.  Others point to Stanford's trio of 6-1 Sr. Opp. Morgan Boukather, 6-1 Jr. OH Jordan Burgess and 6-3 Jr. OH Brittany Howard and give the advantage to Stanford here too.  We've been very impressed by Penn State's pin hitters — who have played very well, even though Courtney moved to the right side this season after playing her first two years at OH, and Frantti, and Lee are true freshmen – but Boukather, Burgess and Howard have given Penn State all it could handle the past two seasons, and we're very impressed with them too.  How have those three players developed since last season (please say "they've regressed"), and what are their particular strengths?
Bob Kinder:  All three of our Pin Hitters play back row also and both Burgess and Howard are very good there, both passing and digging. Boukather hasn't played much back row at Stanford but was very good in her first two games. As to hitting — the real question — none are Tom, Barboza, Walsh, Nnamani or Klineman, but all three are good.  Of course they have a lot to live up to with Stanford's history of All American pin hitters.  Jordan Burgess had 17 kills and hit .375 in our game last season against Penn State in the Elite 8.  That speaks volumes.
Thus far Burgess leads Stanford with 29 kills hitting .266.  Howard didn't have a good hitting game in our final game against Penn State but this season is hitting .283 with 15 kills.  Both Howard and Burgess are hitting harder than last season, when they at times dinked a bit too much for our fans taste.  :).  Of course great passing and setting makes the pin hitters much better and that is our key to the game.  Boukather played little last year behind Rachel Williams who graduated but did play quite a bit as a Soph.  She is new to starting after a year behind Williams. Thus far Morgan has 18 kills at .333 and she hits hard from the Right Side.  Morgan may be the best blocker of the three.  In summary all three are very good, will one become a super star, well Burgess could well.  However I don't wish to slight Howard and Boukather, who will play very well Friday.
Comparing the Setters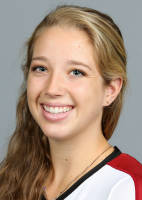 DigNittany: A third point of comparison will be between Stanford's 6-0 Pac-12 Setter of the Year (and 2nd-Team AVCA All-American) Madi Bugg and Penn State's 5-11 Big Ten Setter of the Year (and 1st Team AVCA All-American) Micha Hancock.  Obviously, they are both very, very good.  What impresses you most about Madi Bugg and have you seen enough of Hancock  to give any comparisons?
Bob Kinder:  Hancock was just outstanding in the few times I have seen her play.   I think Hancock, Bugg and Lauren Carlini, the Wisconsin setter, are the top three in the country. Bugg is a very good all around player.  Digs well, blocks well and will go for the kill herself.  She passes very well of course (2nd team All American), but her adjustments to so-so passing impresses me the most.
DigNittany: This will be a great test for both teams, regardless of which team wins – pressure environment, big match experience, measuring stick, all of that.  But still, both teams will want to win, and it should be a hard-fought contest.  So who's your pick, and how many sets?
Bob Kinder: Stanford in 4.   LOL OK I hope but regardless it will be a lot of fun for fans and players and the two great coaches.
DigNittany: Thanks so much for your time.  We really appreciate it.
___________________________________
Photo Credits:
Stanford women's volleyball fans surfing the internet: "Cali08Paleo05" by Manuguf – Own work. Licensed under Creative Commons Attribution-Share Alike 3.0-2.5-2.0-1.0 via Wikimedia Commons.