Match Recap
No. 4 Penn State women's volleyball beat No. 6 Pittsburgh 3-2 (28-26, 21-25, 25-21, 20-25, 16-14) Sunday afternoon at Petersen Events Center. The electric crowd of 5,195 set a new Pitt program record.
Jonni Parker led the Nittany Lions with a season-high 17 kills, eight digs, and three service aces in the victory. Gabby Blossom also turned in a strong showing with 46 assists, 17 digs, and five blocks (one solo). The Panthers swept Penn State two days earlier at Rec Hall for their first win over Russ Rose's squad since 1987.
Pitt scored the first point of each set until the fifth and final frame, when Penn State opened a 4-0 lead and eventually broke the 14-14 stalemate thanks to an Allyson Cathey kill and Kayla Lund attack error. Lund was excellent all match, however, finishing with 23 kills and 17 digs to pace the Panthers.
Cathey had a season-high 15 kills and six digs in Penn State's first five-set match of the season despite some early attack errors. With everything on the line late in the fifth set, Cathey dialed up two of her best swings of the day for a pair of crucial kills.
Blossom had a tough time getting Penn State's middle blockers involved against the stout Panther defense, as Serena Gray (10 kills) and Kaitlyn Hord (nine kills) only took 41 of the team's 169 swings or 24 percent. Parker, on the other hand, took a whopping 62 swings.
Senior libero Kendall White reached 29 digs for the weekend with 16 on Sunday, while classmate Emily Sciorra put together by far the best performance of her Penn State career with eight digs, a service ace, and an assist against the Panthers.
The Nittany Lions (7-2) return to Rec Hall Wednesday at 8 p.m. for their Big Ten opener against Michigan State. The match will air live on FS1.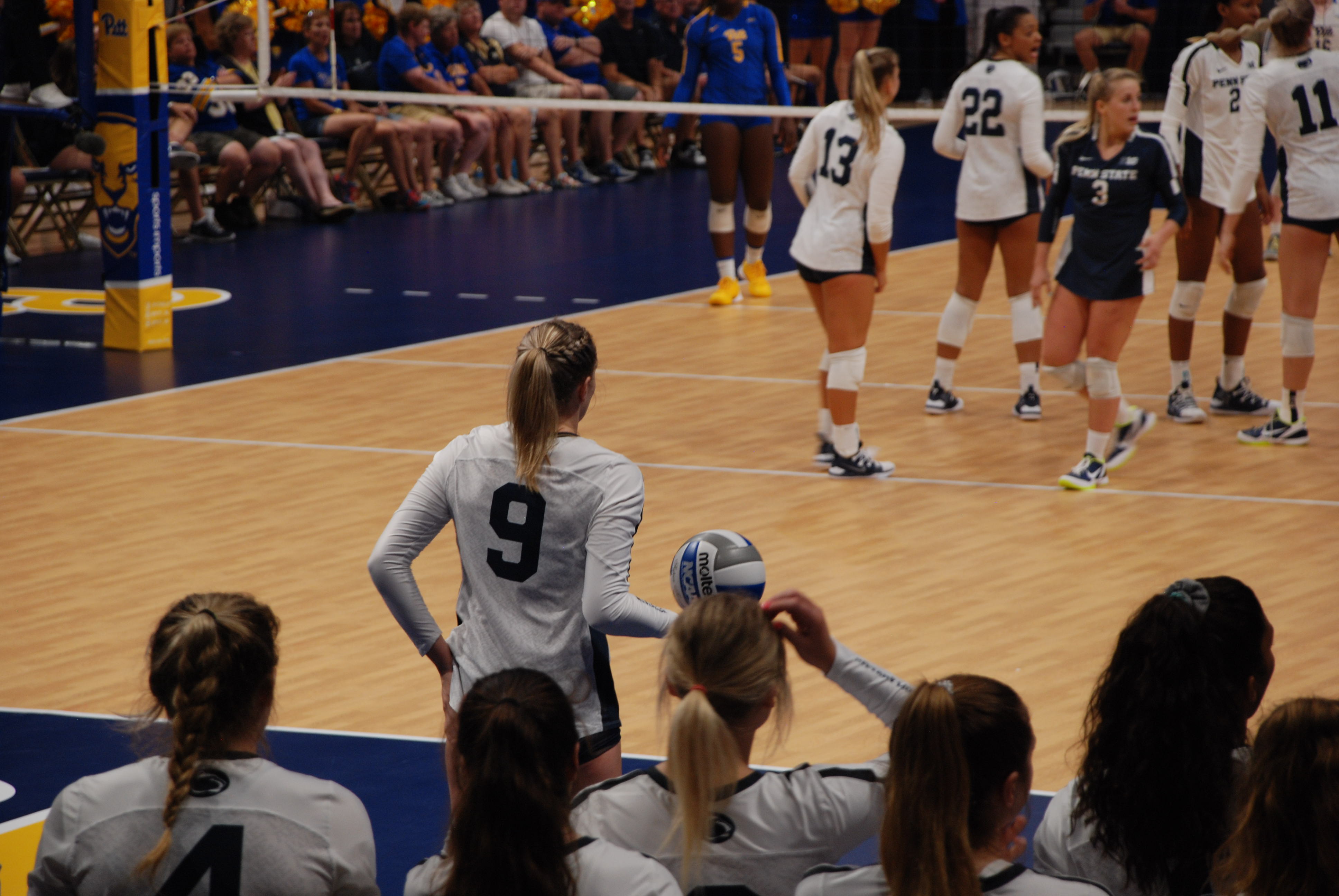 Post-Match Quotes
Coach Rose's opening statement:
"It was a competitive match that you needed to play really hard. Certainly, to come off how we played on Friday night, it was critical, in my opinion, that we did that. I didn't think we were pretty in a lot of areas, but I thought we competed hard. I thought Jonni was especially good and took a lot of swings. That would probably be my greatest assessment of the event. It was a great crowd in Pittsburgh. They're doing a terrific job. They've got a great team right now. For someone who's seen a lot of the Pitt-Penn State activities for a long time, it was nice to see both matches to be played without any of the nonsense that exists in a lot of the other sports over the years."
Coach Rose on what made the difference in blocking from Friday to Sunday:
"We played a little better. I guess we passed a little bit better today, so we were able to take a few better swings ourselves and control the ball a little bit. [Pitt] didn't run as much middle today and they were a little more dependent on their pins today than they were on Friday night. They played really well on Friday night. They hit .200 percentage points higher than we did on Friday night. It was brutal."
Coach Rose on the relationship between these two programs:
"I guess I'm the elder statesman on it since nobody else here has been around it that long, but it's the players. As I'm sitting there and I see a lot of the [Pitt] alumnae women who were being recognized, I coached against all but probably the first two who were standing there from before I got here. I've been at Penn State for 41 years. When I started the job, all of the envelopes for recruiting were just in a milk crate, and I just opened them one day and started calling people. They said, 'Well, I'm already committed. I'm going to Pitt.' Everybody was going to Pitt. A lot of them were playing in a junior program back then. When you compete against somebody, you're not enemies. You wish them well. They're young people, and they grow up and they have families and things like that. It's not a personal thing. I'm from Chicago. I don't have a Pitt-Penn State thing. I married a girl from the Pittsburgh area. I have a son who lives in Pittsburgh. They live and die for the Steelers, you know what I mean? I'm a Cubs fan. I would say, over the years, [both fan bases being respectful] has not always been the case, but certainly Friday and Sunday that was the case, which was great. It's just two good teams playing. Outside of California, there's not any other state right now that has two teams that are in the top 10 in the country in volleyball. I like to also point out it's made up of a lot of players from outside Pennsylvania. It's not like we're both all playing Pennsylvania-born players, but there have been a lot of good players throughout the years in Pennsylvania. We both wish their were more, for sure. Maybe matches like that will promote it. We've been playing in the spring for the last four or five years. I think Dan [Fisher] is doing a terrific job. We want to play them in the spring. They're really good. He's good and the players are good. It's great competition. When you play great competition, you know you can win and you can lose, and that's great. It's part of sports. That's what makes you better."
Coach Rose on his expectations for the team:
"Today, the expectation was to play a lot better than the embarrassing performance we had on Friday night. So that was my hope. I didn't really know exactly what would happen, because how we played on Friday was part we didn't play well and part Pitt played really well. The way they played, I think they would make a lot of people look poorly prepared. Pitt's really good. Somebody had a question on Friday saying, 'Hey, Pitt's really good. Did they just get really good?' And I'm like, 'They've been really good over the course of 40 years a number of times,' so let's not pass it off like they're just good now. They've been good before, but they're really good now. Let's highlight the people who are here today, but let's not ignore the fact that there's been a lot of people who have played volleyball at Pitt — both men's and women's — over the years who were really fine players. They've had really good teams."
Coach Rose on Gabby Blossom's performance:
"I thought she competed a little, but I thought she just was not very good on Friday. I thought she was a little better today, but there were some things today that I wasn't really happy with. I think her and I have some challenges at times."
Coach Hohenshelt's postgame comments:
"Friday, we put ourselves in a hole and couldn't dig ourselves out of anything. We tried to dig a little bit and we just never got any momentum. Today, we sort of grinded back and kept that momentum going I think. Our block, for sure, was a lot better against these guys today. We weren't terrible, we were just short on a few things. I thought today we just blocked the ball pretty well, we dug the ball really well, and were a little better in transition. It was two really good defensive teams. The offensive numbers weren't great. I thought we were a little bit better disciplined with what we were doing. The kids stayed with it. There was no panic. It was like, 'This is what happened. Let's figure it out.' We figured it out and just played harder today."