No. 8 Penn State women's volleyball beat No. 15 Purdue 3-1 (25-17, 21-25, 25-18, 25-15) on senior night Saturday in front of a crowd of 4,273 at Rec Hall.
Jonni Parker led the Nittany Lions with a match-high 17 kills, seven digs, two aces, and two block assists in the victory, while Kendall White put together her best performance of the season with a match-high 29 digs and four assists. Tori Gorrell and Serena Gray combined for 27 kills and each had an excellent hitting percentage against the Boilermakers, who fell to 16-7 (8-6 Big Ten).
Kaitlyn Hord and Allyson Cathey tallied nine and eight kills, respectively, on a night in which the Nittany Lions hit .305 as a team. Penn State had its best set of the match to close things out in the fourth with a terrific .406 hitting percentage and a 81% side-out rate. Even sophomore defensive specialist Jenna Hampton got a kill to go along with her 11 digs and one assist.
There were a handful of insane rallies between the Nittany Lions and Boilermakers, but most of the time Penn State delivered in the clutch to keep racking up points. Parker had a particularly spectacular kill to cap off perhaps the best rally of the night. White is now just 97 digs away from breaking Penn State's program record.
Sophomore setter Gabby Blossom was downright superb for the Nittany Lions in the four-set win, dishing out a match-high 53 assists, scooping up seven digs, tallying two kills, and delivering an ace. All five of Penn State's graduating seniors saw the floor Saturday night and helped the program improve to 57-7 all-time against the Boilermakers. The win must have felt especially good considering Purdue won 3-2 last season in Rec Hall.
The Nittany Lions (19-4, 12-2 Big Ten) hit the road for four straight matches — beginning with a trip to No. 21 Illinois next Friday at 8 p.m. ET. Penn State rallied from a 2-0 deficit to beat the Fighting Illini in five sets when they visited Rec Hall earlier this season on Oct. 23.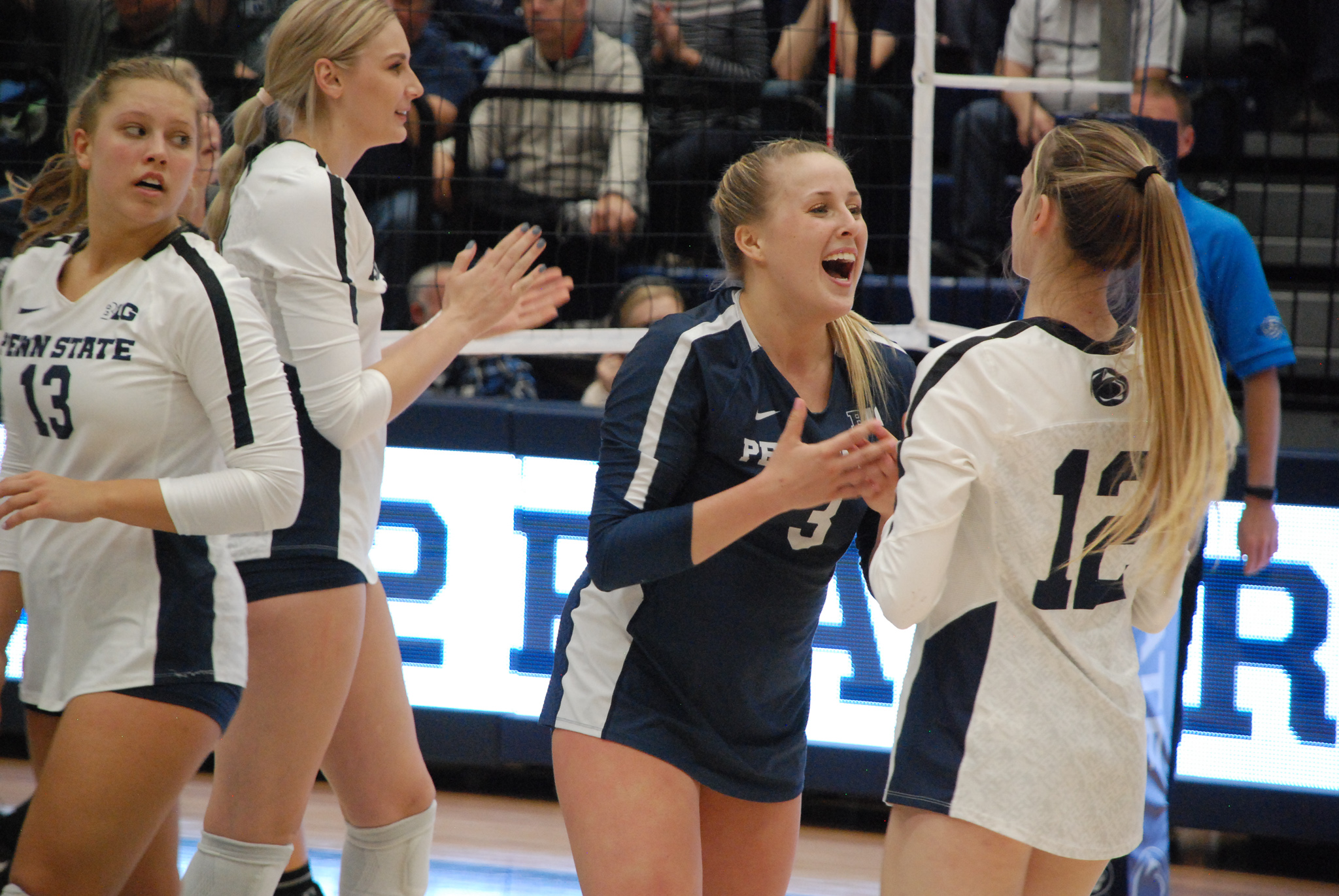 Post-Match Quotes
Coach Rose's opening statement:
"I thought it was a really well-played match. We played really well and Kendall, especially, I thought rose to the occasion that allowed us to run middle. Serena and Kaitlyn played well and Jonni and Tori scored really well, so it was a really good match. Our passing was good. Purdue's a really strong team. Purdue beat Nebraska a week and a half ago, so we knew how strong they were. We also were aware of last year's scenario where we were up 2-0 and they came back and took the match. We were committed to hopefully making sure that didn't happen again, so I'm really pleased with the effort today."
Coach Rose on Purdue:
"I've known Dave and John [Shondell] for a long time. We played against each other 40 years ago in college, so we've coached and played against each other a long time. They've done a great job with the Purdue program. Again, you don't have to look very far. The success of their program — not just while they've been there — Purdue was one of the top teams. When I started at Penn State 40 years ago, Purdue was one of the premier programs in the Midwest. They have a great tradition there and come from a really rich area. They've got great talent and the personnel is good. They've got a lot of arms and certainly [Grace] Cleveland and [Caitlyn] Newton are having great years. They've got two senior middle blockers. Again, they beat Nebraska. I watched the match and I think if they would have played more games, they were going to win more games. It wasn't just they held on to win. I thought they were in total control of the match. They're a terrific team and we knew we were going to have to play well, and I thought we played well."
Coach Rose on the atmosphere at Rec Hall:
"It's great to have a big crowd. We're really appreciative of the support we get from the fans, the wRECking Crew, and the band. It was a great evening for the players and the program, especially for the seniors to be able to win a match like tonight. We have to do senior night away from a home football weekend, because you can't really get facilities to do some of the festivities."
Kendall White on whether she had any extra motivation tonight:

"Of course, every game has the same level of importance, but after [losing to Purdue] last year, I wasn't letting that happen again. It was definitely an eye-opener when they came back from a 2-0 deficit. Coming into our gym, I wanted to make a point. I think our team did that as a whole. We came out with a lot of energy. We lost the second set, but it didn't matter. We came out with the same energy as we did in the first set and I think it was awesome. It felt really good to play out there today with everybody."
Tori Gorrell on what was working well in the fourth set: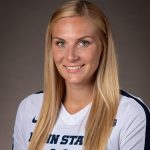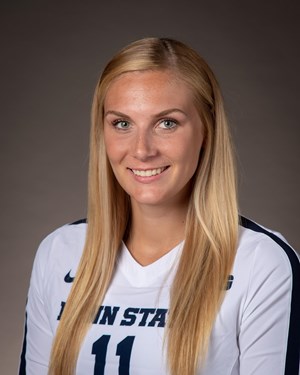 "I just think that the passers and the diggers did a phenomenal job in allowing us to do a better job in the front row. I think also just over time we were able to read the other side better. That just happens when it comes with a game that goes long. So yeah, I just think that we did a good job of adjusting to them as it was going. The passers and defenders were amazing."
Coach Rose on the performance of Jenna Hampton and Keeton Holcomb:
"I thought Jenna and Keeton held up well passing and defending. That gives us way more opportunities. Certainly we could have gotten a little better offensive production in some areas, but I thought the passing and the defense was pretty good. That's what we need to do with the personnel that we have available at this point in time."
Kendall White on whether a specific memory from her Penn State experience stands out to her:
"I have a really bad memory, so not really. Nothing really stands out to me. I try to enjoy the little things as they come instead of focusing on the past. I enjoy the present and what we're heading to instead of what we've already accomplished and what we've already done."
Kendall White on the team playing with confidence:
"Even if we dropped a set, we were playing with confidence tonight and I think that we felt it exuding from each other. That is really awesome with our team. If I look at Jonni and she's like, 'Alright, I'm going to stuff this girl.' I'm like, 'Okay, do you.' It's just really nice — if they have confidence, we have confidence in them. It's a fun environment to play in."
Jonni Parker on Penn State's level of focus:

"I think we all had a high sense of urgency tonight. We came out ready to go and we didn't let one [loss] become two. We bounced back really quick."
Kendall White on her reaction to Jenna Hampton's kill:
"I thought it was awesome. I mean, come on. She's hitting 1.000, baby. That's a kill. That was awesome. A point's a point no matter how it's scored. Loved that."
Kendall White on the lengthy rallies against the Boilermakers:
"Some of the rallies were really long, because [Jonni] played really well on defense tonight, too. Everybody was just really engaged and really locked in, so rallies are always fun, especially when they're long. Once you win the long ones, you're like, 'Alright, we got this.' It was just really nice to see the girls and the passion and what we accomplished on the floor tonight."