To the delight of headline writers everywhere, Penn State bounced back Saturday night with win over Wolverines
After Friday night's 3-2 loss to Michigan State, a not insignificant number of Penn State fans were somewhere between disbelief and panic.  But 24 hours later, the leadership provided by 6-1 Sr. OH  Deja McClendon and 6-4 Sr. RS/Opp Ariel Scott helped Penn State (10-2, 1-1 B1G) right its ship (any cliché in a storm, if it lets us insert an animated gif) — at least for the time being — with a 3-1 win (25-16, 20-25, 25-19, 25-17) over #10- ranked Michigan (10-3, 0-2).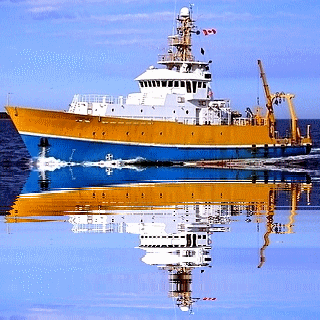 Is the PSU Women's Volleyball Team on course for smooth sailing?
In an interview with Jon Wheel of the Daily Collegian, Penn State Head Coach Russ Rose praised McClendon, who recorded 15 kills and 13 digs:
I thought Deja had an exceptional match, the best match she's played in a long time.  I'm happy that she was able to bounce back after a tough evening last night.
(For the complete article from the Daily Collegian, Click Here.)
Ariel Scott also totaled 15 kills, with 6-2 So. OH Megan Courtney adding 11 kills, eight digs, four blocks and an ace.  6-6 Sr. MH Katie Slay posted a team-high nine total blocks to go with six kills.
Match Stats (courtesy of GoPSUsports.com)