No. 7 Penn State women's volleyball lost to No. 8 Minnesota 3-1 (25-19, 20-25, 20-25, 23-25) Saturday night at Rec Hall, meaning Wisconsin, which swept Rutgers earlier in the evening, clinched the Big Ten title outright.
Stephanie Samedy was magnificent in leading the Golden Gophers to victory with a match-high 21 kills (.475), a team-high 12 digs, a block, and one of Minnesota's five service aces. She only had two attack errors on 40 swings after returning to the starting lineup. Samedy, who had 21 kills twice previously this season against Stanford and Purdue, missed her team's sweep of Rutgers Friday in New Brunswick, but came out firing against the Nittany Lions.
The win marked the first time since 2004 that the Golden Gophers came into Rec Hall and left victorious. Minnesota finished the regular season 23-5 and 17-3 in the Big Ten, but still trails Penn State 48-12 in the all-time series between these two programs. The Nittany Lions hit .438 as a team in a dominant first set, but managed just a .089 clip in the third set.
Tori Gorrell paced Penn State's offense and set a new career high with 17 kills in the loss, while middle blockers Serena Gray and Kaitlyn Hord tallied 13 kills apiece and were again spectacular. Hord had a team-high six blocks and just one attack error Saturday night. She finished the regular season with the Big Ten's best hitting percentage (.441). Jonni Parker struggled to keep the ball in play against the Golden Gophers, surrendering a match-high 10 attack errors, but her 11 kills ensured she set a new season high with 353. Parker had 351 kills during a Big Ten freshman of the year campaign last season.
Kendall White led all players with 19 digs and added five assists and an ace, but she was visibly frustrated after the match while addressing the team at midcourt. White is now just 15 digs away from breaking the program record and could accomplish the feat in Penn State's upcoming NCAA tournament opener. Keeton Holcomb contributed a season-high 12 digs off the bench, while fellow defensive specialist Jenna Hampton had seven digs in front of a crowd of 4,059.
Gabby Blossom finished just shy of recording her 10th double-double of the season with 50 assists, nine digs, four kills, a block, and an ace. Kylie Miller went head-to-head with Blossom all night long and eventually joined Samedy with a double-double of her own. Allyson Cathey managed just two kills and hit negative against the Golden Gophers, but chipped in three digs and matched Parker with four blocks. Parker's two aces brought her season total to 39. Minnesota outhit Penn State .284 to .250 and earned a 13.5-9.5 advantage in blocks thanks in large part to Regan Pittman's match-high seven.
The Nittany Lions (24-5, 17-3 Big Ten) will find out who they're playing in the first round of the tournament when the bracket is announced Sunday at 8:30 p.m. ET on ESPNU. It's more than likely that Penn State will host the first weekend as one of 16 seeded teams.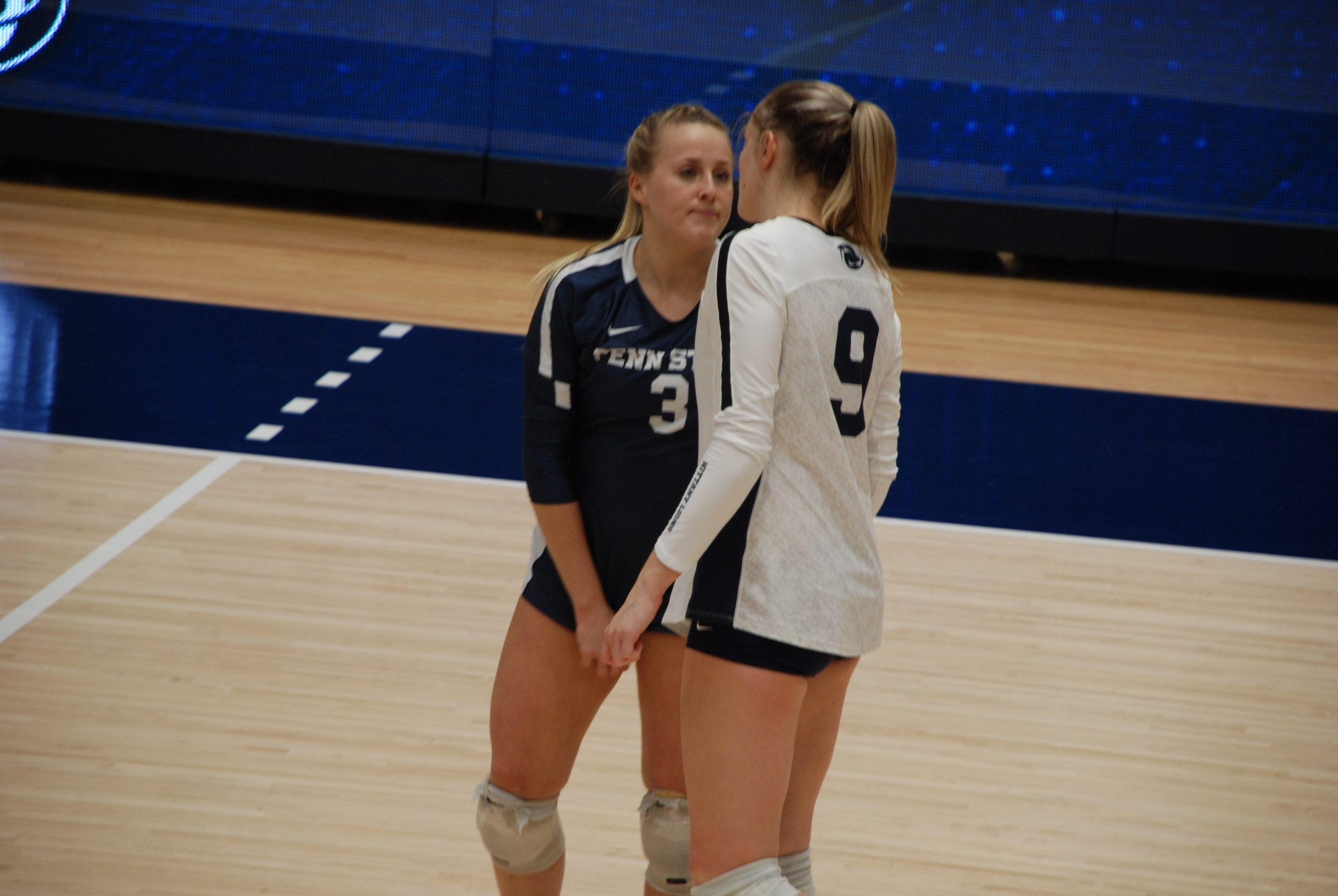 Post-Match Quotes
Coach Rose's opening statement:
"I'm a little disappointed with how we played, but I'm not disappointed with the support that we received from the fans this weekend. I thought we had terrific fan support. I thought we kind of were real high emotionally at the start and we had leads in all four sets. Minnesota is very good and very steady. I just thought that a couple of the people ran out of gas. That's part of the game. I made a couple substitutions that didn't produce the same sort of results that maybe we generated yesterday. The highs and lows of the game can get you, but I thought that Minnesota played very well and did the things that they did earlier in the year when they played here [against Oregon and Stanford]."
Serena Gray on what makes Stephanie Samedy a difficult matchup: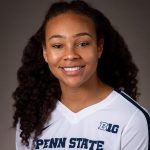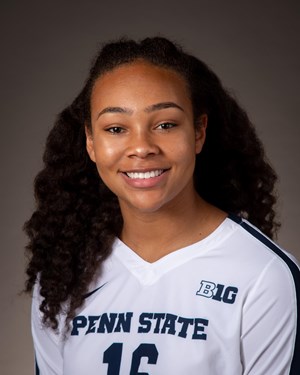 "I would say she's a very versatile attacker. She has the same effect, from what I can tell, in the back row as she does in the front row, so you never really get a break. One of our game plans was to really capitalize when she was in the back row, but she just got really fired up as the game went on and she proved that she's just as effective anywhere on the court."
Coach Rose on additional takeaways from the weekend:
"It kind of just identifies how important conditioning and health is and travel and so many of the other factors that really come into play. Scheduling really makes a big difference — how your schedule works out. Whether you're home or away, when you're playing the top teams and you're put in a situation where you've got to play the top teams in multiple nights, if you're healthy and strong, then you welcome that. If you've got some challenges, then you have a hard time overcoming those sort of things. I think we played at a much higher level and I thought it was the same thing last year. I thought we played at a real high level one night and the next night a couple people were just gassed. It's not that they don't want to do it. I think everybody cares. I just think some people have some [low] residuals in the tank and sometimes it catches up with you. I have to do a better job in recruiting and maybe find a better way to rest people during the year based on how the schedule stacks up."
Tori Gorrell on why she's able to heat up toward the end of the season the last two years: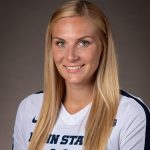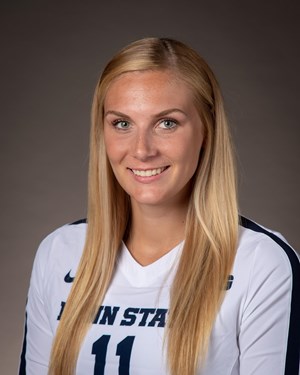 "It's always good to play better at the end of the year, but I should have been doing this all year. I had a tough beginning of the season. I think I just get excited. I want to fire my team up. I want to win. I want to put us in a better spot in the tournament. We have a great team and we have a really good opportunity to go into this tournament at a really good time. We'll be playing some amazing teams, obviously the top 64 in the country, so I just think that it's go time for us. At the end of the year is when we've got to put our foot on the gas and go."
Coach Rose on having the team over to his house Sunday to watch the bracket reveal:
"We always have the team over to the house and watch the show. There's been years where we had different expectations of the show, but my expectation for the show would be that our name is going to be called. I would hope that our efforts would certainly warrant being the second-place team in the Big Ten. That would certainly warrant consideration for hosting the first round, but if not, we'll go and play where the committee tells us to go play. We'll represent the conference and Penn State in the best fashion that we possibly can. I'm always appreciative of the fact that the university submits a bid and supports us in a fashion that allows us to be competitive with other schools. We had a season where we went to the very last day with a chance to win the Big Ten conference. I told the players, 'That's part of life.' That's the highs of yesterday and then today there were some of them in there crying. That's how it goes. Each set came down to two or three things that could have been done differently. In a couple of the sets, people went in and made two or three errors. You go in a game and make a couple errors, that's a four-point swing. That's how it goes. It's not life and death. It's sports."