No. 11 seed Penn State women's volleyball swept Princeton 3-0 (25-21, 25-20, 25-19) Friday night at Rec Hall to advance to the second round of the NCAA tournament.
Gabby Blossom guided the Nittany Lions to victory with a match-high 39 assists and 10 digs in her 10th double-double of the season. Blossom also added a block, a kill, and two of Penn State's four service aces.
Three Nittany Lions finished with double-digit kills, including a match-high 14 from Jonni Parker. Serena Gray and Kaitlyn Hord both hit well above .400 and tallied 11 and 10 kills, respectively. Tori Gorrell recorded nine kills and freshman outside hitter Lauren Clark contributed three more off the bench.
Penn State hit .297 as a team to Princeton's .206 clip, which is certainly respectable considering the odds the Tigers were up against at Rec Hall. Maggie O'Connell (10 kills) and Jessie Harris (32 digs, eight assists, two kills) performed valiantly in the final match of their collegiate careers. The Nittany Lions are now 8-2 in the all-time series against Princeton, while head coach Russ Rose improved to 102-31 in the NCAA tournament.
Kendall White had a match-high 13 digs, six assists, and an ace in the penultimate match of her Penn State career at Rec Hall. White, who was named back-to-back Big Ten defensive player of the year, is just three digs away from breaking Kaleena (Walters) Davidson's program record of 1,957. Sophomore outside hitter Allyson Cathey warmed up but didn't see the floor against the Tigers. Jenna Hampton (nine digs, one assist) and Keeton Holcomb (three digs) put together a pair of strong defensive performances in the win.
The Nittany Lions (25-5, 17-3 Big Ten) host Towson Saturday at 6:30 p.m. at Rec Hall with a trip to the Sweet 16 on the line. The Tigers (29-2, 16-0 CAA) beat American 3-2 to advance and have now won 23 matches in a row.
Post-Match Quotes
Coach Rose's opening statement:
"Well, it's always a challenge getting started, especially after another match goes long like that. It kind of cuts into your time frame of preparation. I was on the committee when we started and I always said the same thing as a coach on the committee, that it didn't make sense that one team had an hour to get on the floor and then the next teams have 30 minutes to get on the floor. It just doesn't ever make any sense to me, but I thought we competed hard against a great opponent. I want to recognize the season that Princeton had, especially their four seniors that played so well together and won three Ivy League championships. You know, it's a very tough team to play against. They have a great skill set. They are calm and we needed to weather the various tactical things that they do really well. I don't think we necessarily had much success with [Maggie] O'Connell, but I thought that we controlled the ball well and Jonni and Serena and Kaitlyn had good nights offensively. I thought Kendall passed really well, played great defense, and Keeton did a real nice job of passing the ball."
Kendall White on the biggest key to the victory: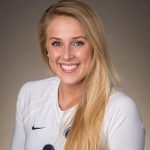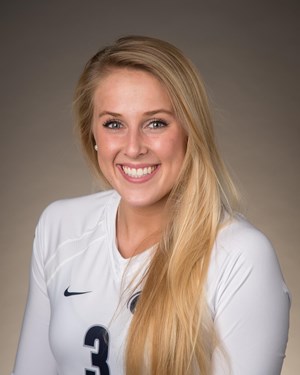 "I think the biggest key to tonight's win was probably just to stay together as a team. I mean, coming into the NCAA tournament, everyone doesn't want it to be their last game. No matter who you play, they are going to want to come out, play with a lot of heart, play with a lot of fight, and I think just weathering through it in the long rallies and playing together as a team."
Coach Rose on additional takeaways heading into tomorrow:
"I thought that the first match was a real exciting match. I thought both teams played really well. I thought Towson and American represented themselves really well. They are both really strong offensive teams and we played American at American last year so I am a little more familiar with American. I'm familiar with some people on the Towson team, because one of the assistants is one of my former players and the other assistant is married to one of my former players, so I watched them play tonight. Every team is challenging when you get to this point in the season and, you know, they won 29 matches so there is a lot to be said for finding ways to be successful. We'll have to play a little better tomorrow in some areas and have a game plan and make sure that we're ready to play against Towson."
Jonni Parker on how the team managed to stay focused despite the lengthy Towson-American match: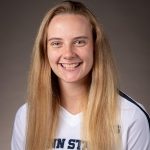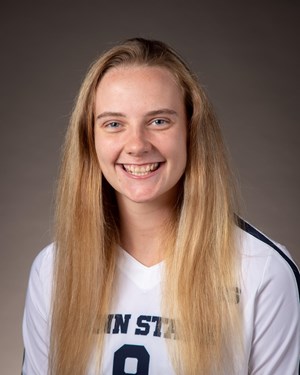 "You have to realize that you have to keep your focus intact and your mentality. You have to focus on you. You can't focus on the next game or the game ahead of that. You have to focus on the game that is in front of you. We had to stick to our game plan and get out there and be ready to play."
Gabby Blossom on the performances of Jonni Parker and Serena Gray: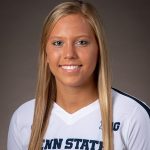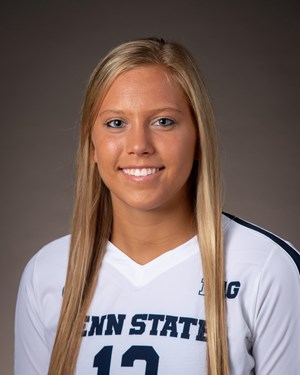 "Yeah, I mean they are two players who are always really good for us. Jonni came alive and that allowed other hitters to take a little bit of pressure off them. Serena and Kaitlyn, both of them are really good in the middle and they hold a lot of blocks and allow our pins some great opportunities to score, so I thought that they were great and they were big reasons why we won tonight."
Coach Rose on Serena Gray's service pressure against Princeton:
"I thought Serena served really well. In the third game when we were coming back, I thought she had real good service pressure. I think she's one of our better servers. When Jonni's spin serve is on, of course, that's a great weapon as well, but for sure Serena's serve is one of our weapons and when she's serving that has great impact on the outcome as well. We have to get some rest. We practice in 12 hours and have to be ready to go."
Jonni Parker on Penn State maintaining its composure:
"Like coach said, there are going to be good matches across the country from here on out the rest of the season, but when it gets to that point, you've really got to focus on you. You've got to focus on what your team can do and kind of just control what you can control and eliminate the runs from the other team, so I think that's really important. Like coach said, with Serena's service pressure we were able to keep them to one-and-dones or only two points and I think that's what really helped us out in the end."
Coach Rose on his appreciation for the university putting in a bid to host:
"We are always appreciative that Penn State puts in a bid to allow us to host as well. We are appreciative of that and the support and it never guarantees success but it gives you a little more time at home. It gives the kids some time to focus on their academics and get a little better rest and certainly over the years it has been a great benefit."
Serena Gray on how important it is to have a leader like Kendall White in the tournament: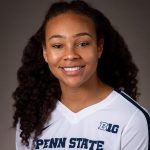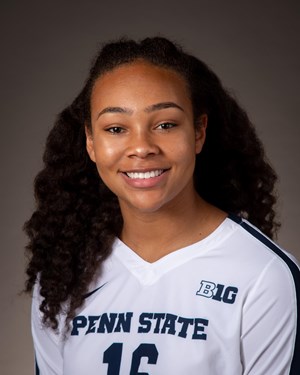 "She is definitely important to keep the competitiveness on the floor and make sure that everyone is holding each other accountable. She really brings that fire that makes people want to compete just seeing her scream. She brings a lot of emotional energy and you need that when it comes to the tournament when maybe you aren't as confident as some of the other players on the court and you need that fire power to count on."