Match Recap
No. 5 Penn State women's volleyball swept Rutgers 3-0 (25-15, 25-20, 25-14) Saturday night at Rec Hall thanks to a balanced offense that hit over .300 for the first time since its sweep of LSU on Sept. 7.
Penn State honored its 1999 national championship team to thunderous applause during the match —  two decades after it led the program to its first ever national title. Eleven of the 16 players from that team were in attendance, including current assistant coach and two-time All-American Katie Schumacher-Cawley.
Senior defensive specialist Keeton Holcomb made her first start for the Nittany Lions since her freshman season in 2015. It was the second match in a row Russ Rose elected to change up his starting lineup. In a sweep of Michigan State Wednesday night, sophomore Jenna Hampton earned the first start of her career.
Jonni Parker (match-high 12 kills) and Serena Gray (eight kills, .583 hitting) led the Nittany Lions offensively. Gabby Blossom finished with a match-high 31 assists, seven digs, three kills, an ace, and a block. Kaitlyn Hord, who tied Allyson Cathey with seven kills, paced Penn State with five total blocks.
Rutgers fell to 6-7 (0-2 Big Ten) on the season despite an encouraging performance in the second set. It was otherwise tough sledding for the Scarlet Knights, who hit just .091 to Penn State's .315 Saturday night. Save for seven service errors, Penn State dominated from the line on its way to an 8-1 advantage in aces.
Freshmen Lauren Clark, Emily Oerther, and Macall Peed all saw the floor in the second set. Oerther, a backup setter from Windermere, Florida, dished out three assists against the Scarlet Knights, matching her output from her lone previous appearance against Holy Cross. Molly Russell, the niece of '99 setter Bonnie Bremner, checked in to serve on match point — a kill from Parker. Kendall White tallied a team-high nine digs, four assists, and two aces.
The Nittany Lions (9-2, 2-0 Big Ten) travel to Madison for their first road match of conference play against the No. 13 Wisconsin Badgers Wednesday at 9 p.m. ET. The match will air live on Big Ten Network. During postgame comments to the booster club, Rose said he picked the Badgers to win the conference prior to the season.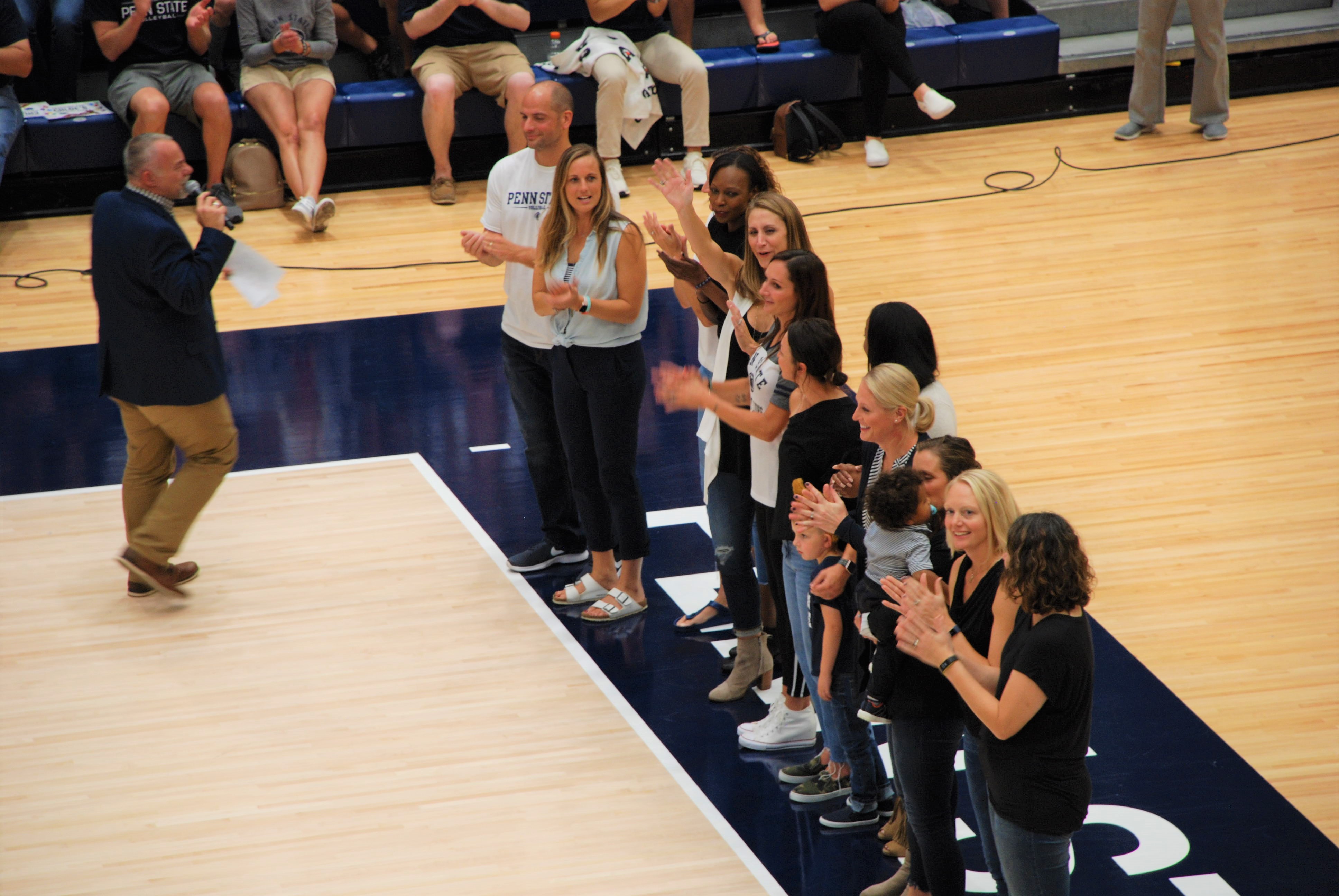 Post-Match Quotes
Coach Rose's opening statement:
"I thought it was a nice crowd and good energy. It was a great opportunity to recognize players from the 1999 championship team that did so much for the program, albeit 20 years ago. That's the first thing that I want to recognize — those individuals. I thought we served better tonight than we did a couple nights ago [against Michigan State] and we controlled the ball a little bit better. We'll have to continue to get a lot better as we progress into conference play."
Coach Rose on controlling the ball better against Rutgers:
"Every match is different and every opponent is different. You prepare for all the teams differently, but you also know that when you're at home, you'd like to think your kids are always going to have a little advantage of just serving and having a little more comfort serving and passing. I thought we did a better job of getting the ball certainly to the middles later in the match. Serena might have had one swing in the first game, so we didn't get the ball to her as much as I would have liked. I thought we controlled the ball a little bit better. We didn't make as many foolish errors. Rutgers is a big team and we hit a lot of balls into the block, so we have to be a little bit better about that."
Coach Rose on traveling to Wisconsin next:
"We have to get a lot better and it's a totally different situation playing at home versus playing in front of 8,000 people on the road. We'll have to clean some things up and that's part of sports is seeing how players are going to handle the different situations. I think that will be a good test for the younger players."
Serena Gray on having a balanced attack:

"It can be tough in the beginning of games filling things out, but that's still not an excuse. Our intention is to come out of the gates strong and just show how hard we work on our offense and show what we've been practicing. I think tonight was pretty moderate."
Allyson Cathey on said attack:
"To add onto that, I would say our biggest goal is to pass well so we can run the middles. When we run them and we're in system, that opens up stuff for the outsides. When our offense is good as a whole, then that makes us good as a team."
Allyson Cathey on improving her blocking:

"Yeah, that's definitely something I've been working on. Coach [Rose] has been on me about that, but that's definitely something in practice I've been working on. Just seeing the block, taking my time, and just being disciplined is my biggest thing for that aspect of the game."
Kaitlyn Hord on having the 1999 team back in Rec Hall:
"We got a chance to speak with Molly [Russell's] aunt, Bonnie [Bremner]. She's really cool and really spunky. You can tell she was a great teammate and all that. It's always an honor to play in Rec Hall and it was so special just to have them here and see what they've left for us. That video, I know a lot of us got chills just from watching it, so it's something pretty special."
Coach Rose on Emily Oerther's performance and Amanda Phegley's health:
"I thought Emily did a nice job. She puts up a good block. I wish she was a little more vocal, but she's certainly way more physical at the net than Gabby. I think that's something that we have to use at some point in time. I'm disappointed I didn't get a chance to get Amanda in, but I'll get her in in practice the next couple of days. She's getting healthier and we need to use her arm. She's got a good arm."