Penn State has lived up to its #8 seed in the NCAA Tournament by defeating Washington Friday afternoon to advance to the Regional Finals tonight against Stanford.  Below is a video of the post-Washington match press conference with Head Coach Russ Rose, Tori Gorrell, Taylor Leath, and Kendall White: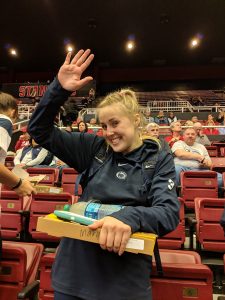 It truly was a complete team effort against the Huskies, but once again, Jr. libero Kendall White was the sparkplug and vocal leader on the team. Gotta love her effort, and the effort of this entire group.  They are underdogs against Stanford tonight, but there's a lot of fight in this group.  As Talking Head says in the Q&A, below, don't count them out.
Q&A with Talking Head
We're speaking today with Talking Head, who played D1 Volleyball and has coached the sport for many years.
DigNittany: Most fans in the volleyball world are favoring Stanford for tonight's Regional Finals match.  Tell us why that's so, and what Penn State can do to come out on top.
Talking Head: In its last few matches, Stanford has played some sketchy points, some awful points, and some ugly points in stretches, and still won games, because of their overall talent — the level of 1st Team All Americans (and I mean that in the plural) and experience that they have on the team.  We saw that last night against Washington State.  Even in the three games that Stanford won, two of those had stretches where, oh my goodness, they just couldn't get out of the way of themselves.  But they still managed to keep the lead, and take the games and the match.  That's impressive.  In set 2, they had a collapse and Washington State was able to take advantage of that.
That being said, when you have a record like Stanford's (31-1; 20-0 in the Pac-12), it's pretty clear that they're comfortable with who they are, they know that sometimes they're going to play imperfect volleyball (who doesn't?), and they still have the fortitude and the confidence — I think the big thing is confidence — to know that they can overcome those ugly moments.
Is there anything Penn State can do to come out on top tonight?  Absolutely.  Are they the underdogs?  No doubt.  But as well as Penn State is playing right now, I think if Stanford goes through those stretches of imperfect volleyball, Penn State has the ability to take advantage of that, maximize their own opportunities, and pull off the upset.  One final thought: Tori Gorrell has been on fire through the entire NCAA Tournament.  If we can score in the middle with efficiency early-on in the match, that's going to open up a lot of things from the pins.  If we can't, and we have to rely solely on the pin hitters, we're going to be in trouble.
DigNittany: Thanks so much.  We appreciate it.