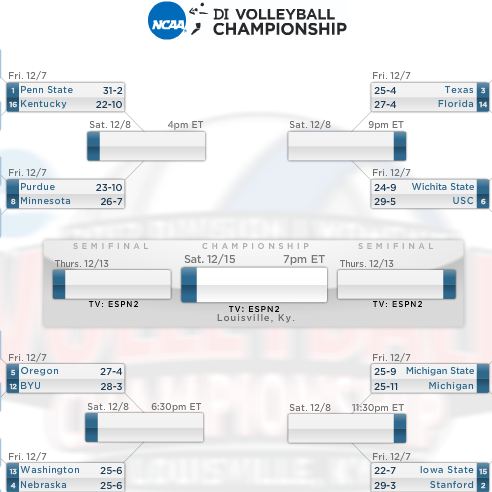 Media Coverage for Kentucky vs. Penn State
A quick note about coverage of Friday's match between Kentucky and Penn State.
The Penn State Women's Volleyball Booster Club is helping to sponsor Forever Broadcasting's radio broadcast of Friday's match.  Coverage will begin at 4:00 p.m (the match starts at 5:00 p.m.).   Dean Devore will provide the play-by-play for the broadcast on 1390 am radio.
We think there will be a live stream of the event, as well, and that there is a live stream for a 1390 am Penn State Women's Volleyball show tonight from 6:00 pm to 7:00 pm, but we'll have an update on that later today or tomorrow.
The Kentucky match also will be streamed live on ESPN3, with an audio stream from CBSulive,  and stats coverage from GameTracker.
Q&A with Club Coach
We're speaking today with Club Coach, a coach who has coached numerous collegiate and club volleyball players, about the West Lafayette Regional (and so-called "Easy Roads" to the Final Four), freshmen Daly Santana and Annie Drews, and about the improvement shown this season by the Penn State team.
About "Easy Roads" and the West Lafayette Regional
DigNittany: The West Lafayette Regional received a lot of criticism as giving Penn State an "easy road" to the Final Four.  We have a feeling none of the other three teams in the Regional Semifinals — Kentucky, Minnesota and Purdue — agree with that assessment.  [Editor's note: it's also worth pointing out that It's Never Easy to win the NCAA Women's Volleyball Championship.]
We've seen Minnesota and Purdue, and know they can be tough.  What can you tell us about Kentucky, and what do you have to say to the "Easy Road" crowd?
Club Coach: I think people think it's easy because they know PSU has already beaten those teams. They also beat Texas and Stanford this year, and I'm pretty sure they wouldn't call it easy if they were in PSU's regional.  Minnesota is a scary team.  They bomb the ball from multiple positions and can be as good as, or better than, any team in the country from the service line.
Purdue got beat in a regional final last year, and was an injury away from beating Texas and advancing the year before.  I think there were a lot of people out there who thought Michigan State would be easy for UCLA, but it didn't work out that way.  Lastly, they should have the easiest draw — they earned the overall #1 seed.
Kentucky is very well coached, has athletes, and has played a tough schedule. Ohio State was playing great volleyball late in the season, and Kentucky dismantled them. The Wildcats aren't showing up just so they can tell their grandkids they got to play Penn State.  They will play to win.
About Daly Santana and Annie Drews
2012 Big Ten All-Freshman Team (Unanimous Choices in ALL CAPS)
DigNittany: Megan Courtney won Big Ten Freshman of the Year, but two other freshmen in this Regional – Minnesota's 6-1 OH Daly Santana and Purdue's 6-4 OH Annie Drews – have impressed us this season.  Santana was a unanimous pick for the All Big Ten Freshman team, and Drews tied with Michigan State's 5-10 setter Halle Peterson for a spot on the team.  Any thoughts on either of these players?
Club Coach: I think that is a great group of freshman. Santana in particular really impressed me late in the season; she can really jump and bang it at the net, and has a dangerous serve.
About Things Getting Better
DigNittany: Last year, #8 seed Penn State came into the Sweet Sixteen as a slight favorite over #9  seed UCLA, but was defeated rather convincingly by the Bruins, 3-0 (20-25, 22-25, 21-25).
Statistically, this year's team is much improved over last year's edition (see the tables below, for a comparison of last year's stats to this year's stats as of November 10, 2012), and certainly garnering the #1 overall seed is an indication that lots of people think very highly of the Nittany Lions.  Putting statistics aside, how much do you think this year's team has improved in terms of leadership, communication, and ability to overcome adversity, and how has that improvement manifested itself this season?
Club Coach: I think this is a totally different group than the one we saw last year. First off, Hancock went from a player battling to keep her head above water, to a confident player and leader.
Secondly, I think they have made tremendous strides in their passing and defense – something I think Steve Aird had a big impact on in the spring season.  I also think that McClendon's development as an all-around player has also played a really big role.  Her attack numbers are down, but she is contributing in areas of the game that she hasn't before, and therefore is a more valuable player.
I don't know if this group will win it, but they look like champions and are carrying themselves that way as well. They really put the hammer down on teams late in the season, and appear to be playing their best volleyball at the right time.
DigNittany: Thanks very much for your time.  We really appreciate it.
Getting Better – Statistically Speaking
Attack Leaders - 2012 vs. 2011 (as of 11-10-12)
Year
Name
Class
Sets
Played
Matches
Played
Matches
Started
Kills
Kills/Set
Attack
Errors
Total
Attacks
Hitting
Pct.
2012
Scott, Ariel
Jr.
95
27
26
346
3.64
103
851
.286
2011
Scott, Ariel
So.
118
33
31
418
3.54
136
1083
.260
2012
McClendon, Deja
Jr.
94
27
27
307
3.27
97
852
.246
2011
McClendon, Deja
So.
122
33
33
432
3.54
144
1090
.264
2012
Slay, Katie
Jr.
92
26
22
224
2.43
45
414
.432
2011
Slay, Katie
So.
122
33
33
257
2.11
63
502
.386
2012
Courtney, Megan
Fr.
90
27
26
182
2.02
71
485
.229
2011
Martin, Maddie
So.
98
33
24
141
1.44
60
410
.198
2012
Grant, Nia
So.
94
27
27
160
1.70
42
311
.379
2011
Grant, Nia
Fr.
117
32
32
151
1.29
44
309
.346
2012
Hancock, Micha
So.
95
27
27
104
1.09
25
197
.389
2011
Hancock, Micha
Fr.
121
33
32
110
0.91
34
246
.309
2012
Team
n/a
95
27
27
1384
14.57
408
3275
.298
2011
Team
n/a
122
33
33
1676
13.74
564
4159
.267
2012
Opponents
n/a
95
27
27
1022
10.76
581
3242
.136
2011
Opponents
n/a
122
33
33
1377
11.29
684
4077
.170
Set/Serve Leaders - 2012 vs. 2011 (as of 11-10-12)
Year
Name
Class
Sets
Played
Matches
Played
Matches
Started
Assists
Assists
/Set
Service
Aces
Service
Aces/Set
Service
Errors
2012
Hancock, Micha
So.
95
27
27
1090
11.47
53
0.56
95
2011
Hancock, Micha
Fr.
121
33
33
1275
10.54
91
0.75
76
2012
Gonzalez, Dominique
So.
95
27
0
74
0.78
19
0.20
21
2011
Longo, Ali
So.
117
33
0
90
0.77
32
0.27
30
2012
Courtney, Megan
Fr.
90
27
26
24
0.27
8
0.09
28
2011
Carpenter, Kristin
Jr.
100
33
4
76
0.76
14
0.14
37
2012
Fuller, Lacey
So.
92
27
1
12
0.13
12
0.13
13
2011
Gonzalez, Dominique
Fr.
84
29
6
19
0.23
8
0.10
21
2012
Team
n/a
95
27
27
1268
13.35
135
1.42
241
2011
Team
n/a
122
33
33
1549
12.70
209
1.71
288
2012
Opponents
n/a
95
27
27
977
10.28
75
0.79
156
2011
Opponents
n/a
122
33
33
1293
10.60
113
0.93
202
Recept/Dig Leaders - 2012 vs. 2011 (as of 11-10-12)
| Year | Name | Class | SP | MP | MS | RE | Dig | Dig/S |
| --- | --- | --- | --- | --- | --- | --- | --- | --- |
| 2012 | Gonzalez, Dominique | So. | 95 | 27 | 0 | 15 | 349 | 3.67 |
| 2011 | Longo, Ali | So. | 117 | 33 | 0 | 19 | 397 | 3.39 |
| 2012 | McClendon, Deja | Jr. | 94 | 27 | 27 | 26 | 266 | 2.83 |
| 2011 | McClendon, Deja | So. | 122 | 33 | 33 | 22 | 245 | 2.01 |
| 2012 | Hancock, Micha | So. | 95 | 27 | 27 | 0 | 226 | 2.38 |
| 2011 | Hancock, Micha | Fr. | 121 | 33 | 32 | 4 | 279 | 2.31 |
| 2012 | Courtney, Megan | Fr. | 90 | 27 | 26 | 19 | 173 | 1.92 |
| 2011 | Martin, Maddie | So. | 98 | 33 | 24 | 21 | 156 | 1.59 |
| 2012 | Fuller, Lacey | So. | 92 | 27 | 1 | 2 | 142 | 1.54 |
| 2011 | Carpenter, Kristin | Jr. | 100 | 33 | 4 | 12 | 182 | 1.82 |
| 2012 | Team | n/a | 95 | 27 | 27 | 75 | 1401 | 14.75 |
| 2011 | Team | n/a | 122 | 33 | 33 | 113 | 1729 | 14.17 |
| 2012 | Opponents | n/a | 95 | 27 | 27 | 135 | 1278 | 13.45 |
| 2011 | Opponents | n/a | 122 | 33 | 33 | 209 | 1671 | 13.70 |
Blocking and Points Leaders - 2012 vs. 2011 (as of 11-10-12)
Year
Name
Class
SP
MP
MS
Block
Solo
Block
Assist
Total
Blocks
/Set
Blocking
Errors
Points
Points
/Set
2012
Scott, Ariel
Jr.
95
27
26
11
63
74
0.78
3
391.5
4.12
2011
Scott, Ariel
So.
118
33
31
5
81
86
0.73
2
471.5
4.00
2012
McClendon, Deja
Jr.
94
27
27
13
39
52
0.55
5
349.5
3.72
2011
McClendon, Deja
So.
122
33
33
13
48
61
0.50
6
482.0
3.95
2012
Slay, Katie
Jr.
92
26
22
12
113
125
1.36
8
292.5
3.18
2011
Slay, Katie
So.
122
33
33
27
146
173
1.42
11
359.0
2.94
2012
Courtney, Megan
Fr.
90
27
26
21
51
72
0.80
8
236.5
2.63
2011
Martin, Maddie
So.
98
33
24
5
34
39
0.40
2
180.0
1.84
2012
Grant, Nia
So.
94
27
27
4
86
90
0.96
10
207.0
2.20
2011
Grant, Nia
Fr.
117
32
32
13
94
107
0.91
4
224.0
1.91
2012
Hancock, Micha
So.
95
27
27
6
60
66
0.69
4
193.0
2.03
2011
Hancock, Micha
Fr.
121
33
32
5
54
59
0.49
9
233.0
1.93
2012
Team
n/a
95
27
27
67
427
280.5
2.95
41
1799.5
18.94
2011
Team
n/a
122
33
33
76
503
327.5
2.68
40
n/a
n/a
2012
Opponents
n/a
95
27
27
37
277
175.5
1.85
38
1272.5
13.39
2011
Opponents
n/a
122
33
33
51
341
221.5
1.82
69
n/a
n/a