We're speaking with Talking Head, who played D1 volleyball and has coached the sport for many years.
DigNittany: So, what were your thoughts about the match against Pitt?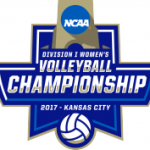 Talking Head:  One of the posters on the DigNittanyVolleyball Forum — lionsfan, a really knowledgeable fan — did a really good job of explaining how good a team Pitt is — I don't know if fans understood that, going into the match.  I'm certain Coach Rose did, and so did his staff, but I'm not totally sure the players really understood either.  But Pitt showed very quickly how fearless they are.  They played a heckova match and they made Penn State earn every point.  We got stronger as the match went on (with the exception of game 2).  You've got to give credit to an excellent Pitt team that did a very nice job, and showed the depth of this year's NCAA Tournament, which could be one of the better ones we've seen in a long time.  It's really competitive, all up-and-down the bracket.  Which is nice.
DigNittany: We asked Coach Rose about the improvement in Penn State's blocking between the first two games (3 total blocks) and the last two games (14 total blocks).  He noted that Penn State had six service errors, and that service errors reduce the opportunities for blocks and digs.  Which still leaves us with the question, what made the difference between the blocking in the first two games, and the blocking in the last two games?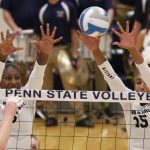 Talking Head: I think there were a couple of things in play there.  I saw that on service in the last two games, our best servers found the corners, down the line into the "5" or into the corner in the "1."  Where we were least successful was serving into the middle of the court.  Pitt seemed to handle those balls.  Once we got away from that in games 3 and 4, then our block just kind of took over.  I would also say that both Ali Frantti and Simone Lee really did dive into the court and press over the net more effectively in the last two games than they did in the first two games.  Overall, against a team like Pitt, which is a very good team, but smaller than Penn State, a lot of their kills were coming off our blockers elbows and forearms.
So that means we were blocking too high — which is what you have to do when you play in the Big Ten — and Pitt was finding the seams.  Once we adjusted, and really penetrated across the net, we took away those angles and had some terminal good blocks.  That means blocks where the ball is going down and not coming back up.  And we saw some where the ball was hitting the floor faster than the ball was being attacked.  Simone had a couple of those that were just unbelievable.  But she wasn't the only one.  I think Tori Gorrell, and Heidi Thelen and Abby Detering all asserted themselves.  So to answer your question, we definitely made an adjustment with our hand positioning and angle pressing across the net — which you have to do against smaller teams.  Otherwise you're just going to get tooled all day long.  If you look at the numbers for Pitt's RS/Opp — 6-0 So. Nika Markovic, they went steadily down as the match progressed.  She had 16 kills, but ended up with 10 errors and hit .150 for the match.  She is a phenomenal hitter, and hits a really heavy ball, and she's a lefty, but her stats dropped precipitously because we contested her attacks more effectively and took those angles away.
DigNittany: Anything else about the Pitt match?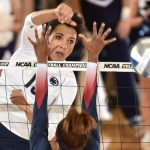 Talking Head: I know we've talked about her before, but Haleigh Washington is such a gem.  There was a play against Pitt where she went up, and she probably could have put it anywhere on the court, but she saw the block forming late from the outside hitter, and she put the ball maybe two feet from the net over where the outside hitter is, and it was such a smart shot.  It was impressive.  Really, it was just . . . beautiful.  You maybe see that once in two weeks of practice where a kid even tries that, and usually they don't try to do that in games, but right now the game has slowed down for Haleigh, and she is just scoring at will.  Absolutely at will.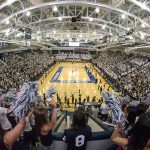 DigNittany: So, looking ahead, your thoughts on the importance of hosting the Regional semi-final and (hopefully) final matches?
Talking Head:  It's a huge advantage, and Penn State needs to capitalize on it.  But Penn State earned it.  The teams coming in don't have much experience in playing in a NCAA Regional Semi or Final, but we're going to need a lot of energy from our players and the fans, for sure.
DigNittany: Any thoughts on the other three teams?
Talking Head: I know that Missouri is a good team.  I think Penn State will play even better next weekend.  I think a 3-0 win for Penn State is certainly a possibility.  A regional semi-final is a big thing, and I think we have the horses and I'm not too sure Missouri does.  But we'll see.  Illinois is obviously a hot team and Michigan State is obviously feeling very good about themselves — that semi-final is going to be a real battle.  But I think we match up very well against both of those teams.  I'm sure Penn State isn't looking ahead to playing those teams — the players and staff definitely are taking it one match at a time.
DigNittany: And so are we.  We'll talk to you after the Missouri match, if not before.  Thanks so much for your time.  We appreciate it.