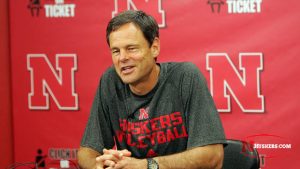 DigNittany: We're speaking again with Talking Head, who as  you may know, played D1 volleyball and has coached the sport for many  years.  Penn State, which is coming off three nice performances in the Penn State Classic, sweeping Yale, Wake Forest and Ohio, will enter the B1G season undefeated (10-0) for the first time since 2009.   Penn State takes on No. 14 Nebraska on Friday, Sept. 22 at 8 p.m. The match will be a "White Out Rec Hall."
Although Nebraska lost on Saturday to the University of Northern Iowa, 3-1, they aren't lacking for talent, or confidence.  Here's what Nebraska Coach John Cook and 6-3 Jr. OH Mikaela Foecke had to say to huskers.com about the upcoming match:
"That's why we had MOAS," ["Mother of all Summers"] Cook said, "trying to prepare the summer for the opening of Big Ten."
"We really have nothing to lose," Nebraska junior Mikaela Foecke said. "We're going to their home gym. They're ranked number two. They're the ones with the target on their back. We just have to go in and get after it."
Nebraska has won five straight matches from Penn State.  What are your thoughts about Penn State's chances going into this match?
Talking Head: I thought for the most part, Penn State executed at a high level this past weekend.  I think the team collectively has an internal motor that we didn't see consistently the past two seasons.  A couple of times you saw a team hanging with us, but before you knew it, it was a six or eight point spread for Penn State.  There are certain rotations that seem to be scoring quite a bit.  As we've discussed, I was impressed with how Penn State handled themselves in their game-fives against Texas A&M and Stanford, when they were down a bit.  Having those experiences in your pocket is very, very important.  So there are a lot of positives for Penn State going into the Nebraska match.
DigNittany:  It's obviously early in the season, smallish sample size, and all that.  But who are the teams that you think should be in the National Championship conversation?
Talking Head:  I think Penn State deserves its ranking right now.  As to who should be the #1 team?  From what I've seen of Minnesota, I'm not sure they are the #1 team.  I would not be surprised to see Minnesota with two or three losses within the first three weeks — and I think it's very possible that Penn State will have zero.   That's not meant to be a knock on Minnesota.  I think the B1G is really tight at the top, and when teams start to play each other, you'll see "upsets."
But I'm not sure who is the #1 team.  I think to this point, Penn State has played the best ball, but I think there are several teams that should be in the conversation.  I think Stanford is right behind us.  I think Stanford is a very good team and they're going to do really, really well in the Pac-12 — I think they could win it.  Washington is another very interesting Pac-12 team.  They are definitely going to do better when it counts than they did last season.  I think they're the second-best team in the Pac-12, but I don't they're going to go through the Pac-12 season unscathed.  I see them a bit behind Stanford, but don't overlook them when it comes to the National Championship conversation.  After those two teams, I think you'll see a big gap in the Pac-12.  Good teams — top 25 or so — but they're all going to hang four or five losses on each other.
Other teams?  I may be wrong, but I don't think Florida is as good as people think.  They may make it to a Regional Final, but I wouldn't be surprised to see them lose in the round of 16.  Texas?  I think the Longhorns are a contender.  I think they are in unfamiliar territory — not being that one-loss or zero-loss team going into conference play — but I think they are a team that could be really good come tournament time.  With the depth that Texas has, don't count out the Longhorns.
DigNittany:  What about teams like Wisconsin and Nebraska?
Talking Head: Wisconsin looks very good.  I respect what they've done in the preseason — they've taken care of business.  I think they are a young team, and exciting, and a little scary for some teams — a team you have to watch out for.  But I want to see them tested. I want to see them in a five-gamer.  As to Nebraska, there hasn't been enough evidence for me to lock in and say "Yeah, they're going to be able to do it in the tournament."
DigNittany: Do you think Nebraska's loss to UNI will have any effect?
Talking Head: I think if the match were at Nebraska, it wouldn't make any difference.  Sleeping in your own bed, being in your regular routine, allows you to put that loss behind you pretty quickly.  Going on the road, sleeping in a hotel, the routine is different.  So yeah, that loss might still be with you.  But we'll see on Friday.  I don't think anyone should count Nebraska out — and I don't think the Penn State coaches will let that happen with the Penn State players.  I think Penn State will win in no more than four games.
DigNittany: Thanks so much, as always.  We appreciate it.