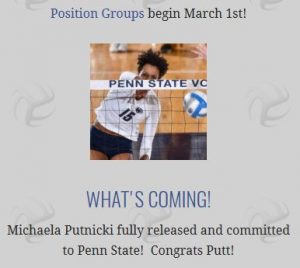 According to a post on the website of the Colorado Juniors, Michaela Putnicki, a 6-1 OH (2017) who originally signed with Virginia,  is "fully released [from Virginia] and committed to Penn State." She will be eligible to play for the Nittany Lions starting in the 2017 season.
Former Virginia head coach (and former Penn State assistant coach) Dennis Hohenshelt, had this to say after Putnicki signed with the Cavaliers:
"We are very excited to get a six-rotation player of Michaela's caliber. She has proven that she can pass, block and attack with the best players in the country. She is a blue-collar kid who comes from a family that believes in hard work and I love that about her. She has had a great senior year and I would expect her to be in the running for the Colorado Gatorade State Player of the Year."
Hohenshelt was on to something, as Putnicki was, in fact, named the Gatorade POY for Colorado:
Lewis-Palmer's Michaela Putnicki named volleyball player of the year by Gatorade https://t.co/JY23KRau9T #copreps pic.twitter.com/G22GCgpAYY

— Colo. HS Volleyball (@ColoHSVB) January 17, 2017
According to virginiasports.com's press release when Putnicki signed with Virginia,  she
started as a freshman at Castle View High School, before playing her last three years and starting two at Lewis Palmer High School. A 2016 AVCA Under Armor All-American and First Team All-State Selection, Putnicki helped lead LPHS to two State Championships (2014 & 2016), with perfect 29-0 seasons in those years, and a runner-up finish in 2015. A PrepVolleyball Senior Ace and No. 71 recruit in the nation by the organization, she finished with a team-best 309 kills, .320 hitting percentage and 222 digs as a senior. As a junior, Putnicki earned Pikes Peak Athletic Conference Second Team honors and was First Team Academic All-State. Putnicki played club volleyball for Colorado Juniors.
Selected Attack Stats
Below are attack stats for Michaela Putnicki, courtesy of MaxPreps.  For all of her stats on MaxPreps, Click Here.

Video Jukebox
Below are three videos of Michaela, the first posted in January 2017, and the second and third posted in January 2015:
Credits