Serena Gray, a 6-3 middle/outside, is very talented.  She was the #5 2018 PrepVolleyball Senior Ace and ranked #6 on VolleyballMag.com's 2018 Fab 50 (behind #4 Kaitlyn Hord and #5 Jonni Parker — both of whom are also part of Penn State's great 2018 recruiting class).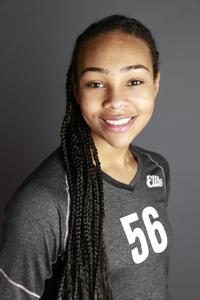 But wait, there's more.  John Tawa, the founder of PrepVolleyball.com, has been praising her talent since February 13, 2016, when he captioned a photo of Gray on the PrepVolleyball.com site, "Serena Gray: you are VERY good!" and listed her as one of the top five talents he saw on Day 1 of the 2016 Las Vegas Classic. In May of 2016, Gray and Kaitlyn Hord, another 2018 Penn State verbal, were named to the U.S. Girls' Youth National Training Team.
To top things off, Serena's 10'7″ jump touch is tied for second on PrepVolleyball.com's 10 Foot Club. [The 10 Foot Club is PrepVolleyball.com's "verified listing of those volleyballers who have met or eclipsed that magic mark." The full list is available to PrepVolleyball.com subscribers — we're unaffiliated with PrepVolleyball.com, but we think it's a great deal].
So yes, the Nittany Lions  are getting a very good player in Serena Gray.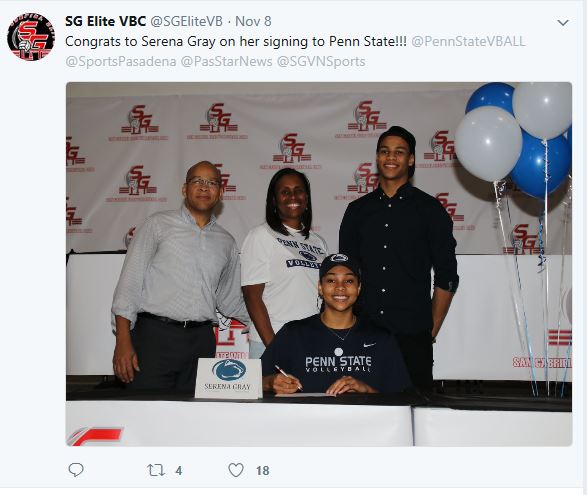 Welcome Serena!
Video Jukebox
Here's a video of Serena's 2016 highschool highlights:
And here's a video of Serena posted on September 28, 2016:
Credits
Photo of Serena Gray in uniform, courtesy of San Gabriel Elite Volleyball Club.
Photo of Serena Gray at signing ceremony, courtesy of San Gabriel Elite Volleyball Club.