Think back to 2013. Penn State had come oh-so-close to making the NCAA finals in 2012, losing to Oregon, 3-1 in a tough match in which sophomore setter Micha Hancock was injured in the second set, limiting her effectiveness for the rest of the match.
In 2013, the Nittany Lions returned almost everyone from that 2012 squad — including Jr. setter Hancock, Sr. OH Deja McClendon, So. OH Megan Courtney, Sr. RS/Opp Ariel Scott, Sr. MH Katie Slay, and Jr. MH Nia Grant. That 2013 team built on their experience from the 2012 season to capture the NCAA Title in Seattle, taking down the home town Washington Huskies in a dominating sweep in the Semifinals, and holding off a tenacious and talented Wisconsin team 3-1 in the Finals.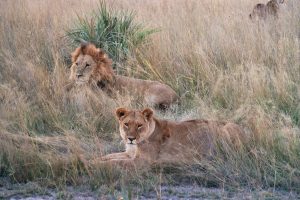 Penn State has pretty much everyone back in 2017, too.  We're not predicting an NCAA title for Penn State in 2017, and the point here really isn't to compare the 2012/2013 players to the 2016 players — although to some extent that's an inevitable conclusion some will make, given the comparison of their statistics.
Of greater interest to us was to see how the statistics from 2012 weren't necessarily all that different from the statistics in 2016.  And, equally (or more) important — how many of the players improved, statistically, from 2012 to 2013.  Although there's no guarantee, it's not unrealistic to anticipate improvement from 2016 to 2017 — without even taking into account the three new front row players: RS Kat Cather, MH Cami May, and OH Michaela Putnicki.
Below is the first of a series of tables that makes those comparisons — this one for attack statistics. We're going to leave the commentary to the DigNittanyVolleyball Forum. Have at it.
Returning Talent: Comparing Attack Stats from 2016 and 2012/2013
Year
Name
Pos.
Cl.
SP
MP
K
K/S
E
TA
%
2016
Lee,
Simone
OH
3/Jr.
121
34

503
4.16
174
1245
.264
2013
McClendon,
Deja
OH
4/Sr.
126
36
378
3.00
117
953
.274
2012
McClendon,
Deja
OH
3/Jr.
124
36
403
3.25
131
1106
.246
2016
Frantti,
Ali
OH
3/Jr.
121
34
295
2.44
99
861
.228
2013
Courtney,
Megan
OH
2/So.
120
35
297
2.47
96
704
.272
2012
Courtney,
Megan
OH
1/Fr.
120
36
240
2.00
88
632
.241
2016
Washington,
Haleigh
MH
3/Jr.
121
34

291
2.40
52
556
.430
2013
Slay,
Katie
MH
4/Sr.
127
36
274
2.16
54
531
.414
2012
Slay,
Katie
MH
3/Jr.
122
35
279
2.29
58
537
.412
2016
Gorrell,
Tori
MH
1/RS
Fr.
121
34
201
1.66
65
378
.360
2013
Grant,
Nia
MH
3/Jr.
118
35
208
1.76
64
411
.350
2012
Grant,
Nia
MH
2/So.
124
36
205
1.65
52
407
.376
2016
Thelen,
Heidi
RS
3/Jr.
118
34
205
1.74
67
518
.266
2013
Scott,
Ariel
RS
4/Sr.
115
35
383
3.33
103
971
.288
2012
Scott,
Ariel
RS
3/Jr.
125
36
469
3.75
127
1110
.308
2016
Detering,
Abby
S
3/Jr.
109
33
95
0.87
19
229
.332
2013
Hancock,
Micha
S
3/Jr.
127
36
129
1.02
36
281
.331
2012
Hancock,
Micha
S
2/So.
125
36
125
1.00
32
260
.368
2016
Team
n/a
n/a
121
34
1626
13.44
493
3893
.291
2013
Team
n/a
n/a
127
36
1814
14.28
523
4231
.305
2012
Team
n/a
n/a
125
36
1788
14.30
514
4222
.302
2016
Opp.
n/a
n/a
121
34
1394
11.52
717
3969
.171
2013
Opp.
n/a
n/a
127
36
1367
10.76
776
4270
.138
2012
Opp.
n/a
n/a
125
36
1346
10.77
800
4242
.129
Credits