March 3, 2016 (Courtesy of GoPSUsports.com)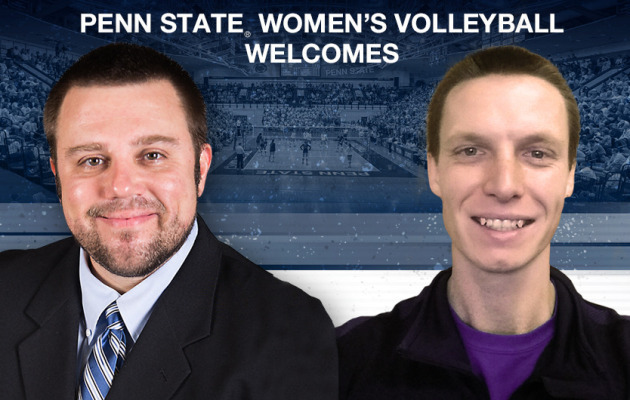 UNIVERSITY PARK, Pa. — Penn State women's volleyball head coach Russ Rose has announced the hiring of two Nittany Lion staff members, welcoming Craig Dyer as an assistant coach and Jon Parry as the team's director of operations.
Dyer returns to Penn State having previously served as both an assistant and associate head coach at the University of Pittsburgh since 2013. Dyer was a member of the Penn State men's volleyball coaching staff from 2006-09. Parry joins the staff having served as the director of operations and video coordinator for the men's volleyball team at Long Beach State since 2012.
"It is exciting to be able to bring Craig and his family back to Penn State," Rose said. "He came very highly recommended from the previous head coaches he has worked with and combined with what I remember from when he was working with our men's team, he will be a great addition to the program."
While at Pitt, Dyer served as the Panthers' recruiting coordinator, while also working primarily with the setters and the offense. Prior to Pitt, he was an assistant coach at Marquette University from 2009-12. During his tenure with the Golden Eagles, he helped Marquette to a 92-39 record, increasing single-season records for program wins from 2010-12. Dyer also guided Marquette to back-to-back NCAA Tournament appearances in 2011-12, mentoring a trio of AVCA All-Americans along the way.
During Dyer's tenure at Penn State, he helped lead the Nittany Lion men's team to an NCAA national championship title in 2008, as well as consecutive EIVA conference titles in each year. The Nittany Lions posted a 66-10 record during Dyer's time at Penn State, with seven Nittany Lions garnering AVCA All-America distinction.
Dyer also made stops at Seton Hall, Rutgers and Susquehanna University, serving as an assistant coach at all three institutions before arriving at Penn State.
Outside of the collegiate game, Dyer spent time as an assistant coach for the 2008 Men's Junior National Team. The 2008 squad earned a bronze medal at the NORCECA World Championship Qualifier to earn a spot in the 2009 junior World Championships. He also served as a training coach from 2006-07 and served as head coach of the Boys A2 Training Camp in 2007.
Dyer earned a Bachelor of Arts degree in music education from Susquehanna University in 1995. Most recently, he was voted among the Top 10 Women's Assistant Coaches in the collegiate game, joining current associate head coach Salima Rockwell on the list.
In addition to his responsibilities at Long Beach State, Parry also served as a boys and girls club coach at the Balboa Bay and Orange County Volleyball Clubs. He also coached both boys and girls volleyball at Capistrano Valley High School from 2007-13 and served as club owner and director for the Capo Beach Volleyball Club from 2011-12.
Parry has also spent time in various roles with USA Volleyball, serving as the men's and women's national team scout coach, statistician intern and volunteer coach since 2013. He served on the staff with both the men's and women's national teams that took home gold and bronze at the 2015 World Cup Championships in Japan, respectively.
"In talking with the Long Beach staff, their head men's volleyball coach Alan Knipe and John Speraw, head coach of the U.S. men's national team, it was clear that Jon was the perfect candidate for our director of operations opening," Rose said.
Parry graduated from Long Beach in 2014 with a Bachelor of Science degree in mathematics.