Glass Half Empty?
Our September 22nd post following Penn State's 3-2 loss to Nebraska noted that for all the disappointment, there were real positives to be taken from the match.  Not cause for jubilation, but grounds for guarded optimism.
Of course, we're not a coach (far from it), and Russ Rose, the man who is, had a different take on things, as reflected in this quote from Eric Olsen's article in Deseret News:
I'm angry about how we played.  I'm not angry at them as people.  I'm angry at how they played as a team.  We'll try to get better at the things we need to get better at.  It's a long season.  There are no moral victories in sports. You get out there to win. You don't come here to enjoy the crowd, have some Runzas [loose-meat sandwiches] and have a good time.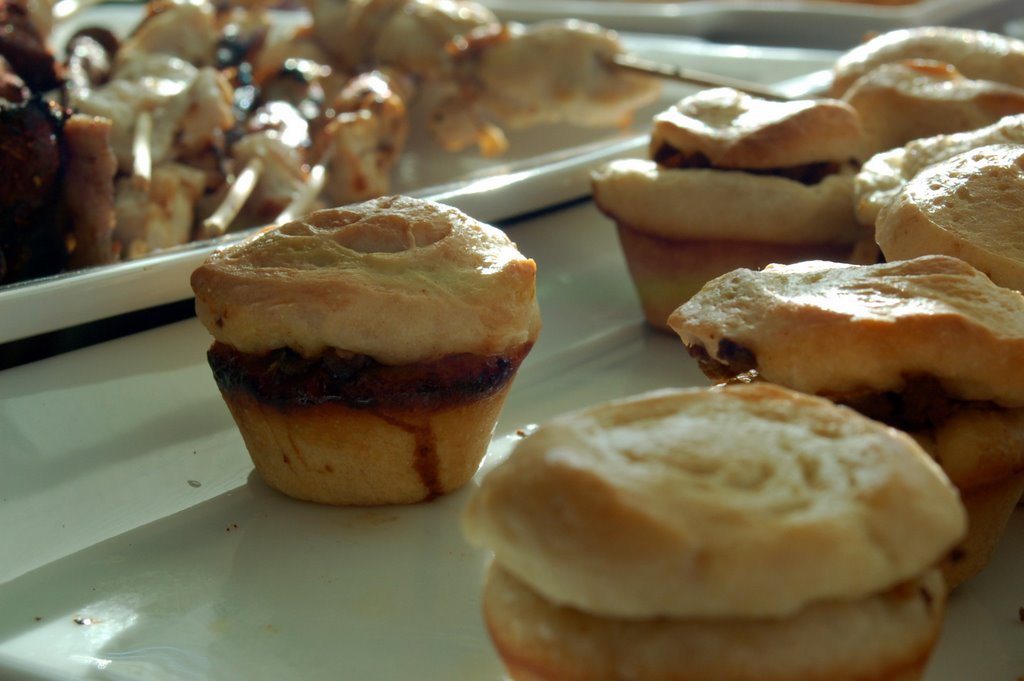 I will not be tempted by these savory, meat-filled pies.   I will not be tempted by these savory, meat-filled pies.  I will not be . . . .
As ESPN.com's Michele Voelpel noted in her article on the match ("Nebraska begins life in Big Ten with win"), Coach Rose "grimaced when asked if he was at least somewhat satisfied that his young group — 13 of Penn State's 17 players are freshmen or sophomores — had rallied from losing the first two sets to take the match the distance in enemy territory."
Russ Rose's focus was on his team's inconsistency, to the exclusion of explanations like youth or inexperience or, perish the thought, moral victories from a near comeback.
Here's what Rose had to say to Michele Voepel after the Nebraska match:
I think we played OK in the first game, didn't play especially well in the second, and [played] really bad in the fifth game.  If this was the first time this happened, maybe you say, 'Oh, they'll learn from that.' But this is the third time it's happened [this season]. So I'm not sure.  If it happens every week, something has to change.  Maybe they're getting better at it.  It's a long season.
For fans who want to read even more on the match, take a look at these two articles:
Huskers Make History, CentreDaily.com, which notes that this is the second consecutive year Penn State has lost its conference  opener (last season, Penn State lost in five sets to Illinois, at a sold-out Huff Hall); and
Huskers debut in Big Ten by defeating Penn State (our favorite quote, from Nebraska Head Coach John Cook: "Welcome to the Big Ten.  That's what it's going to be like every night, I think. This was a great match for both teams. I know Penn State – we almost had them in three there, and they didn't quit …. Our fans and Husker Nation, our team's got to be really pleased with how they responded."
Keystonekid on Positives from the Nebraska Match
We get that you can't be satisfied with a loss.  But as fans, we're allowed to entertain hopes and dreams.  So we asked Keystonekid— a Penn State fan who has coached former and current Penn State players, and who brings a wealth of volleyball knowledge and experience to the table — to talk about some of the positives he took from the Nebraska match. Here's what he had to say:
After a thrilling match in Lincoln, the Nittany Lions are a team that is showing glimpses of greatness, but also one that has plenty of challenges. While any loss is dissapointing, in many ways, PSU took some steps forward in this match. This is a team that on a given night can beat any team in the country, but is also a team that on any given night can drop matches to lesser opponents. Having played the toughest schedule in the country to this point (USC, Oregon, Texas, Stanford, Nebraska), PSU has shown they can compete with those teams.  Of all those teams, in my opinion Penn State has the most potential to improve given their youth.  If they played those five matches in November, I think we might see a very different outcome.

For me, the most positive thing that came out of the Nebraska match was the play of  A Scott. PSU fans have been waiting for her to step out this season, and she did it in a big way, on a big stage. She may be the most critical player this season for PSU, as she is a returning player, with big game experience. We also saw some good swings from Aiyana Whitney. The fact PSU has had to play "musical L2" all season has prevented them from getting into a rhythm. If she can hold down that spot, I think they can be more stable. To this point Deja has been the only point scorer for PSU.  If Scott can play at that level, and Whitney can terminate like she did at times versus Nebraska, it gives PSU more balance, and makes them tougher to defend.

While we saw plenty of bright spots, many of the areas that have plagued the team remain. The primary reason PSU has been volatile is their serve and pass game.  At the level at which Penn State competes, you can't give up large runs of points.  PSU is doing that consistantly.  PSU in almost every match has either been playing great, or playing poorly.  Their match vs Pitt was the only match where they had a sustained level of play.  PSU has always been a program that has been low error, with consistant play, but with their youth, this group is still struggling to find that level.

The Big Ten is going to be won by the team that wins at home, and steals a couple of big matches on the road.  I see PSU finishing anwhere from first to fifth.  One things for sure: every night will be an adventure with this group.
Stay tuned for tomorrow night's match against Iowa.