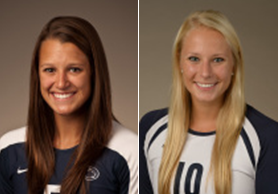 Penn State Seniors Kristin Carpenter and Marika Racibarskas
(Photos courtesy of GoPSUsports.com)
Penn State (28-2, 18-1 Big Ten) closes out the Big Ten season tonight at Rec Hall against a tough Michigan State squad.  The match begins at 8:00 p.m. and will be carried on GoPSUsports.com (it's unclear whether this is audio-only or streaming video) and GameTracker.  It's Senior night, so Penn State fans should come out and cheer for the team, with special thanks to its two seniors: Kristin Carpenter and Marika Racibarskas
Michigan State is coming off a tough 3-0 loss to Michigan i n Jenison Field House (the Spartans did, however, retain the State Pride Flag, having outscored the Wolverines by an aggregate score of 139-133 in their two matches).  Here's a link to a video following that match, featuring interviews with Michigan head coach Cathy George, Michigan State Jr. OH Lauren Wicinski, who set the Spartan's single-season service ace record, with four on the night giving her a season total of 77, and Amy Dentlinger (Note to all sports information directors: make your videos so they can be embedded on other web sites — like ours.  It makes them more attractive to viewers, and you still get the traffic on your web site.  It's a "win win"): http://www.msuspartans.com/allaccess/?media=354413
At stake is a possible #1 seed for the Nittany Lions in the upcoming NCAA tournament.  Plus, it's senior night, and Penn State team would like nothing better than to end the Big Ten careers of 5-6 Sr. DS Kristin Carpenter and 6-0 Sr. Marika Racibarskas with a victory.
In Penn State's last match, a sweep of #14 Ohio State, 6-4 Jr. RS/Opp Ariel Scott led the team with 5.00 kills/set, followed by 6-1 Jr. OH Deja McClendon (3.67 kills/set).  5-11 So. S Micha Hancock averaged 11.33 assists/set as she guided the Nittany Lions to a .396 attack %.  5-6 So. L Dominique Gonzalez again anchored the backrow, averaging 3.66 digs/set, while 6-2 Fr. OH Megan Courtney and 6-6 Jr. MH Katie Slay led the team in blocking with 1.67 blocks/set.
Penn State is 36-6 all-time against Michigan State, and has won the past 17 matches (12 of which were sweeps).  We're looking for a win here, but this is not a gimme.
Go PENN STATE (and thanks so much to Kristin and Marika for your all your contributions, big and small, publicized and private, during your four years as Nittany Lions)