The third member of Penn State's 2015 recruiting class is Wilmarie Rivera, who has signed a Letter of Intent to play for the Nittany Lions in the 2015 season.
Wilmarie was the starting setter (and team captain) for the Puerto Rican Girls' Youth National Team that competed for the FIVB World Championship played in Thailand last year.  She also participated in the U-20 tournament in the Czech Republic.  If we've done our conversions correctly, she is listed at 5-10 — but we don't know if that's current or accurate.
She was quoted in the article below as saying that she is "very happy with this opportunity and ready to enter a new phase of my life." Wilmarie will graduate from St. Francis Academy in May 2015. She joins an impressive list of Puerto Rican athletes who have played for Penn State, including Ramón 'Monchito' Hernández, Javier Gaspar, Edgardo Goas, Carlos Ortiz, Dennis Del Valle, Guillermo Silva, and Jorge Pérez, among others.
Welcome Wilmarie!
Below is a photo of Wilmarie signing her letter of intent, along with the full Spanish language version of the article from which we cribbed this story: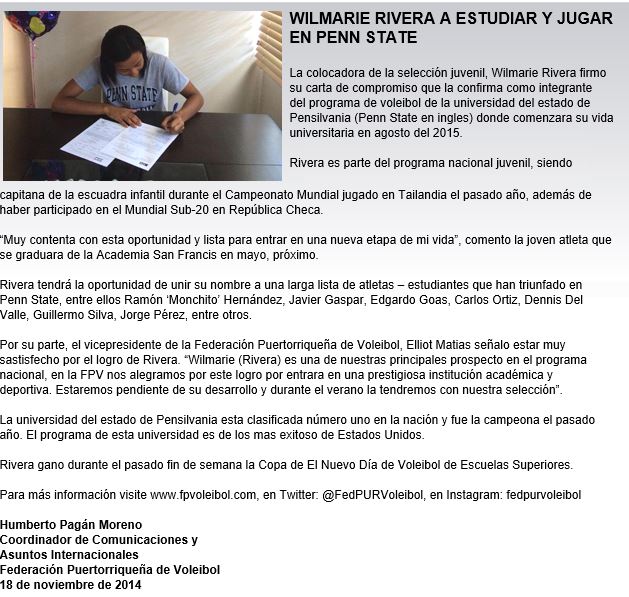 Video Jukebox
Here's a short video of Wilmarie — seems like a genuinely nice young person:
Here's a video of the Poland vs. Puerto Rico match at the Girls Under-18 World Championship in 2013:
And here's a video of Wilmarie (in red shirt — #11) playing for Puerto Rico against the Dominican Republic in the 2013 Pan Am Cup:
Wilmarie's biography from the FIVB website

Puerto Rican Team Roster
Here's the roster from the Puerto Rican Girls' National Team, where Wilmarie was a teammate of, among others, Minnesota's Daly Santana and Dalianliz Rosado:
 PUR / Puerto Rico – Team Composition
| | |
| --- | --- |
| Team manager | Rigel Colon |
| Head coach | Eric Gonzalez |
| Assistant coach | Jose Barcelo |
| Doctor | |
| Therapist / trainer | Katherine Carrion |
| Journalist | |
| | | | | | | | | | | | | | |
| --- | --- | --- | --- | --- | --- | --- | --- | --- | --- | --- | --- | --- | --- |
| | | No. | | | Name | Last name | Shirt Name | Birthdate | Height | Weight | Spike | Block | Club |
| | C | 1 | | | Daly | Santana | Santana | 19.02.1995 | 185 | 65 | 300 | 274 | National Team |
| | | 2 | | | Pilar Marie | Victoria | Victoria | 11.10.1995 | 182 | 53 | 301 | 268 | National Team |
| | | 3 | | | Kanisha | Jimenez | Jimenez | 28.11.1995 | 185 | 56 | 295 | 291 | National Team |
| | | 4 | | | Dalianliz | Rosado | Rosado | 17.11.1995 | 170 | 56 | 298 | 292 | National Team |
| | | 5 | | | Lucia | Castro | Castro | 06.06.1994 | 185 | 63 | 302 | 297 | National Team |
| | | 6 | | | Lorena | Marquez | Marquez | 05.02.1994 | 183 | 61 | 270 | 268 | National Team |
| | | 7 | | | Dianise | Rodriguez | Rodriguez | 14.06.1995 | 174 | 50 | 283 | 268 | National Team |
| | | 8 | | | Stephanie | Massanet | Massanet | 14.10.1994 | 189 | 69 | 296 | 279 | National Team |
| | | 9 | | | Wendy | Flores | Flores | 28.04.1994 | 185 | 81 | 294 | 288 | National Team |
| | | 10 | | | Jizzyan | Gesualdo | Gesualdo | 19.07.1994 | 189 | 74 | 277 | 271 | Ponce |
| | | 11 | | | Wilmarie | Rivera | Rivera | 14.02.1997 | 178 | 58 | 294 | 288 | National Team |
| | | 12 | | | Genesis | Miranda | Miranda | 05.06.1996 | 180 | 56 | 288 | 283 | National Team |
| | | 13 | | | Joscelyn | Coronel | Coronel | 02.01.1998 | 185 | 63 | 302 | 297 | National Team |
| | | 14 | | | Ana Sofia | Jusino | Jusino | 05.01.1994 | 189 | 65 | 310 | 294 | National Team |
| | | 15 | | | Katia | Sanchez | Sanchez | 29.11.1995 | 68 | 194 | 306 | 299 | National Team |
| | | 16 | | | Joahnie | Astacio | Astacio | 06.09.1995 | 182 | 76 | 289 | 282 | National Team |
| | | 17 | | | Alba | Hernandez | Hernandez | 03.10.1994 | 207 | 87 | 305 | 293 | National Team |
| | | 18 | | | Gabriela | Varela | Varela | 26.02.1995 | 182 | 62 | 288 | 282 | National Team |
 C=Captain  L=Libero