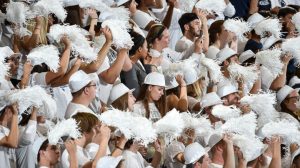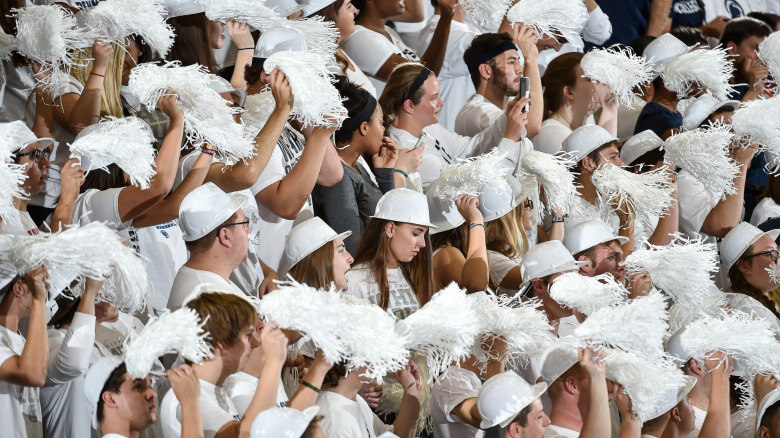 Match Wrap
It had all the makings of a special night.  White Out crowd (of 3,763).  Penn State coming into the match 10-0 and ranked #2 in the AVCA poll.  Nebraska ranked #14.  And it was a special night — just not special for Penn State, as the Nittany Lions were swept by the Huskers 26-24, 25-19, 25-20 in the first B1G match for both teams.
Nebraska was dominant in pretty much every way a team can dominate a volleyball match.  The Huskers totaled 59 kills in the match (.347 hitting %) to 38 kills for Penn State (.227 hitting), and 51 digs to 43 for Penn State.  Nebraska outblocked Penn State by 7.0 to 6.5 and sided-out at 73% for the match to 61% for Penn State.  The Huskers did register 16 attack errors to only 13 for the Nittany Lions, and seven service errors to Penn State's four, but on the scoreboard, they won the statistic that counts the most: 3 sets to zero.
6-1 Sr. OH Simone Lee was the lone standout performer for Penn State, with a team-high 15 kills and and 13 digs.
Post-Match Quotes
Coach Rose
Opening Statement
I was really disappointed with how we played, but I thought Nebraska had a lot to do with that.  They did what I thought they would do, especially well.  Their serve-pass game was really solid.  I thought they wore a couple of our kids down, and I thought we just didn't have great resolve.  Obviously, I didn't do a very good job preparing the team to play.  I'm very disappointed about our effort.  We had a great crowd.  But it's part of the game: When things go a little awry, you've got to try to figure out how to get better.
Key to Nebraska's Win
I just thought they were really solid in the serve-pass game.  I don't think any of our servers put any undue pressure on them.  I thought they were relaxed, and I thought they won the setter-libero positions — I thought their performances were better than our kids at those positions.  I thought [Simone Lee] hit the ball well tonight, but that was the extent of the good performances.  Their setter [Kelly Hunter] scored more than our middle blockers did.  That pretty much sums it up.  It's not that we didn't identify that [Kelly Hunter] is capable of doing certain things.  They didn't do anything we were surprised about, but they executed at a good level on the road, and we didn't execute at home.
Was there confusion on Penn State's side several times during the first two sets?
I just think Nebraska did what Nebraska does.  They hit the ball tactically.  They put the ball in the positions where I would have thought we would have made better adjustments.  I thought we played them better last year than we played them this year, with players being a year older and [Nebraska] graduating two or three terrific, talented players.  The responsibility to have the team ready to play rests with me and the staff, and we didn't do a very good job.  I'm disappointed at our effort, and I can't do anything other than to pass on to the players that we need to work harder and be better.
Was Coach Rose surprised by the play of such a senior-laden team?
 I'm not surprised by a lot of things.  I was disappointed more than surprised by how a couple of people played.  They didn't look ready to play at the beginning.  We had a chance — we were up 21-20 in the first game, and we made four of the last points for [Nebraska.]  If you're going to make mistakes against a good team, you're going to pay the price.  The missed serve was big.  We hit a ball out of bounds.  We had two hitting errors right at the same time.  You make a lot of mistakes you shouldn't expect to win [or] hope to win.
What was the gist of what you said to the team between sets?
After the first game, you would say "Hey, you're as much responsible for the outcome of the first game [as Nebraska was].  But we didn't start well in the second game, and if you're down by "x" number of points, and then both teams sideout, then you're going to lose by that pattern.  In the third game, I thought it was the same thing.  We had a little stretch where I thought our backrow play wasn't very good.  They served Simone and Ali, and those guys didn't have the ability to pass well enough to enable us to run middle to do what we wanted to do.  So we were at a disadvantage.  We didn't make a lot of errors.  But we didn't get a lot of kills.  That was the difference.  They had 21 more kills than us. . . . And a lot of them were out-of-system where they hit the ball tactically.  Those are good players.  They have three seniors on the floor that played really well today.  [setter Kelly Hunter, OH Annika Albrecht, and MB Briana Holman.]  Their seniors played better than our seniors.  That's the unfortunate part to see that at home.
It's a long season
I told the players that I don't think we coached very well, and I don't think they played very well.  I thought we had a good game plan, but we didn't execute at all.  That's the sad part of coaching.  You have an opportunity to do something great and you let it slip away.  But it's a long season — there are 19 more Big 10 matches.
On Keeton Holcomb's play
She's been working hard in practice and she's a good passer.  I thought Ali was a little tired, and Keeton came in and passed a couple balls.  She's played before and I think she's confident in the skillset that she has.
Looking Ahead
One of the good things is when you lose and you have a match [the next day], you either play better or you don't.  If we play like we did this evening, then we'll have a good chance to lose again tomorrow.  Players have to come ready to play and they have to compete, and they have to do the things they do well, and recognize that tonight the other team was better than they were, in all facets.  They wasn't something that I would say there was a shining star out there.  I thought Simone had a couple of good swings out of the backrow.  I thought the crowd was better than the team tonight, and I apologize for that.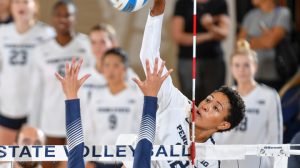 Simone Lee, on her message to the team for Saturday's match with Iowa
It's a quick turnaround from tonight to tomorrow at 4:00 p.m.  It's just one of those things that we have to be more prepared.  Like Coach said, we weren't prepared to play, and it's on us.  We need to make sure we're focused all the time, even in practice.  Everything that we're doing, we need to make sure that we're on it — knowing the team, knowing the scouting report, knowing what we need to do.  It's all about us knowing that we're ready to play.
Match Stats
(Courtesy GoPSUsports.com)