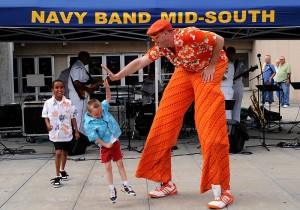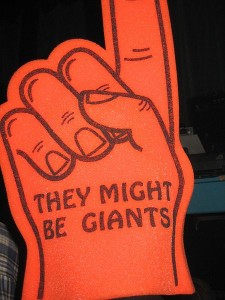 The "bigs" — outside hitters, middle blockers, right-side hitters — get most of the attention, but  without solid performances from the "smalls" — liberos and defensive specialists — teams will struggle.
Tonight against Syracuse, the "smalls' came up big, as Penn State (5-3) out-dug Syracuse (1-6) 56-38, led by 5-5 Fr. libero Kendall White's 12 digs, 11 digs by 6-0 Jr. setter Abby Detering (at 6-0, not really a "small," but we'll give her honorary status for the match), who also totaled 39 assists, 9 digs by 5-7 So. DS Keeton Holcomb, and a career-best 6 digs by 5-8 Jr. DS Lainy Pierce.  6-1 Jr. OH Ali Frantti finished the match with 8 digs.
The end result?  A straight-set win for the Nittany Lions (25-22, 25-17, 25-12) to capture the Syracuse Classic title Saturday evening at the Women's Building.
Once again, 6-1 Jr. OH Simone Lee led the Nittany Lions with a match-high 18 kills (her sixth consecutive match with double figure kills). 6-2 Jr. RS/MB Heidi Thelen totaled 10 kills on .562 hitting, and came up with 2 blocks.  6-2 RS Fr. Tori Gorrell led the team with 7 total blocks.
Commenting after the match, Syracuse Head Coach Leonid Yelin had this to say:
I've coached a lot of teams, and usually when we play a team as good as Penn State, everyone plays the best game of their life.  We're going to find out about ourselves in every match that we'll play from now on.
Match Stats
Courtesy of GoPSUsports.com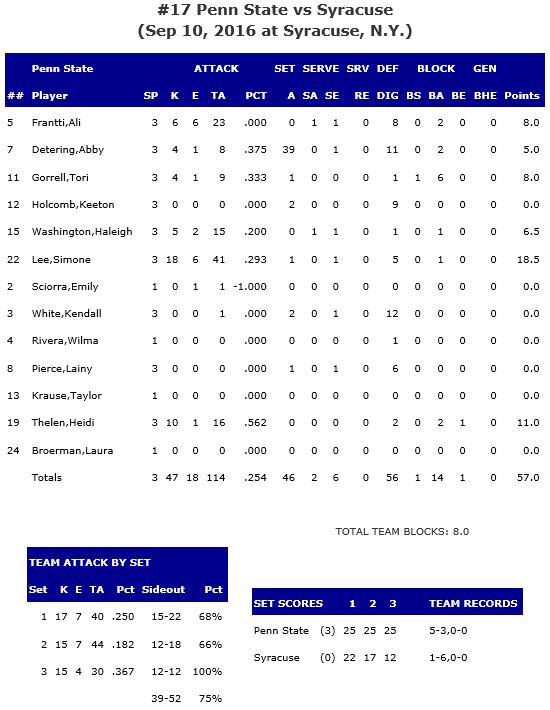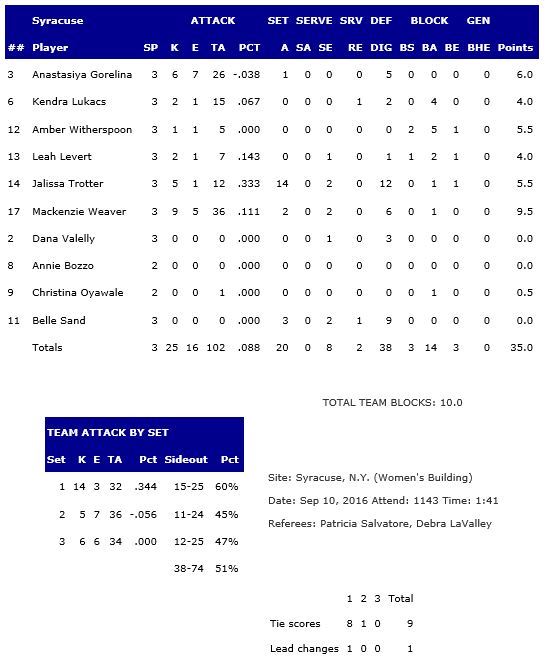 Credits
Oklahoma City (June 13, 2009). Rex Campbell, known as Orange Rex, a local entertainer, dances with children during the Yard Dawgz Game Block Party at the Cox Convention Center.  This file is a work of a sailor or employee of the U.S. Navy, taken or made as part of that person's official duties. As a work of the U.S. federal government, the image is in the public domain.
They Might Be Giants Foam Hand.  By Alex Erde.  This image, which was originally posted to Flickr.com, was uploaded to Commons using Flickr upload bot on 12:44, 19 August 2008 (UTC) by Kelly (talk). On that date it was licensed under the Creative Commons Attribution 2.0 Generic license.