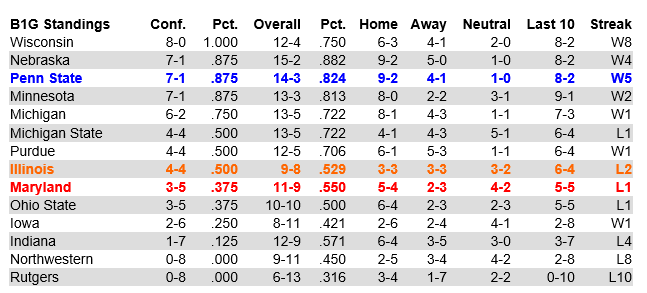 Here are selected team and individual stats for Penn State, Illinois (its opponent on Wednesday) and Maryland (its opponent on Saturday). Keep in mind the usual caveats of differing schedules which makes direct comparisons risky, at best.
Team Hitting, Opponents' Hitting and Individual Kills-per-Set
Penn State continues to rank high in the B1G in team hitting, ranking 2nd as of 10-22-19, with a .278 team average.  Maryland and Illinois are in the 8th and 10th spots, respectively.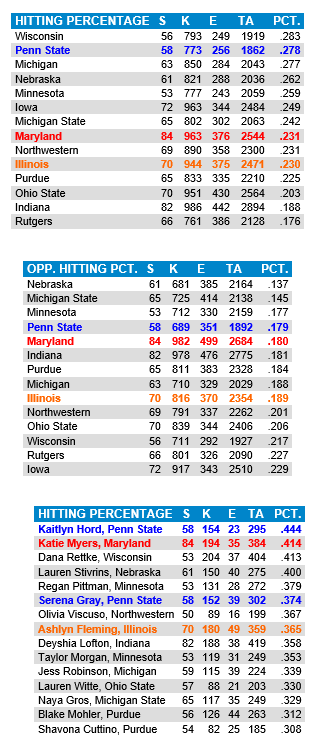 Jaqueline Quade of Illinois ranks second in the B1G with 4.30 kills/set.  Jonni Parker and Maryland's Erika Pritchard are in 8th and 9th place, respectively.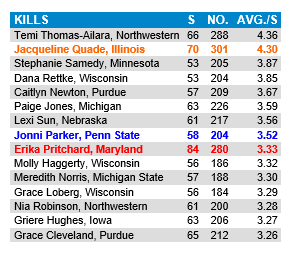 Blocking
Maryland is 6th best in the B1G with 2.52 blocks-per-set.  Penn State, with 2.45 blocks-per-set  and Illinois with 2.26 blocks-per-set, rank 8th and 10th, respectively.  All three teams are in the B1G's upper-echelon in blocks by opponents, with the Nittany Lions tops among the three with 1.80 blocks-per-set by opponents.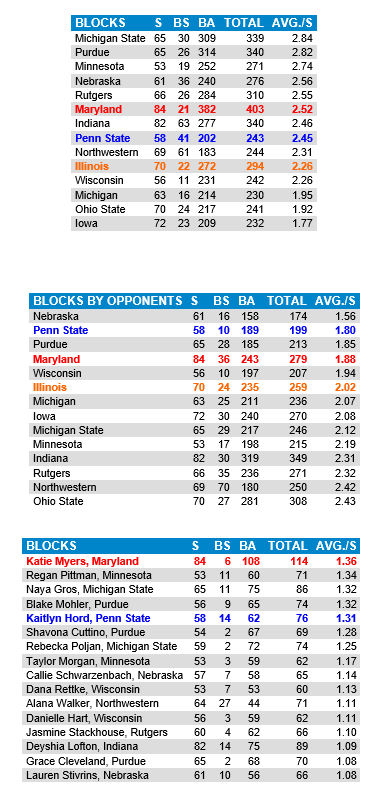 Service Aces
Maryland, led by Katie Myers and Samantha Snyder, ranks third in the B1G in aces-per-set.  Illinois ranks 5th, and Penn State 6th.  Illinois has a trio of servers in the top 15 — Taylor Kuper, Jacqueline Quade and Morgan O'Brien.
The Nittany Lions really shine in serve-receive, topping the B1G in fewest opponents' aces-per-set with 0.76.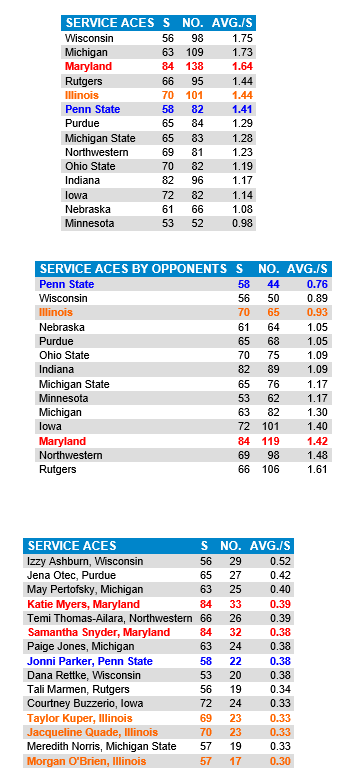 Assists and Digs
Gabby Blossom now ranks 2nd in the B1G, with 10.93 assists-per-set.  Diana Brown of Illinois ranks 4th.   Kendall White is now averaging 4.05 digs-per-set, good for 5th overall in the B1G.