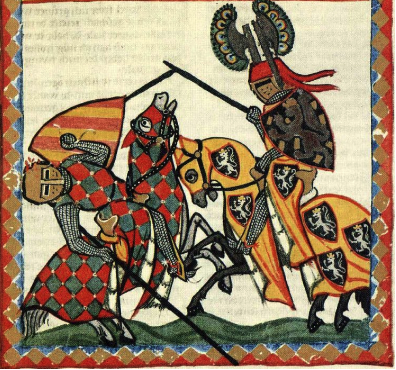 We're at it again – making statiscal comparisons of two women's volleyball teams  — we call it a Stat Joust (in this instance, Penn State and Purdue, which face off on Friday night in West Lafayette) — so that, lets be frank, we can avoid the hard work and  experience needed to do meaningful analysis.  Plus, we actually enjoy looking at stats.  We love poring over columns of numbers, and making comparisons, even if we haven't the vaguest notion of what it means in the real world.  So, here are two sets of stats for those of you feel the same way. 
Big Ten Team Stat Joust
The first is a comparison of Penn State and Purdue team statistical rankings among Big Ten teams (all opponents).  A few stand out rather dramatically: Hitting Percentage (Penn State is #1, at .316; Purdue is #9 at .240); opponents' hitting percentage (PSU – .088; Purdue .158), and blocks/set (PSU #1 at 3.26 vs. Purdue's #4 at 2.65).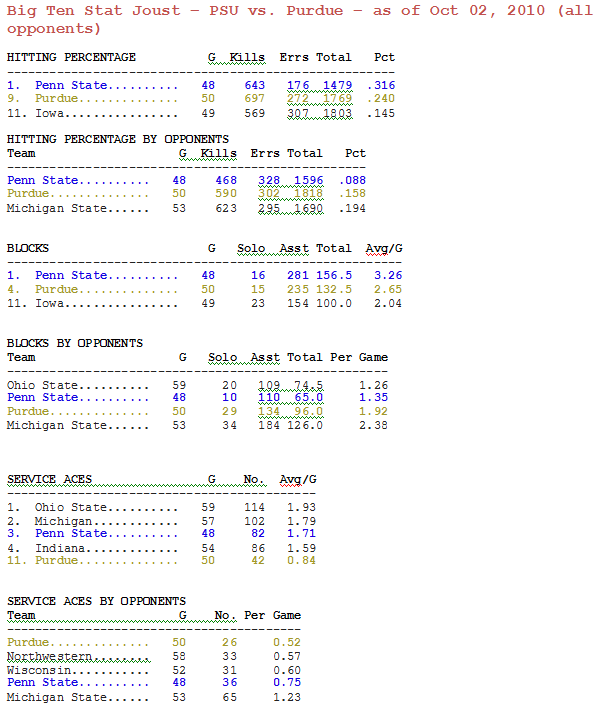 Big Ten Individual Stat Joust
Then there are individual Big Ten statistical rankings.  Penn State dominates blocking stats, but Purdue's Arielle Turner is #1 in the Big Ten in Kills/Set at 4.66.  Watch out Nittany Lions, she's the real deal.  Turner also leads in points/set (5.29) although PSU has two in the top ten (#6 Blair Brown at 4.33/set and #10 Deja McClendon at 4.14/set).  Take a look: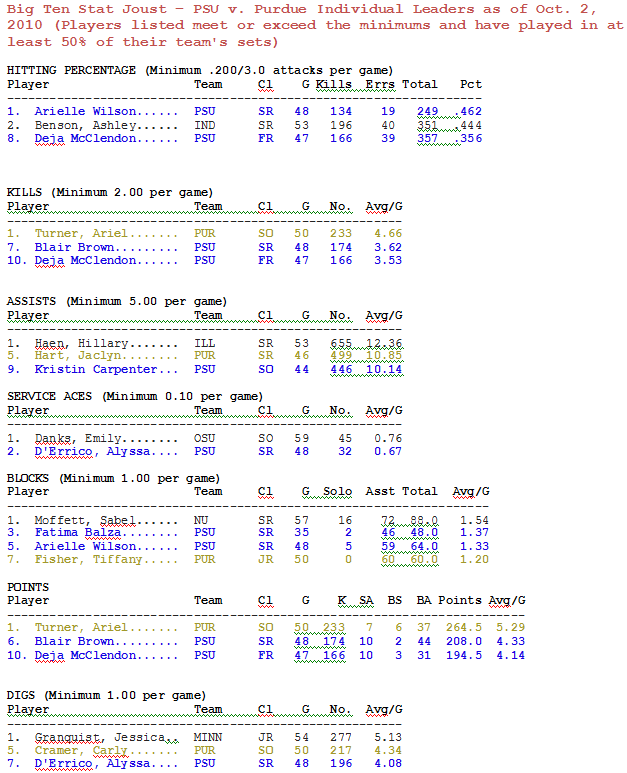 All in all, we're looking forward to the match.  Penn State (13-2 and #4 nationally)  will be favored, but this is the kind of trap match that could end up biting the Nittany Lions.  Purdue (11-4, 2-2 Big Ten) will be playing at home for the first time since Sept. 11th.  We'll have a complete match preview later in the week.  But we can say this already: don't fall asleep, Penn State, or you could be in for a rude awakening.