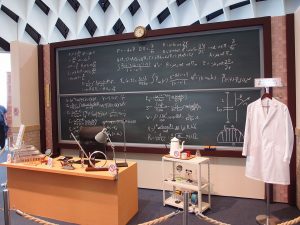 With only three matches under its belt — and two against generally overmatched opponents — a comparison of Penn State's stats-to-date to those of its upcoming opponents, Colorado and Stanford, probably wouldn't yield much useful information.  Or, put another way, our slacker staff said "Take a hike, bossman.  Show us the green and we'll do the math."
But we're all about stats, so we thought it might be interesting (if not useful) to look at how the very small sample size of 2016 stats (for three matches) compares to the stats for 2015 (34 matches).  An added benefit is this allows us to repurpose work the staff already did.
So here it is: selected individual and team stats for the 2016 season-to-date compared to the same stats for the 2015 players and team.  For analysis, we'll let the numbers do the talking (that's why we're pictured as an empty suit, at left).  But please feel free to add your thoughts and your voice to the discussion on the DigNittanyVolleyball Forum.
Attack Stat Comparison
Attack Leaders: 2016 (as of 9-11-16)
Compared to Attack Leaders - 2015
Setting Stat Comparison
Setting Leaders: 2016 (as of 9-11-16)
Compared to Setting Leaders - 2015
Serving Stat Comparison
Serving Leaders: 2016 (as of 9-11-16)
Compared to Serving Leaders - 2015
Serve-Receive/Digs Stat Comparison
Recept/Dig Leaders: 2016 (as of 9-11-16)
Compared to Recept/Dig Leaders - 2015
Blocking/Points Stat Comparison
Points and Blocking Leaders: 2016 (as of 9-11-16)
Compared to Points and Blocking Leaders - 2015
Credits