To 6-2 or Not to 6-2?  That is the Question for Talking Head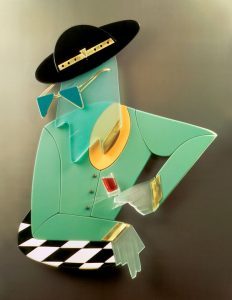 Penn State will enter the 2017 season with two experienced setters: 6-0 Sr. Abby Detering (who started 29 matches last season, appearing in a total of 33 matches and 109 sets), and 6-0 RS Jr. Bryanna Weiskircher (who started five matches in 2016, appearing a total of 25 matches and 70 sets).  Detering led the team with 1082 assists, and recorded 95 kills, 194 digs, 42 blocks, and a team-high 39 service aces.  Weiskircher posted 231 assists, 71 digs, 15 kills, 14 blocks and 12 service aces during the 2016 season.
The question we asked Talking Head, who played collegiate volleyball and has coached the sport for many years, was not which of these two players will be the starting setter in 2017.   Neither we, our slacker staff, nor Talking Head know the answer to that question, because it won't be determined until after pre-season in August, at the earliest, and possibly not until some time into the season.
The question we asked Talking Head is, whether Penn State might employ a 6-2 this season, and if so, how might that play out in the rotations.  Below are our questions, and Talking Head's answers.


DigNittany: With a few exceptions (notably, in Penn State's Sweet 16 match against Nebraska last year, in which the Nittany Lions ran what some have described as a modified 6-2), Penn State has run a 5-1 in recent years.  With both Abby Detering and Bryanna Weiskircher returning from last season, do you think there is a greater chance that Penn State runs a 6-2, or modified 6-2 this year than in past seasons?
Talking Head: Yes.  It may not happen, or it may happen periodically, but with the personnel on this year's team, I think Coach Rose will have the option to run a 6-2 (or at least experiment with a 6-2).
DigNittany: Let's go to basics — 6-2 101.  How do the rotations and substitutions work in a 6-2?
Talking Head: In a true 6-2 , prior to the serve, I'd want to start with my best serving setter to be in the "1" position (the right-back position, if you're facing the net on the Penn State side of the net). You could find supporters for both Abby and Bryanna as the best server on the team. I'd want my libero to be in the "6" position (middle back), the OH1 (or most offensive OH ready to move to the front row asap) in the "5" position (left back), my Opposite/RS in the "4" position (left front), my middle hitter in the "3" position (middle front), and the OH2 in the "2" position (right front).  After the ball was served, the Opp/RS would move to the right, the OH2 would move to the left and your defensive players would move accordingly .
The rotations might look something like this, with the libero subbing for the middles, and the setters subbing for RS/Opposites: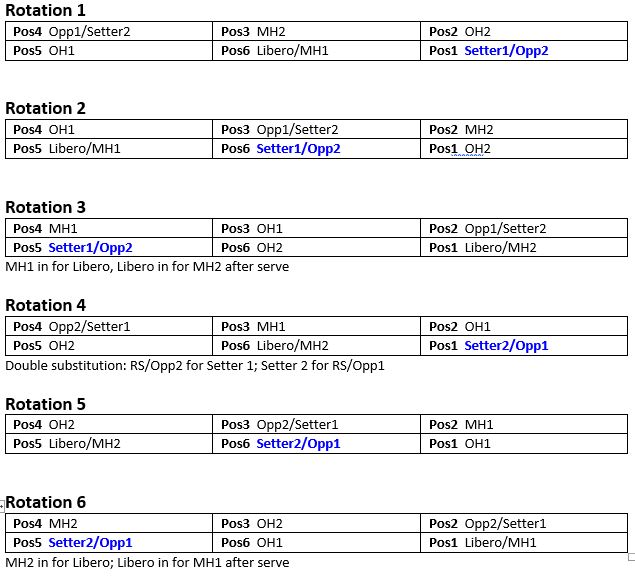 DigNittany: It looks like the outside hitters both need to be six-rotation players, that the setters don't need to be blockers (because they are never in the front row to block) and that their hitting skills are less important than in a 5-1.  Another thing that strikes us is that with the double substitutions in the 6-2, there are fewer substitutions left for defensive and serving specialists. Your thoughts?
Talking Head: Yes and no.  You can easily substitute a quality passing DS for one of the outside hitters, to provide better serving, digging, passing skills etc.  Because you have three front row attackers (as opposed to only two if you have a front row setter), you can do this without fear of losing offensive firepower.  In addition, as you always have three hitters in the front row, the setters don't need to be good blockers or, for the most part, good attackers.  If a set goes much past 25, you might run out of substitutions, but not often.
Another alternative, which I think is more likely, is some form of modified 6-2.  By this I mean the Setter1 stays in for the first nine rotations, and we make the double subs maybe around halfway into the game.  This takes advantage of both excellent serving setters and gives a different look to our lineup, so that just as the opposing team starts adjusting to our previous look, we become bigger and more offensive in the front row.  This affords you the opportunity to be more strategic and liberal in substitutions in the last half of games.  The USA National team is using this double sub Setter/Opposites nowadays, although they are confined to only doing it once in a match due to substitutions constraints.
The fact that this 2017 squad is as deep as it is at every position makes me think we can be a very difficult team to scout (which should make us a more difficult team to beat). The coaches could flip the rotation with ease to start a match or really start in most every rotation without much lost.  This also allows us to key in on our blocking and taking away what other teams like to do with our bigger lineups consistently in the front row.  In my opinion, not many teams in the B1G, let alone the country, have depth like us.
DigNittany: Let's step back a bit, and just look at a straight 6-2, where there isn't a premium on having setters with strong front row skills. What are the attributes you want to see in your setters in a 6-2?
Talking Head: Obviously, I want setters who can make all the sets. But more generally, I want setters who have a really good understanding of the flow of the game, so that they'll be able to anticipate where the set should go based on what is happening on the court. I also want setters who make the right decisions – who know who to set in a particular situation and time in a match, who follow the game plan and are able to make adjustments on the fly.
I also want setters who are able to develop really good relationships with their hitters – who know the type of set the hitters want and need, and are able to give them those types of sets so the hitters can succeed. This last point is important! If you run a true 6-2, you want the setter working with the hitters that she connects best with as much as possible. The setters need to know when a hitter isn't feeling it, and find someone else who is.
Finally, I want setters who are quietly confident – who don't get rattled, who look the same whether the team is winning a string of points, or has suffered a few bad breaks or simply isn't playing well.
Summing up, the potential for a 6-2 is there, and it may happen.  But it may not.  We may see a modified 6-2, and we may see many variations of lineups based around a 5-1 too, like previous years.  One thing we do know: Coach Rose isn't one to show his cards until the time is right.
DigNittany: Thanks very much for your time. We appreciate it.
Credits