By Ethan Kasales
Special to DigNittanyVolleyball.com, December 5, 2017
No. 1 Penn State women's volleyball will play in its 15th straight Sweet 16 this Friday at 2 p.m. against Missouri.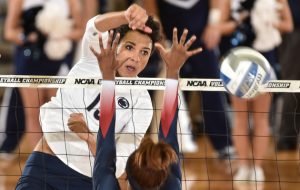 Though it's been somewhat unconventional thus far, with Howard and Pitt both taking the second set from the Nittany Lions last weekend, it should motivate them moving forward. If anything, it's exactly what they needed.
Last season, Russ Rose mentioned he didn't feel he had one true vocal leader he knew he could count on. This year, Haleigh Washington – perhaps the nation's best middle blocker – has stepped up to fill that role.
"We have a lot of seniors, but when I got to the room one of them was already yelling at everybody else, so I didn't have to say a lot," Rose said Friday after the Howard match.
"Had we had a younger, more inexperienced team, we could have lost our composure and lost the match, and had to answer more questions," he continued.
The Nittany Lions hadn't dropped a set in the opening round of the NCAA tournament since 1991, but as has been the theme all season long, a victory was never really in doubt.
The last two seasons, Penn State was bounced in the third round by Hawaii and Nebraska, failing to overcome the in-match blips that are bound to happen in tournament play. This year's team is different. Not only is the experience there, with six seniors filling significant roles, but the young talent is also coming along well.
If this team is going to bring home a record eighth national championship on Dec. 16, sophomores Kendall White and Tori Gorrell will be the extra element that pushes the Nittany Lions to the top.
"It's unfortunate that we didn't set her more during the year because she wasn't able to get recognized in any sort of awards…and yet she's hitting close to .500," Rose said of Gorrell after the Pitt win.
The redshirt sophomore from Ontario tallied 17 kills and 10 total blocks during the first two rounds, hitting a blistering .714 against the Bison Friday night. Gorrell's surge has taken some of the pressure off Heidi Thelen on the right side, while also freeing up Ali Frantti to swing away more often.

"All year the coaches have been saying, 'Find an open space. Find a gap. Move around. Don't just hit ones. Hit pushes. Hit threes.' I thought the setters did a really good job of finding me in the gap," Gorrell said Friday night.
White, the lone libero to earn All-Big Ten recognition, is playing with tremendous awareness in her second season as the starter.
Early on against the Panthers, White held Frantti back from attacking a ball along the sideline, allowing it to harmlessly fall out of bounds.

Always one of the hardest playing Nittany Lions on the court, White's vision and recognition has taken a major step forward this year.
"I think we did a really good job scouting Pitt," she said. "We knew they were going to try to hit it off our hands, try to beat us with pace and speed. We did a good job setting up around our block."
The top-seeded Nittany Lions (31-1) hope to keep their championship dreams alive Friday in Rec Hall against Mizzou (22-11) on ESPNU.