[Updated 2-26-17]
Huge congrats and very excited to announce that Kaitlyn Hord ('18) has committed to play volleyball for Penn State !! Way to go Kaitlyn !

— Lexington United (@LexUnitedVB) February 26, 2016
Kaitlyn Hord, a 6-4 MB from Henry Clay High School (the oldest public high school in Lexington Kentucky), has verbally committed to play for the Penn State Women's Volleyball team, starting in the 2018 season. Kaitlyn plays for Lexington United Volleyball, 18 Adidas and is the daughter of former UK basketball player Derrick Hord (who, as noted in the linked article, was a big-time recruit for the Wildcats).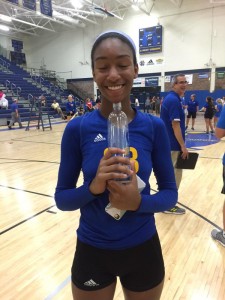 In a September 8, 2015 article by Josh Moore, the then- 6-foot-3 freshman described her approach to matches at the time:
"I just kind of close my eyes and my frame takes over," Hord said with a laugh. "I forget what happens after a match cause I just have so much fun."
18 Adidas are Central Zone 18 Open Champions ! pic.twitter.com/j3F9mT6jAX

— Lexington United (@LexUnitedVB) January 24, 2016
On November 6, 2016, Henry Clay High School used a 6-0 run in set 4 to become the first Kentucky public school to win a set in the State Championship finals (only the second public school to ever make the finals).   Kaitlyn had 13 kills for Henry Clay.
Here's an excerpt from MaxPreps with selected stats for Kaitlyn from her freshman, sophomore and junior seasons. For the complete stats, go to MaxPreps: