Photo by DAVID ILIFF. License: CC-BY-SA 3.0
"Megan Hodge, you can't do it here in the arena, but do it in your room, back in the Village.  Take a little victory lap.  That was an incredible performance."  NBC commentator following Megan Hodge's 18-kill performance after entering the match with the United States trailing 7-11 in the second set against China.
Whether the United States was flat, or whether the Chinese women were simply outplaying them, the match wasn't going well on Wednesday.  China was leading by a score of 11-7 in the second set, after having nearly taken the first set, before falling 26-24.
Then head coach Hugh McCutcheon sent in two substitutes — former Penn State great Megan Hodge and all-time Olympic great Danielle Scott-Arruda, both of whom were seeing their first action in the tournament, and both of whom promptly made their presence known.  During the comeback, Hodge had four consecutive kills, and five-time Olympian Scott-Arruda registered two kills and a block as the Americans stretched their lead to 22-14.  Overall, the United States won 18 of the set's final 23 points, taking the set 25-16.
It was a dramatic coming-put party for Hodge, who throughout the second set, and for much of the third, was seemingly unstoppable, and who ended the match with a team-high 18 kills.  The announcers had nothing but praise for her — in particular how she has improved her overall game over the past 12 months.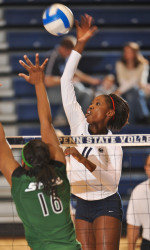 Photo courtesy of GoPSUsports.com
The third set was tight, tight, tight, as the Chinese refused to lose, fending off five match points before the Americans were finally able to finish at 31-29.
We said the match would either solidify the United States' leader status, or force a reboot.  Reboot not necessary — this team looks solid.
Scoring
Scoring - United States vs. China
| # | Name | Position | Height | Srv | Spk | Blk | Pts |
| --- | --- | --- | --- | --- | --- | --- | --- |
| 2 | Scott-Arruda, Danielle | MB | 6-2 | 0 | 5 | 2 | 7 |
| 3 | Haneef-Park, Tayyiba | Opp | 6-7 | 0 | 0 | 0 | 0 |
| 4 | Berg, Lindsey | S | 5-8 | 0 | 3 | 0 | 3 |
| 5 | Miyashiro, Tamari | L | 5-7 | 0 | 0 | 0 | 0 |
| 6 | Davis, Nicole | L | 5-4 | 0 | 0 | 0 | 0 |
| 10 | Larson, Jordan | OH | 6-2 | 0 | 2 | 0 | 2 |
| 11 | Hodge, Megan | OH | 6-3 | 0 | 18 | 0 | 18 |
| 13 | Harmotto, Christa | MB | 6-2 | 0 | 1 | 1 | 2 |
| 15 | Tom, Logan | OH | 6-1 | 2 | 5 | 2 | 9 |
| 16 | Akinradewo, Foluke | MB | 6-3 | 0 | 8 | 2 | 10 |
| 17 | Thompson, Courtney | S | 5-8 | 0 | 0 | 0 | 0 |
| 19 | Hooker, Destinee | Opp | 6-4 | 2 | 17 | 3 | 22 |
Scoring - China vs. United States
Cumulative Scoring - United States
| # | Name | Position | Height | Matches | Srv | Spk | Blk | Pts |
| --- | --- | --- | --- | --- | --- | --- | --- | --- |
| 2 | Scott-Arruda, Danielle | MB | 6-2 | 2 | 0 | 8 | 3 | 11 |
| 3 | Haneef-Park, Tayyiba | Opp | 6-7 | 5 | 0 | 1 | 2 | 3 |
| 4 | Berg, Lindsey | S | 5-8 | 5 | 1 | 6 | 0 | 7 |
| 5 | Miyashiro, Tamari | L | 5-7 | 5 | 0 | 0 | 0 | 0 |
| 6 | Davis, Nicole | L | 5-4 | 5 | 0 | 0 | 0 | 0 |
| 10 | Larson, Jordan | OH | 6-2 | 5 | 2 | 45 | 4 | 51 |
| 11 | Hodge, Megan | OH | 6-3 | 2 | 0 | 19 | 0 | 19 |
| 13 | Harmotto, Christa | MB | 6-2 | 5 | 2 | 20 | 8 | 30 |
| 15 | Tom, Logan | OH | 6-1 | 5 | 2 | 40 | 6 | 48 |
| 16 | Akinradewo, Foluke | MB | 6-3 | 5 | 1 | 41 | 15 | 60 |
| 17 | Thompson, Courtney | S | 5-8 | 5 | 0 | 0 | 0 | 0 |
| 19 | Hooker, Destinee | Opp | 6-4 | 5 | 3 | 87 | 14 | 104 |