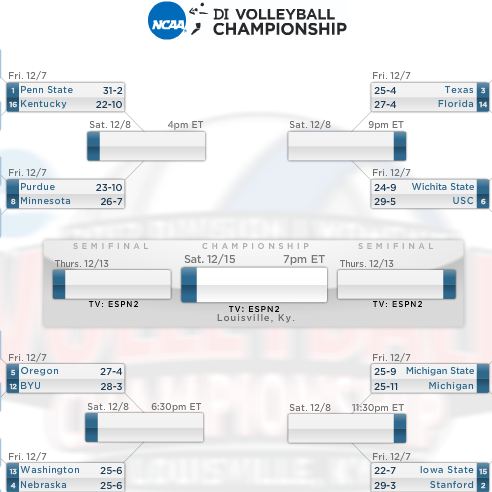 What: Kentucky vs. Penn State
When: Friday, December 7, 2012 (5:00 p.m. ET)
Where: Mackey Arena, West Lafayette, Indiana
Lions Face Wildcats in West Lafayette

We're guessing the Wildcats (on right) won't be as placid when they meet the Lions (on left)
The Kentucky Wildcats had a very nice season.  The team went 22-10 in the regular season (3rd place in the SEC Eastern Division, 4th place overall), 5-6 Sr. L Stephanie Klefot was named the SEC's Defensive Player of the Year for the third consecutive season (but only Second Team All-SEC — how does that work? Actually, it works the same way it did for Michigan State's 5-4 So. L Kori Moster, who was named the B1G's Defensive Player of the Year, but didn't make 1st Team All- Big Ten. We'd say they came up short, but that would be wrong, for sure),  6-2 Jr. OH Whitney Billings was named to the All-SEC First Team, and  6-3 Fr. MB Sara Schwarzwalder was named to the SEC All-Freshman Team.
Given all that, if we were Kentucky, we'd be more than a little annoyed that our team received no votes in the final AVCA Poll, and widespread criticism for receiving a #16 seed in the NCAA Tournament.
But, at least in their public face, Kentucky is taking a more positive approach. Here's Kentucky head coach Craig Skinner talking about his team playing in the NCAA Tournament, how proud he is of what his team accomplished this season, and how they can "throw all that out the window" if they don't perform well in the tournament:
They certainly played well against Ohio State in Round Two, downing the Buckeyes 3-1 (18-25, 26-24, 25-15, 25-18) to advance to the Sweet Sixteen in consecutive years for the first time since the 1987-1988 seasons. Here's Skinner after that match:
Give a lot of credit to Ohio State.  Heck of a team, and they brought it to us in game one. We had a great game plan and it didn't work in game one, but we stuck with it and executed it as the match went on. Our serving and blocking got involved. Then people stepped up. Some great defensive plays by (Stephanie) Klefot, great decisions by our setter (Christine Hartmann) and our attackers put the ball away when we needed them.
Here's the complete video of that interview:
Kentucky 2012 Roster
| | | | | | | | | |
| --- | --- | --- | --- | --- | --- | --- | --- | --- |
| No. | | Name | | Ht. | Pos. | | Class | Hometown (Last School) |
| 6 | | Morgan Bergren | | 6-1 | Setter | | FR | Muncie, Ind. (Delta) |
| 1 | | Whitney Billings | | 6-2 | OH | | JR | Helena, Ala. (Pelham) |
| 4 | | Ashley Frazier | | 6-2 | OH | | SR | Oregon, Ohio (Alabama) |
| 14 | | Jessi Greenberg | | 5-4 | DS | | JR | Melbourne, Fla. (Holy Trinity Episcopal Academy) |
| 32 | | Christine Hartmann | | 5-11 | S | | SR | St. Charles, Ill. (Rosary) |
| 11 | | Stephanie Klefot | | 5-6 | DS/L | | SR | Louisville, Ky. (Assumption) |
| 2 | | Alexandra Morgan | | 6-1 | MB | | JR | Birmingham, Ala. (Mountain Brook) |
| 15 | | Jackie Napper | | 5-7 | DS | | SO | Louisville, Ky. (Assumption) |
| 12 | | Lauren O'Conner | | 6-5 | OH | | SO | Taylor Mill, Ky. (Scott) |
| 9 | | Sara Schwarzwalder | | 6-3 | Middle Blocker | | FR | North Royalton, Ohio (North Royalton) |
| 13 | | Kayla Tronick | | 6-3 | MB | | RS FR | Hutchinson, Minn. (Hutchinson) |
| 20 | | Desiree Wilkerson | | 5-11 | Middle Blocker | | JR | Louisville, Ky. (Marshall) |
| 21 | | Kelsey Wolf | | 5-9 | Defensive Specialist | | FR | Cincinnati, Ohio (Mount Notre Dame) |
| 10 | | Shelby Workman | | 6-1 | Opposite Hitter | | FR | Shawnee Mission, Kan. (Bishop Miege) |
 Penn State 2012 Roster
2012 Team Roster (Updated)
| Number | Name | Position | Eligibility | Height | Hometown | State/Nation |
| --- | --- | --- | --- | --- | --- | --- |
| 1 | Scott, Ariel | Opp/MH | Jr. | 6-4 | Ridgewood | New Jersey |
| 2 | Caraway, Lara | DS/L | Fr. | 5-4 | Evans City | Pennsylvania |
| 3 | Pierce, Kendall | DS/L | Fr. | 5-6 | Eden | New York |
| 4 | Gonzalez, Dominique | DS/L | So. | 5-6 | San Antonio | Texas |
| 5 | Carpenter, Kristin | DS/L/S | Sr. | 5-6 | Mechanicsville | Virginia |
| 6 | Martin, Maddie | OH | Jr. | 6-2 | Tampa | Florida |
| 7 | Grant, Nia | MH/OH | So. | 6-2 | Warren | Ohio |
| 8 | Denny, Erica | MH | So. (RS) | 6-5 | Centennial | Colorado |
| 9 | Prieto Cerame, Paulina | OH/Opp/MH | Fr. | 6-2 | Miami | Florida |
| 10 | Racibarskas, Marika | S | Sr. | 6-0 | Chatham | New Jersey |
| 12 | Hancock, Micha | S | So. | 5-11 | Edmond | Oklahoma |
| 14 | Whitney, Aiyana | OH/Opp/MH | So. | 6-5 | Ridgewood | New Jersey |
| 15 | Harding, Maggie | DS | So. (RS) | 5-6 | State College | Pennsylvania |
| 16 | Slay, Katie | MH | Jr. | 6-6 | Raleigh | North Carolina |
| 17 | Courtney, Megan | OH/S | Fr. | 6-2 | Dayton | Ohio |
| 18 | McClendon, Deja | OH | Jr. | 6-1 | Louisville | Kentucky |
| 33 | Fuller, Lacey | DS/L | So. | 5-6 | San Diego | California |